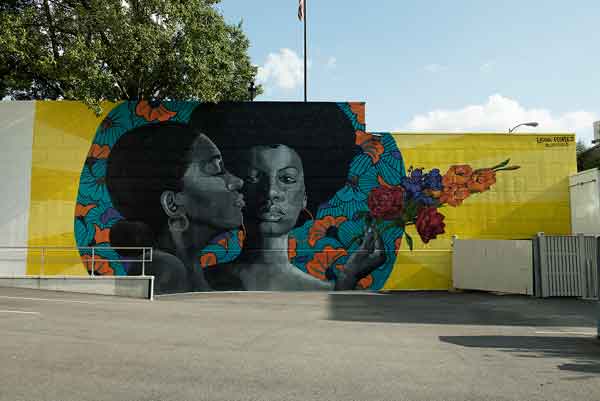 On Saturday, September 18,  eight colorful, large-scale murals were unveiled and celebrated at The Blairs Mural Festival in Silver Spring, MD.
Spearheaded by The Tower Companies, this unique art experience will connect the local community and residents of The Blairs District–a 27 acre development steps from the Silver Spring metro with 1,400 apartments, restaurant and shopping–with thoughtful, eye-catching murals themed around environmental stewardship, community & active family life and health & wellness.
LaToya Peoples
LaToya Peoples @ldpstudio graduated from the Maryland Institute College of Art with a BFA in Fine Arts.  She is an Artist, Designer, Entrepreneur, Educator and specializes in Drawing, Painting, Mixed Media, Illustration, Screen Printing, Digital Audio/Visual, and Teaching. She is the owner of LDP Studio – Offering art, design, and educational services including: graphic design, motion graphics, video editing, audio production, fine art commissions, photography, lessons/classes, and artists for events.
Johan Moorman 
The spatial worlds of Johan Moorman @johan_moorman are reminiscent of classic arcade games, the works of graphic artist Escher, and old Lego catalogues. Moorman's graphics and murals are undeniably Anti-Design, yet elegant in color, lines, and design language. Johan Moorman (1979) finds inspiration in retro-futuristic images, architecture, music, and technological innovation: Moorman was the one to design the poster for the legendary 2013 Kraftwerk 3D concert series in former technology museum Evoluon in Eindhoven. Johan Moorman started his career as a graffiti artist from the Dutch City of Light. He likes to explore and didn't stop experimenting, neither in style nor multimedia use. He grew up in a city built on technology and design, and later graduated from the renowned Willem de Kooning Academy in Rotterdam. The artist is influenced by De Stijl (neoplasticism), Pop art, and the Memphis Group. Time seems to have frozen in some of his works. They feel like playgrounds that perfectly balance objects and shapes – an adventurous world that needs to be explored.
Alice Lee
Alice Lee @byalicelee is a muralist and artist born and raised in the Bay Area. Her pieces celebrate the concept of "flow" and seek to spark a sense of wonder, curiosity, and joy in the world. She loves creating surreal, whimsical landscapes filled with curious animals and strong female characters. As a first generation Chinese-American, Alice draws much inspiration from her heritage as well as the unique nature landscapes here in Northern California. Past murals have been exhibited at the Asian Art Museum, the Pow! Wow! Mural Festival, XOXO Festival, as well as at companies around the Bay Area like Slack, Autodesk, and Philz Coffee.
Priscilla Yu 
Priscilla Yu @priscillayuart is a Canadian Multi-disciplinary Artist, specializing in murals, creative direction, and surface design. Her work is inspired by both the perceivable patterns found in everyday life through textiles, design, and architecture, as well as the universal patterns in nature on the macro and micro scale. Through abstracted points of perspective and a geometric language, she creates worlds that dwell in a strange gravity mixed with a personal symbology. To see more of her work, follow her on Instagram: @priscillayuart, and visit her website: www.priscillayu.ca
Hamilton Glass
Artist Statement:
"My career as an artist stems from my architecture and design background. Despite working in the architecture field for 7 years, my passion for public art pushed me to start a career as an artist. Public art has always been a big influence and inspiration of mine, because of its power to influence and inspire the surrounding community. With every opportunity I am given to create, I try to convey a message that connects the work to the community. My work is usually distinguished by my use of architectural elements with bright vivid colors and sharp lines. The colors and unpredictable lines and shapes are used to convey a certain energy and movement in each piece. As a former architect, I design images that reference architectural drafting practices, which are represented in the sharp lines, scale, and balance of the piece. The bright colors and unpredictable lines and shapes are used to convey energy and movement in each piece."
Keiona Clark
Keiona Clark @keionaclarkart is an artist, entrepreneur and a curator based in the Washington, DC metro area. Clark serves as Gallery Manager for 39th Street Gallery located in Brentwood, Maryland. She is also Curator for the Gateway Community Development Corporation which is the catalyst for arts-centered economic revitalization of the US Route 1 corridor and the surrounding Prince George's County communities within the Gateway Arts District, including Mount Rainier, Brentwood and North Brentwood, Maryland.
Clark is Founder and CEO of the DMV League of Artists; her passion is to align with similar minds and network to build a force in the creative community through fostering relationships and creating fellowship with an extraordinary league of creative souls. Keiona has not only proven herself to be a force in the "Art" of business; she is also an Artist/ Creative inspired by her love for art: an Abstract Impressionist inspired by her love for all things involving creativity.
Keiona is a (stage 3B) breast cancer survivor who was inspired to create shortly after her chemo infusions. Surviving cancer helped her decide that her life would be centered on her passion. As a young child, Clark had a natural talent and took to art as soon as she was able to hold a crayon. With no formal training, her inspiration is experience, emotional expression and inner energy, and sometimes contemplation. Non-traditional application of paints and technique make her art original, inspirational, and unique.
Rose Jaffe 
Rose Jaffe @rose_inks is a visual artist, with mediums spanning mural painting, ceramics, printmaking, and digital illustration. Born and raised in the nation's capital, Rose loves calling Washington, D.C. home. She earned her BFA at the School of Art and Design at the University of Michigan and has pursued an art career full time after teaching middle and high school art in the city. She has painted over 30 murals nationally and internationally, including over 20 in D.C. Her art has been featured in over twelve publications, including the Washington Post and City Paper as well as NBC, CNN, and Channel 9 among others. The themes of her work include political activism, social justice, natural healing, and spiritual grounding. Her work is vibrant, colorful and often playful. She is dedicated to the work of harnessing the power of art to find connections, build community, spark conversation and create social change.
Artist Statement: "I am passionate about the power of art to heal, build community, and create social change. I believe artists play a critical role in helping imagine a better future. I want to use my art to amplify critical issues such as climate justice, reproductive justice, racial and criminal justice. I understand we live in a deeply unequal system that serves to benefit the few and perpetuate systems of oppression, and art is the tool I have to amplify and advocate a better way of existing with each other and the planet. I love yoga and meditation as a means of healing myself so I can best show up for my family and community!"
Chelsea Henery
Chelsea Henery @chelseak_h is an illustrator and muralist based in Baltimore, MD. She graduated from the Savannah College of Art and Design @scaddotedu with a BFA in Illustration. Her work often examines the union of disparate items, framing the subject matter in an unfamiliar context. She draws inspiration from surrealist artists and magical realism in literature.
Outside of work, Chelsea volunteers as a peer counselor on a national pregnancy options talk line. She enjoys the opportunity to connect with people and advocate for human rights and equity wherever possible.
(Source: The Tower Companies Press Release)