In Situ Conservation of Six 18th-Century French Marble Sculptures
The 15-month in situ conservation treatment of six 17th- and 18th-century French marble sculptures in the East Sculpture Hall of the West Building will begin on December 12 and continue through early 2021. A live video feed will provide a close-up view of the conservation work, and gallery talks, including discussions with conservator Robert Price, will bring the conservation to life. Conservation of the sculptures is funded by a grant from the Bank of America Art Conservation Project.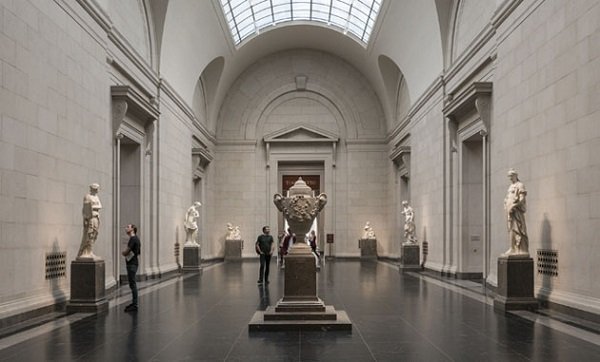 ---
New Acquisitions Enhance the Gallery's Collection
First Painting by Théo van Rysselberghe to Enter the Gallery's Collection
The Parisian art world and Georges Seurat inspired Théo van Rysselberghe's pointillist portraits. In Denise Maréchal (c. 1894), the figure's pale complexion and deep-red hair juxtaposed with the purple wallpaper create a psychologically deep and poignant image. The first painting by Van Rysselberghe to enter the Gallery's collection, it joins several of his prints as well as a volume by the artist, enhancing the Gallery's neo-impressionist holdings. The painting is on view in the West Building, Main Floor, gallery 87.
Exceptional Drawing by Antonio Campi
The Holy Family with Mary Magdalene and a Male Saint (c. 1547) is the first drawing by Antonio Campi to enter the Gallery's collection. It epitomizes Campi's earliest style, combining the stylization and execution of Parmigianino with a realism characteristic of the art of Lombardy. This drawing features a carefully rendered setting and solid figural presence. Its immediate and naturalistic setting is contrasted with exaggerated lines, especially in the draperies.
Remarkable British Pastel Portrait Expands Works on Paper Collection
Daniel Gardner's The Yorke Family (c. 1775) is a masterpiece by one of the most important portrait draftsmen working in London in the late 18th century. It is among Gardner's most ambitious compositions, and its rich, vibrant colors and full range of touch show his mastery of his medium. This work joins the Gallery's holdings of pastel portraits and is exceptionally important within the collection of British works on paper.
(Image and text source: National Gallery of Art Press release)