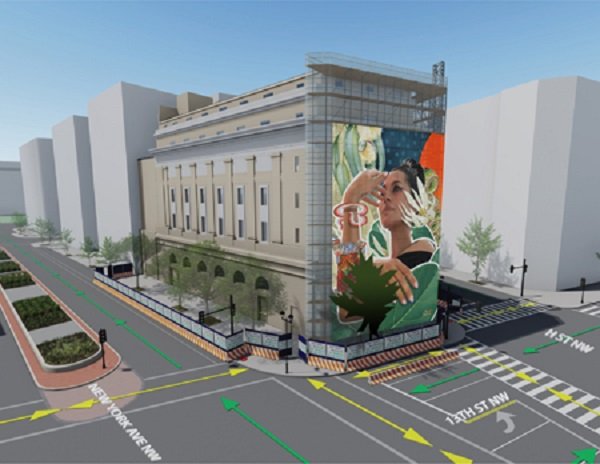 On view beginning March 15, 2022, Lookout: MISS CHELOVE is the first in a series of public art installations
The National Museum of Women in the Arts (NMWA) has commissioned artist MISS CHELOVE to create a large-scale mural for the building façade. On view from March 15 through July 31, 2022, the installation Lookout: MISS CHELOVE will be the first in a series of public art installations presented while the museum is temporarily closed for a major renovation. NMWA's Lookout series will debut powerful artworks across the building scaffolding, as the museum continues to promote art by women and signals the powerful transformation underway throughout the building.
"NMWA's commitment to public art positions us to fulfill our mission with enthusiasm and creativity," said NMWA Director Susan Fisher Sterling. "Using our façade as a 'canvas,' Lookout will offer a dramatic opportunity to view new works created by women artists, while keeping our community connected and looking ahead to the museum's future."
Reseeded: A Forest Floor Flow, by Washington, DC-based artist MISS CHELOVE, a.k.a. Cita Sadeli, will kick off the Lookout series. The artist's image of a woman immersed in botanicals native to the islands of Indonesia reflects on the resurgence of the natural world during the pandemic and the critical role of women in ecological activism. The four-story, 60-x-40-foot mural printed on mesh fabric will cover the scaffolding across the museum's west façade, at the convergence of New York Avenue, 13th Street and H Street NW, in Washington, D.C.
"Women are continuing to evolve their power as leaders and agents of change. The earth needs us, and we must strive to preserve the beauty on which we are privileged to stand," said MISS CHELOVE, whose vibrant work can be found throughout the DC metropolitan area and around the world. "When people see themselves reflected in the work, they feel connected to it."
About MISS CHELOVE, a.k.a. Cita Sadeli
MISS CHELOVE is an independent art director, muralist, designer and illustrator. Her practice is currently focused on mural projects. Deeply engaged in DC's cultural life, MISS CHELOVE has created compelling, publicly accessible works on building exteriors and interiors including Charles Hamilton Houston Elementary School, Cloak & Dagger nightclub, Dua Coffee, Hotel Zena, Jefferson Middle School Academy, Signal House, Sonnie's Grocery and Unity Health Care's Upper Cardozo Clinic.
Combining local and biographical storytelling with the tools and methods of graffiti and street art, MISS CHELOVE explores themes including women's empowerment, nature, Indigenous cultures and music. She creates colorful, monumental murals that reflect her multicultural background rooted in the tropical mysticism of Java, Indonesia, as well as her formative years in the punk, go-go and graffiti-driven spaces of Washington, DC, in the 1980s and '90s. When not scaling walls, she collaborates with clients such as &Pizza, Adobe, AFRO-PUNK, Apple, Patagonia, the Smithsonian Institution and Trillectro.
About Lookout
Each iteration of Lookout will feature a large-scale original artwork suspended across or projected onto the museum's façade; additional participating artists will be announced in 2022. Elevated just above sidewalk and soaring towards the sky, the murals will be viewable to downtown Washington, DC's many visitors. With this unique opportunity to feature artworks that extend over multiple floors, Lookout will highlight works by women artists working on a monumental scale.
Akin to NMWA's New York Avenue Sculpture Project, which demonstrates the museum's lasting commitment to public art, Lookout reflects the museum's inclusive mission as it speaks directly to the Washington, DC, community. The project will support NMWA's vital work to champion women artists and engage city residents and visitors—with a reminder to look out for the re-emergence of the new NMWA in 2023.
Programming
In conjunction with Lookout: MISS CHELOVE, NMWA will present a self-guided mural tour featuring a selection of MISS CHELOVE's other works in D.C. Stops include MISS CHELOVE's works on the exteriors of Hotel Zena and Unity Health Care's Upper Cardozo clinic, inside Dua Coffee DC and near Howard Theater.
Other related programming includes an interactive conversation with the artist as part of the museum's Women, Arts, and Social Change FRESH TALK series and a hands-on workshop for students.
(Source: NMWA press release)