By Rachel L. Davis
Walking into the newest apartment building in Mount Vernon Triangle, 455 Eye Street NW, the average observer may not realize that many of the surfaces feature the work of an artist.
455 Eye Street welcomed its first residents on June 1, featuring three historic buildings topped with sleek towers around a light-filled courtyard. Entering the building, whitewashed brick walls from a 1916 autoworks shop stretch past a custom concierge desk and walls with carefully curated artwork. Custom mailroom millwork, metal barn doors, hand-painted brick and hanging glass droplets all speak to the creativity of four accomplished artists. Each piece of art provides homage to the history of the building, which includes two rowhouses from the late 1800s, a blacksmith's shop and warehouse.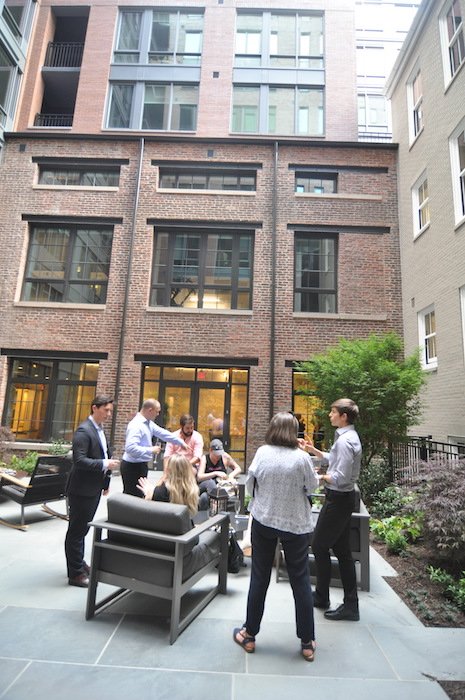 Decorative finish artist and muralist Laura Harris (who has also worked at Ghibellina Restaurant and Acqua Al 2) spent two and a half months at 455 Eye Street. Every brick in the primary amenity spaces – whether historic, repaired, or replaced – was meticulously hand-painted with many layers of colors, including white, deep reds and terracottas. "I tried to think of it like a watercolor, where you wanted the colors to flow and end up really beautiful," Harris said.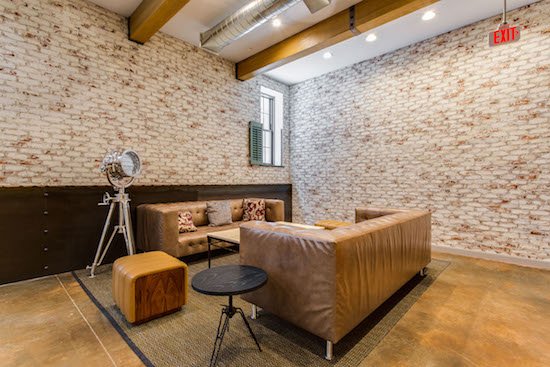 In some instances, she had to paint the impression of brick on the wall, because the original surface was so worn down. "The Equity Residential development team wanted me to keep the integrity of the history in the building, and then combine that with the modern more progressive elements of art that they put in," Harris said.
James Kerns, a DC-based furniture maker and mixed-media sculptor from the studio Corehaus DC, partnered with Andrew Christenberry, who specializes in woodworking, to bring the heaviest works into the building: they created nine separate pieces from found or salvaged objects, usually wood and cold rolled steel. They salvaged components of the historic building and created a welcoming concierge desk; two wooden waterfall tables in the amenity spaces; and two sliding metal doors for the package room. The largest one "floats like a butterfly," Kerns chuckled.
The dark metal treatment is echoed throughout the apartment homes, with unique oil-rubbed bronze fixtures. Rolled steel wraps the historic blacksmith shop, which is now the residents' lounge, adding even more charm to the space.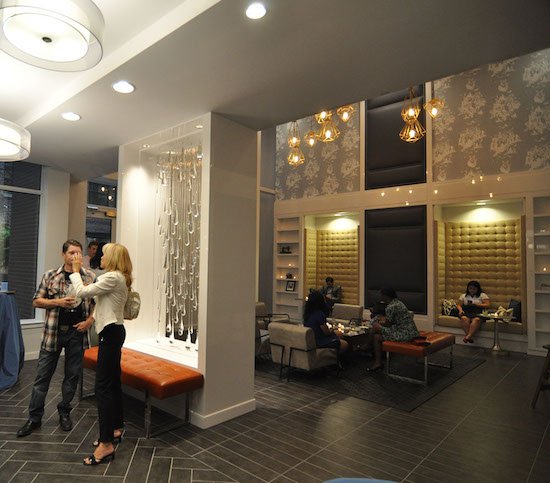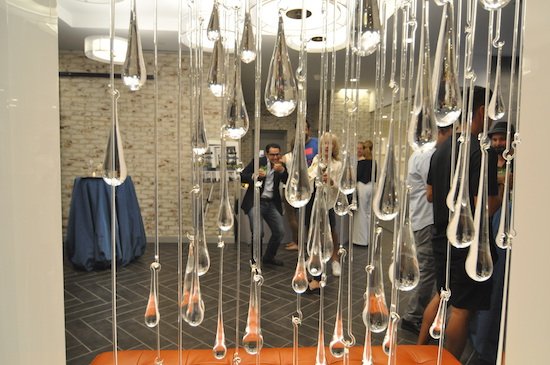 "I like the idea of taking some of the building contents and putting them back in to review the history," Kerns said. Elevator struts from the original freight elevator were salvaged and reinstalled in the mailroom, with 8" beams of salvaged wood from a barn in Maine. A large mechanical fan from the original space was repurposed and placed inside a coffee table and centerpiece for the two-story courtyard lounge. "I take my hat off to Equity for doing things differently," he said. Corehaus projects have been featured in shows and exhibitions throughout the DC area.
Viewers in the lounge peer through a cascading 'wall' of hundreds of glass droplets–the work of renowned glass artist Graham Caldwell, a DC native who now lives and works in Brooklyn. "Glass has a wonderful aspect where it behaves like a liquid and acts under gravity," said Caldwell, who let the pieces 'fall' with gravity. "It's semiliquid as it's hot but cools quickly, so the challenge was how to get the pieces to stop at the right time." The striking, multi-layered 8-foot-tall glass droplet fixture took one month to build and consists of more than 150 solid-glass pieces and hundreds of hooks, also made of glass.
"This building has a special feel to it," said Caldwell, whose work is often of a very large scale. "It feels human-scaled–an intimate way to interact."
Caldwell was thrilled at the glossy white millwork that showcases his work, which reflects the light in a field of sparkles. Caldwell's work is featured in U.S. embassies in Ukraine and Macedonia, and has been shown around the U.S. His next show is in Dallas in the fall.
Emilio Perez, a Brooklyn-based Cuban-American artist, created a number of colorful, multi-media works to brighten the brick walls throughout the space. "It is important to me that the viewer uses their own imagination to take and see what they want from my abstract compositions," he said. He also played with wood and brick elements in the lobby, painting on natural wood so he could expose the grain as part of his process.
"My work is made up of my own personal vocabulary of marks, shapes and gestures which is very open to interpretation," Perez said. "It's basically a very loose abstract application of paint that I later create with drawing and a hand-cut stenciling technique to bring out the graphic lines."
Perez' work was featured in the Times Square Midnight Moment in November 2016, in which an artists' work is featured on all the screens in Times Square for three minutes each night for a month, and he has previously created the largest mural in Havana, Cuba, for the Havana Biennale, a 65-foot piece on the seawall entitled Un Verso Sencillo (A Simple Verse).
When she returned to the building for the opening event in June, Harris was floored at the thoughtful way the pieces from four disparate artists worked together.
"I love the way it turned out, and I absolutely love the fact that once they started installing the old wood and rusty metal and other artistic things, the space began to really flow. I was just amazed," said Harris. "Kudos to the design team and everybody who worked together on the entire vision."