With great sadness, Studio Gallery announces that artist Barbara Williams passed away on Monday July 22nd, 2019. According to her daughter, Anne, it quick and it was peaceful.
Studio Gallery has lost a friend, a valued colleague, a talented artist. For many of our members who knew Barbara in William Christenberry's classes at the Corcoran College of Art, the friendships go back decades. As a gallery member, she had four memorable shows that displayed her diverse interests and her command of many different media. Reflecting her background as a genetic scientist and forensic investigator, she was always curious, always experimental. Indeed, she dared everything from watercolor to acrylics to encaustic to ceramics to welded metal.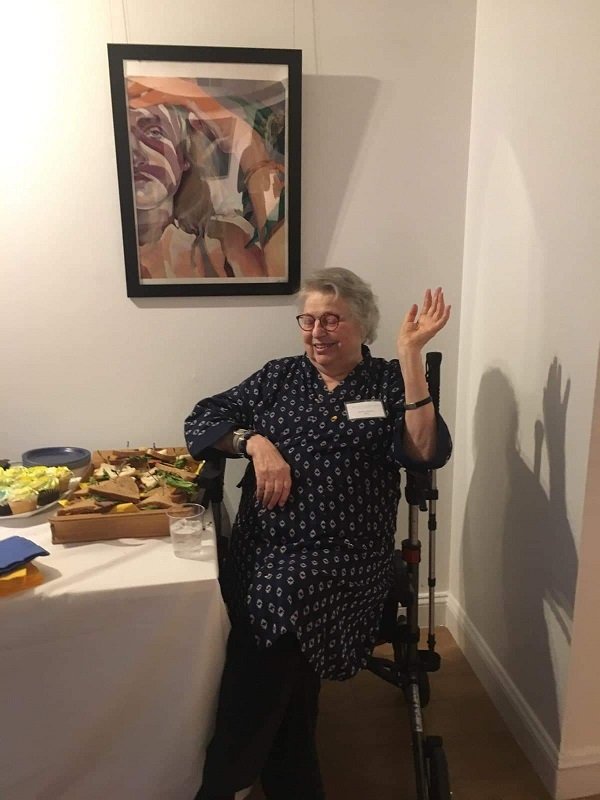 Barbara was generous with her advice and her expertise. She was our go-to person when using encaustic. Her kitchen and dining room were for years the studio/laboratory where many works were created with great enthusiasm and much laughter. She loved to collaborate.
Bright, opinionated, a true polymath, she wrote poetry, studied ancient Greek and most recently Pali, maintained her interest in the science of misconduct, sailed, taught sailing, designed clothes, hosted a meditation group, baked killer birthday cakes, and—lately—became a devotee of Sumo wresting.
In short, everyone should have a Barbara in their lives. We were more than fortunate to have one.
Studio Gallery owes her a particular debt. When she became a member, she took on a much needed project in connection with the Gallery's 50th year celebration. Over several months she assembled and organized the wealth of documents and photographs that date from the origin of the Gallery to the present. Due to her thankless perseverance Studio Gallery now has a well-documented, coherent history.
And now she is part of that history.
From all of us at Studio Gallery: Requiem in pace, Barbara. Thank you.
(via Studio Gallery. Photos courtesy of Studio Gallery .)