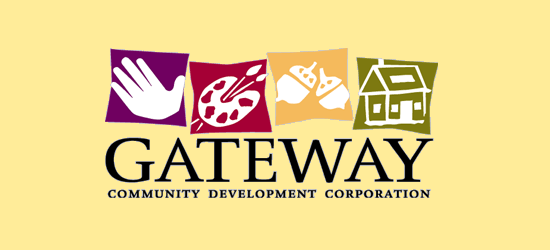 .
Meeting: Saturday, January 26 from 1pm to 2:30pm
.
The Gateway CDC Board of Directors invites all of members – and those who are thinking of becoming members – to join them for the 2013 Annual Meeting.
The meeting will take place at:
The 39th Street Gallery
Gateway Arts Center
3901 Rhode Island Avenue
Brentwood, MD
At the meeting, Members will:
Vote for the 2013 Board of Directors
Receive update from Gateway CDC Executive Director
Socialize with other Gateway CDC members
Each year, the members of the Gateway CDC elect Board Members for the representative seats of the three municipalities that comprise the Gateway CDC. All candidates live or work in Brentwood, Mount Rainer or North Brentwood.
The roster of nominees for the Gateway CDC Board of Directors is:
Jennifer Kravassi, Brentwood
Laura Rogers, Brentwood
Russell Simmons, Brentwood
Valerie Watson, Brentwood
Dave Cahill, Mount Rainier
Jarrett Stolzfus, Mount Rainier
Dr. Jacqueline Brown, North Brentwood
In order to vote for Board Members, one must be a current member who lives or works in Brentwood, North Brentwood or Mount Rainier. You will have an opportunity to renew your membership at the door. Membership rates and benefits can be found on our web site or by clicking  here.
Members from all municipalities are encouraged to attend.
If you have any questions, contact Pamela Strother, Chair of the Nominations Committee. You can reach her at 202.486.5990 or at pamela@sponsorspecialists.com.
Gateway Community Development Corporation drives economic revitalization along the U.S. Route 1 Corridor through business and neighborhood development initiatives including promotion of the arts as a community building strategy. Gateway CDC works within the communities of Brentwood, North Brentwood and Mt. Rainier, MD and in collaboration with multiple partners to ensure the success of the entire Gateway Arts District. Gateway CDC is a 501c3 non-profit organization located in North Brentwood, Prince George's County, Maryland.
Gateway CDC is located at 4102 Webster Street North Brentwood, MD. (NOTE: this is NOT the meeting address- see above).  Visit the G-CDC online at www.gatewaycdc.org or call 301-864-3860
.
.
.
.
.
.
.