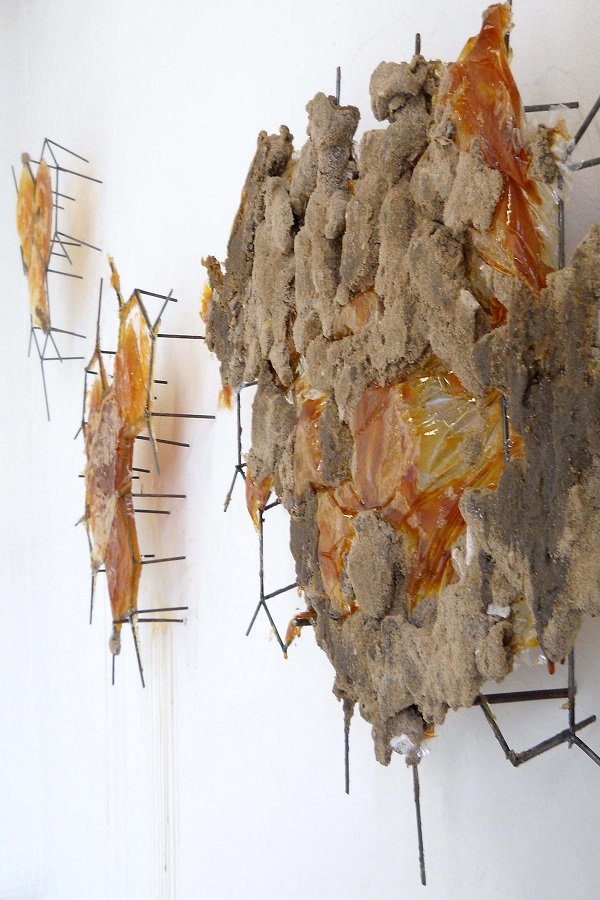 .
Artist Talk: Saturday, February 2 at 2pm
.
BlackRock Center for the Arts is pleased to announce the solo exhibition Stephanie Garon: Nature/Nurture, opening on Saturday, January 12, 2019 with a Meet the Artists Reception from 2:00 to 4:00 p.m. The exhibition will remain on view through Saturday, February 16, 2019 in the Kay Gallery, on the main level. Maryland artist Stephanie Garon will return to BlackRock on Saturday, February 2 to present an Artist Talk at 2:00 p.m., followed be a tour of the exhibition. Both events are free and open to the public. Admission to the galleries at BlackRock is always free.
Juxtaposing steel and organic materials, which change formally over time, Stephanie Garon constructs sculptures that are a metaphor for human limitations in the face of nature. In her solo exhibition Nature/Nurture, Garon exposes the frailty of humanity versus the environment while emphasizing the importance of sustaining both. Fusing biological and emotional perspectives of form and function, her works include concrete, honey, soil, wax, talc, paper, glass, clay, leaves and other natural materials in various stages of decomposition. Reflecting on the dichotomy of the visible world against invisible memories of it, the artist builds fragile pieces that capture traces of time passing as dried pine needles tenuously cling to a steel armature in "Pelt" or honey turns brittle between mounds of concrete in "Behold." Garon also uses chemistry to manipulate materials, making a paste of talc and Cloudberry oil in "Couching" or stirring Cabernet Sauvignon into the resin coating for "Fortune," before applying the unstable mixtures to sheets of bent steel. In her dynamic natural forms, that continue to transform in the gallery, Garon captures the paradoxes of formalism and fragility, permanence and impermanence, nature and nurture.
ABOUT THE ARTIST: Stephanie Garon is a Maryland-based artist who received dual degrees in Nutritional Sciences and Health Administration from Cornell University in Ithaca, NY before studying Fine Art at Maryland Institute College of Art and Visual Arts Education at University of Maryland, College Park. Her work has been featured in more than 30 national and international juried exhibitions, including shows at the Ann Street Gallery (Newburgh, NY);CICA Museum (Gyeonggi-Do, South Korea), Salisbury University Art Gallery (Salisbury, MD), Lubomirov-Hughes Gallery (London, UK); Weisman Art Museum at the University of Minnesota (Minneapolis, MN), Visual Art Exchange (Raleigh, NC), Zenith Gallery (Washington, DC), Artists & Makers Gallery (Rockville, MD), and the Baltimore World Trade Center (Baltimore, MD). Garon is a native Washingtonian who grew up in Montgomery County. In addition to her studio practice, Garon currently teaches for Howard County Public Schools, the Maryland Institute College of Art Young People's Studios program, and the Walters Art Museum in Baltimore. Learn more about the artist at: www.garonstudio.com
The BlackRock Center for the Arts is located at 2901 Town Commons Dr, Germantown, MD.