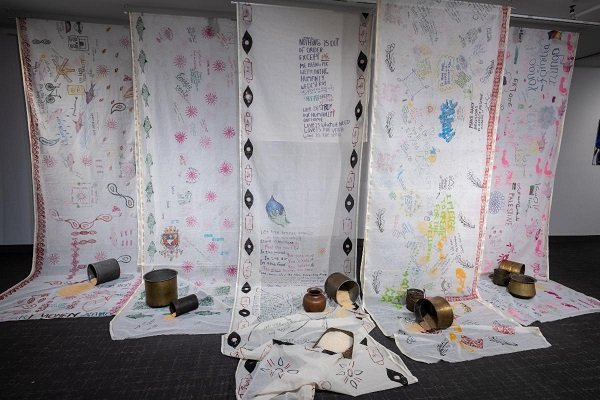 Workshop: Monday, June 27 from noon to 1:30pm
Bangladeshi-American artist and climate activist Monica Jahan Bose will lead a hands-on sari climate pledge workshop as part of the closing of Fragile Beauty. The workshop will be outdoors (unless it rains), allowing us to connect with the Earth.
Participants will discuss strategies for climate action and draw, paint, and write climate pledges on a hand-woven cotton sari in solidarity with women farmers of coastal Bangladesh, who are on the frontlines of climate change. For ten years, Bose has been co-creating saris with communities as part of her Storytelling with Saris art and advocacy project.
The sari will be used in installations and performances and worn by Bangladeshi women, creating a direct physical and emotional connection that links communities together to fight climate change.
DC Commission on the Arts and Humanities is located at 200 I Street, SE.