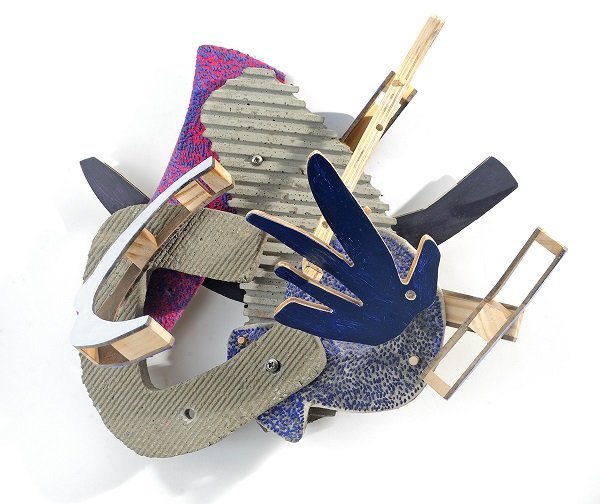 Artist Talk: Saturday, December 4 from 6-8 PM
The Fred Schnider Gallery of Art (888 N. Quincy Street, Arlington, VA) opened its next exhibit, Recent Animations on Saturday, November 6th. Recent Animations showcases the work of Jean Sausele-Knodt.  This exhibition contains a number of wall mounted sculptures that vary in both size and color.
Jean Sausele-Knodt Biography:
From a very early age Jean remembers spending hours building small habitat structures among the roots of trees. After many years pursuing fine arts, she sees this intrinsic impulse to design and build fully engaged in her current wall relief sculptural work.
Jean studied Fine Arts at Skidmore College, Saratoga Springs, New York, and earned her Masters of Fine Arts Degree in painting from the University of Pennsylvania, Philadelphia. While pursuing her graduate degree, she attended the Skowhegan School of Painting and Sculpture, Skowhegan, Maine. During her time at these schools, Jean studied with many remarkable artists, including Neil Welliver, Janet Fish, Yvonne Jacquette, Rudy Burkhardt, Alex Katz, Francesco Clemente and Judy Pfaff.
Eager to teach – – Jean became very involved as an educator, pre-K to university level. She has taught many design, drawing and painting classes as an adjunct professor in the DC area. The opportunity to design and direct an open-inquiry critical and creative thinking lab for a Fairfax County public school offered a unique arena to engage children with the thinking dispositions of artists, designers and engineers (David Perkins). Other pedagogical influences for the lab included the theories of Multiple Intelligences (Howard Gardner) and Flow (Mihaly Csikszentmihaly). Jean's book about the program, Nine Thousand Straws: Teaching Thinking through Open-Inquiry Learning was published in 2008 (Libraries Unlimited).
When returning to full time studio work, Jean asked herself a pivotal question related to the Flow theory: When are you so engaged in an activity that you lose track of time? Her realization, when I'm building things, led to her departure from using stretched canvas to constructing mixed media assemblages.
Also actively engaged in music jams and open mics with her love for singing jazz standards, Jean seeks ways to understand how her activity with both music and visual arts influence each other, and what constitutes a transformative experience in each arena.
Jean's work is held in private and public collections and also shows in various exhibitions in the Washington, DC, area, New York and Connecticut. She has recently returned to the Skowhegan School for an alumni artist residency.
Jean Sausele-Knodt Artist Statement:
Direction for these mixed-media works grew with a goal to keep parts and pieces continually fresh while exhausting relationship possibilities. The resulting working process is quite animated as I move about various elements. The action can, however, also build itself into an uncomfortable fragmentation that then needs to be dealt with and resolved. In this way, the work has become an arena for me to come to terms with what whirls about in my day-to-day life. A time to both celebrate and confront unfolding visual, societal and cultural realities – – those which float about gently and in beauty or disturb and clash-combine. With elements that I cut with saws, paint, cast in concrete, stitch with thread, draw with graphite or pen with ink, I aim to orchestrate a newly personalized sense of whole. Some works dance about, others hug together in clusters, yet all aim to embody a new time and place – – one I am driven to engineer and make manifest.
The Recent Animations exhibit runs through December 26, by private tour. Those wanting to view "Recent Animations" are welcome to call the gallery at 301.852.8042 to schedule a private tour of the exhibit within the weekly hours of Thursday-Sunday, 12-7pm.
Fred Schnider Gallery of Art – 888 N. Quincy Street, Suite 102, Arlington, VA.