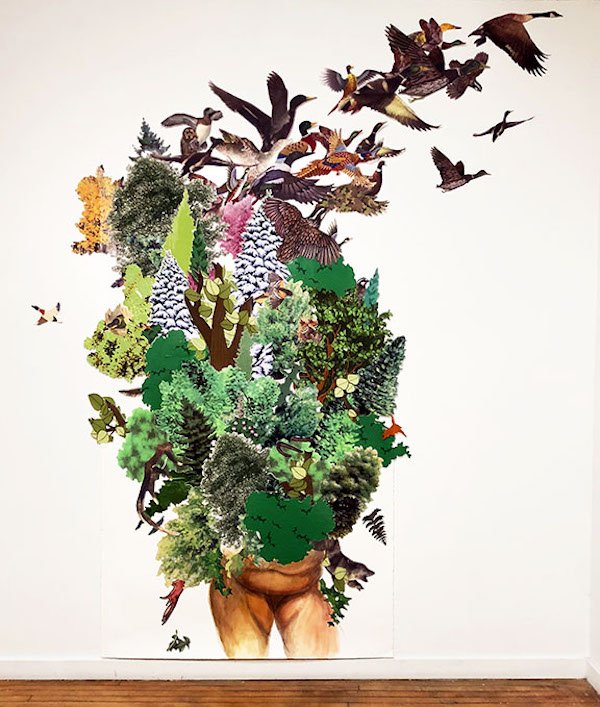 .
Panel: Saturday, November 17 at 2pm
.
In conjunction with Zoë Charlton's exhibition, The Migration, G Fine Art presents artists Holly Bass, Zoë Charlton, and Jackie Milad in a candid conversation moderated by Tim Doud discussing how identity, belonging, and landscapes factor in their respective practices. How does one lay claim to the landscape? Where do ideas of home reside?
HOLLY BASS (WDC) is a multidisciplinary performance and visual artist, writer and director. Her work has been presented at spaces such as the Kennedy Center, the Smithsonian Museums, the Seattle Art Museum, Art Basel Miami Beach (Project Miami Fair) and the South African State Theatre. Her visual art work spans photography, installation, video and performance and can be found in the collections of the Corcoran Gallery of Art and the DC Art Bank, as well as private collections. A Cave Canem fellow, she has published poems in numerous journals and anthologies. She studied modern dance (under Viola Farber) and creative writing at Sarah Lawrence College before earning her Master's from Columbia University's Graduate School of Journalism. As an arts journalist early in her career, she was the first to put the term "hip hop theater" into print in American Theatre magazine. She has received numerous grants from the DC Arts Commission and was one of twenty artists nationwide to receive Future Aesthetics grant from the Ford Foundation/Hip Hop Theater Festival. A gifted and dedicated teaching artist, she currently directs year-round creative writing and performance program for adjudicated youth in DC's Department of Youth Rehabilitation Services as well as facilitating workshops nationally and internationally.
Jackie Milad (Baltimore, MD) Creates textured works on paper by cutting away and collaging older works into new pieces, as a practice to constantly reinvent the value and purpose of her artwork. Milad has been featured in group and solo exhibitions at School 33 Art Center with Cindy Cheng (Baltimore, MD), Solo exhibition at Phoebe Projects curated by Alex Ebstein (Baltimore, MD), Lycoming College (Lycoming, PA), Gettysburg College (Gettysburg, PA), Flashpoint (Washington D.C.), Museo de Arte de Mazatlan (Mazatlan, MX), DiFOCUR de Sinaloa Galleria (Culiacan, MX), Transmitter (Brooklyn, NY), Arlington Art Center (Arlington, VA), Silber Gallery (Baltimore, MD ). Milad is a two time recipient of the Individual Artist Grants from Maryland State Arts Council and a previous resident of the Creative Alliance at the Patterson. Jackie was a Sondheim Prize Semi-Finalist in 2018. She received her BFA from the School of the Museum of Fine Arts at Tufts, and her MFA from Towson University.
Zoë Charlton (Baltimore, MD) creates drawings that explore the ironies of contemporary social and cultural stereotypes.  She depicts her subject's relationship with their world by combining images of culturally loaded objects and landscapes with undressed bodies. She received her MFA degree from the University of Texas at Austin and participated in residencies at Artpace Residency (TX), McColl Center for Art + Innovation (NC), the Skowhegan School of Painting (ME), and the Patterson Residency at the Creative Alliance (MD). Her work has been included in national and international exhibitions including the Harvey B. Gantt Center (NC), Crystal Bridges Museum of American Art (AR), The Delaware Contemporary (DE), Studio Museum of Harlem (NY), Contemporary Art Museum (TX), the Zacheta National Gallery of Art (Poland), and Haas & Fischer Gallery (Switzerland).  She is a recipient of a Pollock-Krasner grant (2012) and Rubys grant (2014), and was a finalist for the 2015 Janet & Walter Sondheim Prize.  She is the co-founder of 'sindikit, an artist project space in Baltimore, MD and is a councilor on the Maryland State Arts Council.  With her 'sindikit co-founder, Tim Doud, she is editing the next volume of Living and Sustaining A Creative Life series, subtitled Academia and the Arts.  Charlton is an Associate Professor in the Department of Art at American University in Washington, DC.
G Fine Art is located at 4718 14th Street NW.