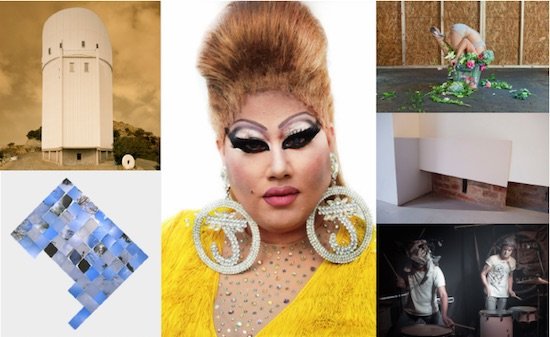 .
Talk: Saturday, September 12 from 2:30pm to 3:45pm
.
Artist Elena Volkova and Hamiltonian bring together an intriguing group of artists for a discussion on the diverse nature of contemporary lens-based art practices, including photojournalism, conceptual photography and site-specific photography.
Adam Ryder, Jill Fannon, Mike Iacovone, J.M. Giordano and theorist Nathan Jurgenson will discuss photographic image-making in the 21st century and explore their diverse approaches to the medium, including the motivations, thought processes and intentions that are at the core of their practices.
Panelists
Jill Fannon received her Bachelor of Fine Arts from the Maryland Institute College of Art, and her Master of Fine Arts in Digital Imaging from the University of Maryland, Baltimore County. Pursuing both commercial and personal projects, Jill has traveled nationally and abroad, teaching photography workshops throughout the Greater Baltimore/DC area. She recently exhibited at School 33 and Maryland Art Place's LUX Gala in Baltimore, and The Delaware Center for Contemporary Art. Jill was awarded an Individual Artist grant in 2012 from the Maryland State Arts Council for photographic achievement.
J.M. Giordano is an award-winning photojournalist based in Baltimore. His recent series Summer of The Gun was featured on Al-Jazeera America. His clients include The Ditlo Agency, The Daily Telegraph, i-D Magazine, Discovery Channel Inc., Rolling-Stone on line, XLR8R, The City Paper and The Baltimore Sun. He resides in Harrisburg, Pennsylvania where he has worked as an art teacher.
Michael Dax Iacovone likes to spend his time investigating public space, walking through cities, and driving across bridges, documenting his experiences through photographs, maps and videos. He also shares an interest in formulas and creating systems to generate art, and is co-founder of the Free Space Collective. He has a BS in Photography and Art Education from the State University of New York, an MFA in Photography from Virginia Commonwealth University, and an MFA in Studio Art from Maryland Institute College of Art. His work has been exhibited internationally and nationally.
Nathan Jurgenson is a social media theorist, a Contributing Editor for The New Inquiry, researcher for Snapchat, and a graduate student in Sociology at the University of Maryland. His 2012 essay, "The IRL Fetish", was named by The Verge as one of "the 25 best reads on the web this year" and was covered widely, including in The New York Times. In addition to his writing, Nathan is also a musician and photographer. He resides in New York City.
Adam Ryder is an artist working in lens-based mediums in Brooklyn, NY. He is a graduate of the School of Visual Arts MFA program in Photography, Video and Related Media. He has previously created work in collaboration with Brian Rosa. Ryder is also a contributing writer at Photograph Magazine and a 2014 Hamiltonian Fellow.
Moderator
Elena Volkova's current body of work follows post-minimalist aesthetic and focuses on liminal space, bringing attention to the everyday overlooked moments, and addressing viewer's interaction with art spaces. She earned two degrees from the Maryland Institute College of Art: an MFA in Studio Arts as well as a BFA in Photography. Volkova has received various awards, including the Janis Meyer Traveling Fellowship, Hamiltonian Fellowship, Sondheim semi-finalist awards and the Vermont Studio Fellowship. She has exhibited her work regionally and internationally. She resides in Baltimore, MD and teaches Photography at Stevenson University.
Hamiltonian is located at 1353 U Street NW. For more information visit www.hamiltonianartists.org/events.
.
.
.
.