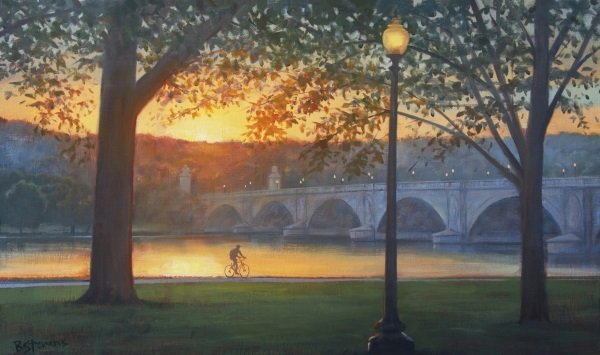 Artist Talk: Saturday, January 21 from 2pm to 3pm
RSVP eventbrite HERE
With his new series of luminous DC paintings, artist Bradley Stevens shows us how familiar city scenes are rendered breathtaking and magical, bathed in light:
Of the myriad and obvious reasons DC is such a wonderful place to live––the vibrant artistic and cultural life, the monuments, the neighborhoods, the Potomac River and Rock Creek––the city's unique quality of light is often overlooked. Rare among the world's great capitals, DC isn't dwarfed by monoliths blocking sunlight to the web of life below. We who live, work and play here can witness the ever-changing light show that plays upon the city's architecture and surrounding landscape. It is this beautiful illumination of some of our city's most treasured spots that I attempt to capture in these paintings.
Gallery Hours:
Wednesday – Saturday: Noon-6pm
or by Appointment
Zenith Gallery is located at 1429 Iris Street NW.