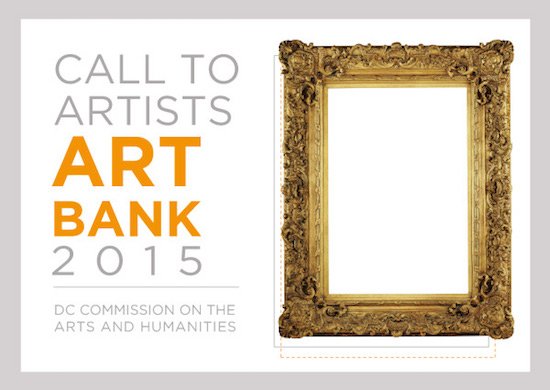 .
Deadline: Friday, March 20
.
The DC Commission on the Arts and Humanities is seeking to purchase original two and three-dimensional works of art- including but not limited to paintings; drawings; mixed media; prints; photographs; fabric art; ceramics; sculptures; installations, and video work. Applicants are allowed to submit artwork(s) in a series. However, each artwork within a series will be counted individually as part of the allowable maximum for portfolio submission from individual artists (5) and art galleries (10).
All artwork submitted will be equally considered ranging from representational, conceptual, landscape, and abstract artworks. Artwork must be created using archival materials and be no larger in size than 96″ in any direction. The overall weight of artwork shall not exceed 100 lbs.
Each individual artist's application is allowed to submit up to 5 works of art for consideration. Art galleries are allowed to submit up to 10 works of art from any combination of two or more represented artists. All artwork submitted must be available for purchase and available for an in-person review upon Semi-finalist notification. The 2015 Art Bank Call will open on Friday, February 20, 2015 and close on Friday, March 20, 2015.
Applications must be submitted digitally at dcarts.slideroom.com
Art Bank 2015 Eligibility & Calendar Dates:
The 2015 Art Bank call is open to artists who reside full time or maintain studio space in the Washington, DC and metropolitan surrounding area including Maryland and Virginia whose city falls within a 50 mile radius.Art Galleries who apply fall under the same guidelines as above where represented artists must live or work within these parameters for compliance.
Art Bank 2015 Calendar Dates:
February 20, 2015- Art Bank 2015 Call Opens.
March 20, 2015, 11:59 PM- Art Bank 2015 Call Closes.
May 01, 2015- Panelists selection of Art Bank 2015 Semi-finalists.
May 08, 2015- Notifications to all applicants.
May 21 – 22, 2015, 2 – 5 PM- Semi-finalists deliver selected artworks to DCCAH.
May 28 – May 29, 2015- Panelists review to make final recommendations.
June 08, 2015- Notifications to Semi-finalists.
June 09 – 10, 2015, 2 – 5 PM- Semi-finalists retrieve works that were not selected.
For additional information or questions about the Art Bank 2015 Call please contact:
Zoma Wallace, Art Bank Coordinator
zoma.wallace@dc.gov| (202) 724-5613
Ron Humbertson, Art Collections Registrar
ron.humbertson@dc.gov | (202) 724-5613
.
.
.
.