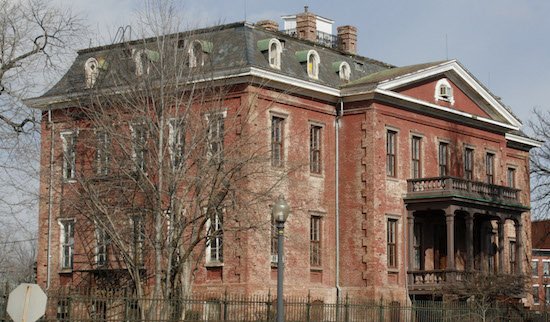 .
Deadline: Monday, April 25, 2016
.
Exhibition Dates: June 29–October 2, 2016
Opening Reception with Juror: June 29, 6-8pm
Eligibility:
Open only to artists residing in the District of Columbia, Virginia, Maryland, and Delaware. Original hanging work created in any medium will be considered.
Entry Fee:
$40 for up to 5 pieces; $10 for each additional piece. Payment through PayPal (which accepts all major credit cards).
Guidelines:
Artwork must be delivered ready to hang using the Hill Center cable-and-hook system. Details will be provided to selected artists. No size restrictions apply, as 14' ceilings in some gallery space can accommodate large pieces. All artwork must be available for sale.
Prizes:
Three cash prizes and five Honorable Mention awards will be made. First place $1,000; Second Place $750, Third Place $500. Award winners will be announced at the Opening Reception on June 29.
Entries:
Entries must be made online at: http://hillcenterdc.org/home/call-for-entries (under Galleries and Exhibitions). Instructions are posted on the website.
Judging:
The Exhibition will be juried by Eric Denker, Senior Lecturer and Head of Adult Tours and Lectures, National Gallery of Art. All artists will be notified of the Juror's decisions on/about May 9, 2016.
Delivery/Pickup:
Selected art work must be delivered to Hill Center on Sunday, June 26, between 12pm-3 pm. Work is to be removed on Monday, October 3, between 10am-1 pm.
Sales:
Selected artists will be asked to sign the Hill Center Galleries Consignment Agreement. Hill Center Galleries shall sell artwork at the sales price submitted in the on-line entry, plus applicable DC sales tax, and remit proceeds to the artist, retaining a 30% sales commission. No price changes will be allowed once the jurying has begun.