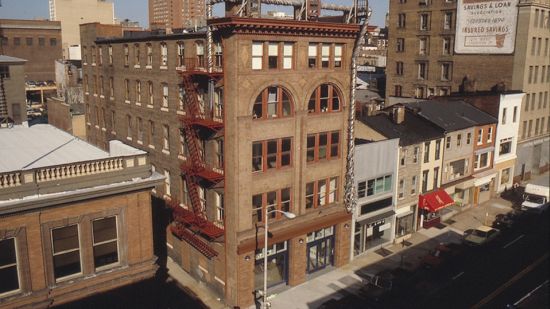 .
Deadline: Friday, October 6, 2017 at midnight
.
Maryland Art Place (MAP) is excited to restore the Curators' Incubator program, slated to open May of 2018. MAP established Curators' Incubator in 2004 as a platform for aspiring curators to grow. In this program, MAP's gallery is made available to an emerging curator or curatorial team to develop a creative, curatorial vision as part of a 9-month mentored partnership initiative. The program provides approximately 2,200 square feet of gallery space in downtown Baltimore, located within the Bromo Arts District. Participating curator(s) will receive guidance from the staff and Program Advisory Committee (PAC) at MAP, with a focus on strengthening the curator's written aptitude. A Curatorial statement will be reviewed, revised, and then published in an online exhibition catalog, which will be made available to the public free of charge. (or via fee-based download)
Curators' Incubator will open Thursday, May 17, 2018 at Maryland Art Place, with an opening reception at 6pm. The selected curator(s) will lead a gallery talk at the opening reception on May 17. Curators' Incubator will be on view at MAP from May 27, 2018 to June 23, 2018.
MAP is open to exhibition proposals of all types. Curators' proposals will be juried by MAP's staff and Programming Advisory Committee (PAC) this October, 2017. After the initial review of proposals, up to five curators will be selected for advancement to phase two of the application process where they will be required to formally present and expand upon their proposal to the PAC in November. (Skype could be made available for applicants who are not local).
Proposal Must Contain:
Online application form
Statement of intent

Full project description with working title, curator's names
Names, discipline and relevancy of each proposed artist

Short biography for each artist intended for inclusion in proposed exhibition
Comprehensive Budget o

Include shipping, signage, promotional materials, advertising, installation materials, vinyl and any additional costs associated with displaying the work
Budget proposal must not exceed $5,000
Curators are expected to include a stipend or honorarium for the curator in their budget.
General Information:
The selected curator or curatorial team is responsible for coordinating delivery, installation, and deinstallation of artists' work. Costs associated with installation must be included within the proposed budget.
Selected curator or curatorial team shall receive a budget including a stipend to support the production of the show. Any costs beyond this budget will be borne by the Curator(s) themselves.
Curators are encouraged to research additional funding opportunities if their proposal is anticipated to go over the $5,000 budget limit. An acknowledgment of additional funding sources should be included in the budget proposal.
In addition to an exhibition budget, MAP will provide:

Reception food & beverages
Social media and website promotion
2,200 square feet of gallery space
Artwork storage space
Staff to gallery sit during the exhibition
Feedback on curatorial statement
Online catalog

Please note that curators may not include their own work in their exhibition.
Application Fee: $30 to apply. MAP offers a reduced rate of $10 for members.
Submit your fee by clicking on "Get Involved," "Donate" on MAP's website and simply adjust the fee to $30 or $10.
Please attach your payment receipt to your application.
Checks can be made payable to:
Maryland Art Place | c/o Benefit | 218 West Saratoga Street Baltimore, MD 21201
Completed application should be submitted via email to submissions@mdartplace.org. Visit MAP's website and download the RFP for complete application instructions.
Questions? Email MAP's Program Manager, Naomi, naomi@mdartplace.org, or call 410-962-8565 and speak to a staff member.