BY CHRISTINA STURDIVANT
Since 2011, Art All Night: Nuit Blanche DC has transformed the Shaw neighborhood into an oasis of visual and performing arts, music, film, fashion and poetry for one night only. The annual arts festival, sponsored by the DC Commission on the Arts and Humanities (DCCAH), is back with massive expansions, September 27.
The festival will reach all quadrants of the city through partnerships with five main street associations: Dupont Circle, North Capitol, H Street NE, Congress Heights and Shaw. Each neighborhood has created distinct programming that will collectively create a citywide experience like no other.
Nuit Blanche originated in France in 2002, when Parisians were encouraged to explore their city in a transformative way, with an emphasis on advanced lighting and projections.
"It's a pretty extraordinary festival—it's a real cosmopolitan and artistic experience for everybody," says Ariana Austin, who visited the festival as a twenty-five-year-old teaching assistant in Paris.
Growing up in the DC arts and culture scene, Austin valued the District's free public art programming from the Smithsonian's many museums to private art galleries. However, she had never experienced an affair quite like Nuit Blanche in Paris. After returning to the states, she brought with her the idea for the festival to launch in the nation's capital and reached out to the French Embassy, DC Arts Commission and Shaw Main Streets, who were all equally excited about the possibilities. The event has since materialized into a coveted annual occasion serving up to 15,000 festival-goers.
Over the years, Art All Night has honed in on "creative placemaking" as the derelict state of the Wonder Bread Factory in 2011 was transformed into a wondrous warehouse destination with exhibitions curated by Art Soiree and Alliance Française DC. The factory, along with other abandoned spaces made into galleries, have consistently drawn lines of people outside the door.
This year, Art Soiree will take over the North Capitol street location, which should be promising, says Austin. Three massive outdoor spaces will encompass live performances, graffiti art, video screenings, whimsical creations, live painting, body art and light installations for a cultural experience in an urban environment.
In Shaw this year, Austin points to the work of photographer Renato D'Agostin, presented by the Embassy of Italy and a showcase of short, cutting edge films from young filmmakers presented by the Parallel Film Collective.
Since its conception in 2011, Art All Night has doubled in size this year with at least 45 participating venues. With the help of the DC Circulator Bus and Lyft, festival-goers will have a chance to see as many exhibits as possible with all night transportation to each destination.
For those who let time slip away, the "neighborhood portal" video installation will provide a real-time connection between happenings in Shaw and Congress Heights.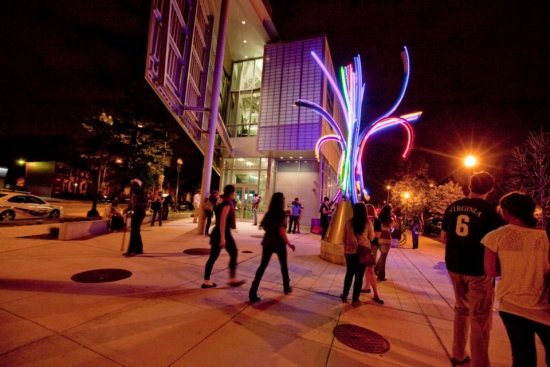 Technology is also at play this year through sponsor, Google Glass. The company will provide devices to six individuals who will collect content during the night.
With advances on all fronts, hopes are high for this year and beyond. "I think it's so great for the city—we should keep investing in it and making it better and better," says Austin.
Art All Night: Nuit Blanche DC will begin at 7:00 pm on Saturday, September 27 and conclude at 3:00 am Sunday, September 28.
.
.