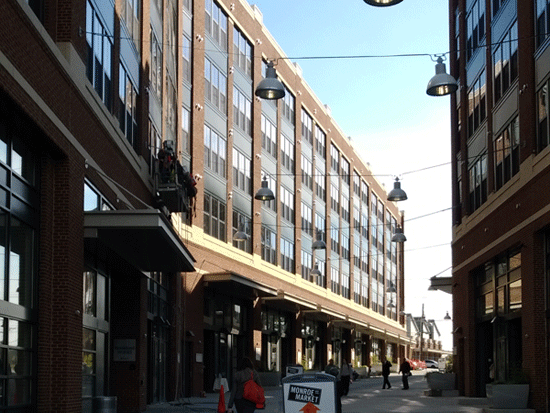 Originally Published in the Winter 2013-2014 East City Art Quarterly Guide to the Visual Arts.

For those of you who have not visited Brookland recently, you might be in for a shock.  Driving westbound down Monroe Street NE, a city onto itself appears to have sprung up overnight around Metro.  Several seven story buildings with pitched roofs and corner turrets line either side of Monroe Street as if to announce the coming of a new era in Brookland.  These 8.9 acres of newly developed land along Monroe Street between the overpass and Michigan Avenue have become ground zero for reinventing Brookland as Washington's newest arts district.
Collectively known as "Monroe Street Market," the mixed-use space promises future retail development as well as market-rate, student and affordable housing, steps from Metro and Catholic University.  Developer Jim Abdo believes that arts related programming will lure the curious to Brookland translating into both retail and residential tenants.
To this end, Abdo turned to artists for inspiration.  He admires artists' ability to go into overlooked neighborhoods and adapt the urban landscape to their needs, transforming often ignored areas into attractive districts.  However, he laments the common refrain of artists having to relocate as a result of higher rents and property costs once their chosen neighborhoods become trendy and established.  As a result, prior to forming any partnerships or breaking ground, Abdo worked with the city to rezone the Monroe Street Market artswalk to ensure that artist spaces would always exist and remain at below-market rates.
The end result- 27 artist studios at street level face one-another in a pedestrian walkway known as the "artwalk" leading to a large outdoor-performance plaza and eventually to the entrance to the Brookland Metro station.  Across Monroe Street, the spacious Edgewood Arts Center will provide a permanent venue to showcase performances, exhibitions and other events.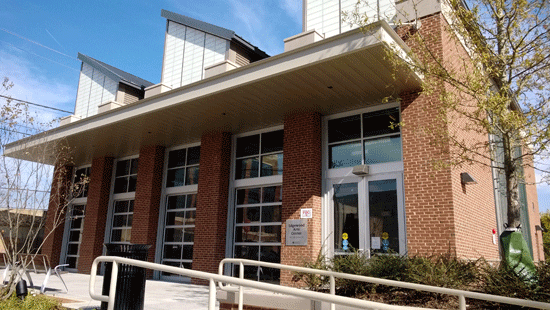 Seeking a partner whose core competency resided in managing art spaces, Abdo turned to Cultural DC to promote the availability of studios in the artswalk through a city-wide call-for-entry.  Cultural DC aided in selecting qualified candidates, specifically visual artists, who could fill the studio spaces.  Juanita Hardy, executive director of Cultural DC, indicates that, to date, all 27 studios in the artwalk are leased and that a waiting list has formed.  Cultural DC will continue to expand its role in Brookland as the organization has partnered with local arts organization Dance Place to program festivals, music and exhibitions both along the artswalk and at the Edgewood Arts Center.
Dance Place bought their current building, just a block away from the artswalk, at 3225 8th Street NE in 1986.  The organization relocated from Adams Morgan at a time when the northwest neighborhood was transitioning into a high rent district. In effect, Dance Place's longevity in the neighborhood and history of community engagement has made it Brookand's de facto arts district anchor much like the H street Playhouse was in 2002 on H street NE, attracting other arts organizations to the area.  Accordingly, Dance Place's presence a block down from Monroe Street Market influenced Adbo's decision to create an art-centered development.
However, Dance Place's role as an arts organization has expanded beyond its namesake.  The neighborhood bellwether owns several buildings in the area and more recently, in 2008, worked with Artspace, the Minnesota arts nonprofit giant, to generate community support for the creation of the Brookland Art Lofts.  The Art Lofts, completed in 2011, provide 41 below-market artist work-live spaces and a community art gallery.  Dance Place leases additional office space and a dance rehearsal studio in the art lofts while their building next-door undergoes renovation.  In addition, Dance Place also runs "Studio 21" in the artswalk, an art gallery showcasing a variety of art exhibitions.
Brookland's ascendance as an arts district owes much to Lavonia "Vinnie" Wohlfarth who has sought to transform the area into one of DC's leading arts districts for many years. The Brookland native and Vice Chair of the DC Commission on the Arts and Humanities, transformed her childhood home at 3418 9th Street NE into a neighborhood art gallery and gathering place long before anyone considered Brookland a viable destination of any kind.  Wohlfarth invited the public to her gallery, which bears her name, to the first meeting on the Brookland artswalk in November 2012.
Bellwether arts organizations and subsidized studios notwithstanding, has Brookland's recent surge in creative colocation attracted other groups to the area who might benefit from this concentration of arts activity?  The amalgamation of activity caught Heather Bouley's attention. Bouley, the Executive Director of SCRAP DC, has had to relocate her organization many times due to escalating rents.  With H Street's skyrocketing rents and Anacostia's tightly held real estate market overvalued due to a saturation of social service agencies, Bouley found Brookland's commercial real estate market quite affordable by comparison.  Siting Dance Place and the new artswalk as amenities that attracted her to the area, Bouley believes Brookland is an excellent match for SCRAP DC.  To find a more permanent home for SCRAP DC in Brookland, Bouley turned to the Menkiti Group, a group of local real estate experts.  Menkiti group's CEO Bo Menkiti, who hails from a nonprofit background himself, believes that more groups like SCRAP DC will come to Brookland as a result of the concentration of arts activities around Monroe and 8th Streets NE.
Editorial notes:
– Eric Hope and Phil Hutinet have been covering the ascendency of Brookland as an arts district online since 2010.  For more articles about Brookland go to: www.eastcityart.com/tag/brookland/
-An update to more recent developments in Brookland will be published in the upcoming spring 2014 edition of the East City Art Quaterly Guide to the Visual Arts which will be available March 1 in the Hill Rag and March 7 in EotR.
.
.
.