Just steps away from the traffic circle that announces your entry into Mount Rainier, a subtle shift to the streetscape is taking place. The windows of a nondescript storefront have been transformed into a cabinet of curiosities featuring ceramic forms imbued with dormant memories waiting to be explored. What passes for salvaged artifacts are actually the contemporary creations of Ani Kasten. Artist and entrepreneur, Kasten is in the final stages of a large-scale building renovation that will not only create her own live/work studio space, but also provide guest studio space, further the economic revitalization of her street and perhaps serve as a template for other artists keen to make a full-time career out of their artistic passions. She recently invited East City Art into her studio to see the remarkable transformation.
Stepping through the front door reveals an amazing studio space with high ceilings and loads of natural light pouring through the front windows. Her works sit on plinths in a small exhibition area with half-walls creating a natural separation between the finished products and her workspace. This work space encompasses the entire back section of the storefront and contains multiple pottery wheels and drying shelves for her ceramics (two large kilns are housed in a back room). We'll get to her artistic aesthetic momentarily, but first I'd like to underscore the transformation of this almost 100 year old shop.
Although she doesn't know its full history, her building appeared to have been a shoe repair shop in its former life. When she purchased it in 2012, the building would probably be described most charitably as a multi-family rooming house; initial demolition removed five kitchenettes! Kasten was no stranger to the area, having rented studio space at the Gateway Arts Center just up Rhode Island Ave. While gritty on the surface, the area is home to hundreds of artists.  With internationally renowned organizations such as Flux Studios, the Washington Glass School and Red Dirt studios a couple of blocks away, Mount Rainier is arguably the region's hub for ceramics and glass arts. This was extremely important to Kasten, who wants to further enhance the artistic spirit of the community. She also frankly notes that the lower cost of housing and studio space has both encouraged artists to set up shop in this area and greatly influenced her decision to put down more permanent roots.
"I am primarily a businessperson," Kasten tells me, so when a change in her personal circumstances necessitated a search for new housing, she crunched her numbers and realized that a live-work arrangement would save her hundreds of dollars a month in studio rental fees. The entire process of locating, purchasing and building-out of her studio has given this artist a crash-course in real estate development. Knowing she wanted to stay in Mount Rainier, she searched for and found a large, two-story space on 34th street that served her needs. Her first hurdle was arranging the financing. While the street zoning allows for both residential and commercial uses, Kasten quickly discovered that local banks wanted to treat her purchase as a commercial loan – a format that requires more paperwork and higher thresholds to qualify for funds. It also became apparent that the size of her loan (small by business standards) was not attractive to banks. In the end she turned to the Financial Services Corporation of Prince George's County, a non-profit banking institution created to lend money to small-scale businesses and entrepreneurs.
Securing funding was half the battle, but the war wasn't over. Next came the demolition, followed by the remodeling. Given her new home's age, Kasten was required to upgrade some of the building's systems, most notably the electrical wiring which required a heavy-up to handle her 400 amp kilns. She turned to "recycling" businesses like Community Forklift for items like wood doors and flooring. While rebuilding, she also had to navigate the city's permitting process, which required regular visits by city inspectors and a representative from the fire department (at press time, she is still awaiting her final certificate of occupancy).
With that certificate in hand, she will not only be an artist but also a small business owner. While her journey is certainly exciting on a personal level, it's also a harbinger of changes in the neighborhood. Her renovated storefront joins others on the block slowly remaking this pocket of downtown into strip with small businesses catering to the community; its artistic nature further indicates how important the role of the visual arts is to the Gateway Arts District. From a more over-arching arts perspective, this process underscores the fact that arts-related endeavors are also generators of economic activity.
With all the talk of interest rates and finance terms, it was easy to temporarily forget why she's jumping through all these hoops. That would be a mistake, because her artistic creations deserve as much (if not more!) attention than her financial statements. There is a certain serenity to her work found in either in a stand-alone bowl or a "forest" of vessels lined up in a row. That serenity stems from what she describes as "the balance between craftsmanship and the expression of the clay." She eschews intricate detailing and complicated finishes to allow the material to speak for itself. Those speeches are ethereal – hushed whispers rather than bombastic statements — and one gets the sense that the clay is slowly releasing memories storied away within its minerals.
Kasten's relationship to the material itself informs that idea of suspended memory. Rather than attend a formal art school, Kasten apprenticed with a master craftsman in England, then spent five years in Nepal where she worked alongside local potters in an effort to help invigorate their local craft culture. This "informal" education influenced the way she approaches the basic material itself. Clay is not something to be harnessed or tamed; rather, it is to be freed and celebrated. "My work is about the material. I'm willing to relinquish a lot of the control over the material," she tells me. What results are works that ask you to still your mind and contemplate so they may begin to engage in quiet conversation.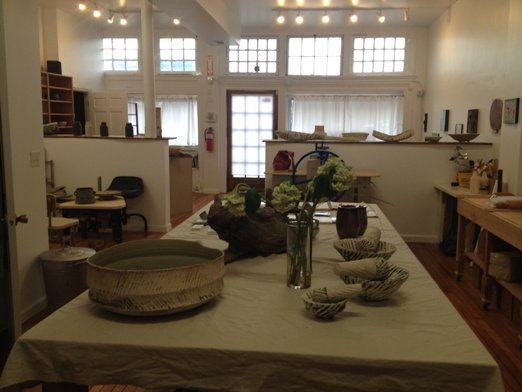 This zen-like essence seems at first incongruous, given that Kasten casts herself as a businesswoman. Upon further reflection though, it seems apt for an artist who has a myriad of cultural story-lines simultaneously at play. Her expanded studio space will surely allow her to both build upon those identities and explore them with other artists, further cementing Mount Rainier's reputation as a haven for the ceramic arts!
With business license in hand, Ani Kasten hopes to host future public events in the exhibition area within her studio. For more information, visit her website at www.AniKasten.com