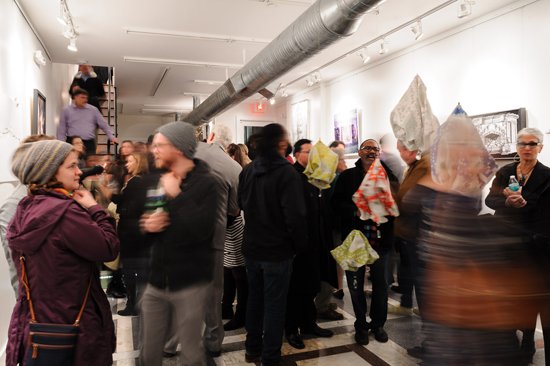 East City Art's fourth annual regional juried exhibition EMULSION 2017 is bigger than ever and the submission deadline is just around the corner, January 9 to be exact.  Exciting changes are underway, including a move to the heart of downtown DC!  For its fourth iteration, the exhibition lands at PEPCO Edison Gallery for a two-week run amidst the bustle of Penn Quarter's nightlife.  5000 square feet of gallery space will allow for our largest exhibition to date and the ability to include a greater number of artists.  With a larger gallery comes larger cash prizes!  This year's top prize is $2,000, with the second and third place prizes increasing as well; two honorable mentions will also take home a cash reward of $250 each.
Allocating this expanded prize purse is no easy task and juror Deirdre Ehlen MacWilliams has her work cut out for her.  Luckily for participants, working on projects like this is second nature to this local arts professional.  As the Public Art Project Manager for Arlington County's Public Art Program, MacWilliams routinely works with local artists on both temporary and permanent installations throughout the county.  Prior to working under the auspices of Arlington Cultural Affairs, MacWilliams worked as the public art coordinator for the DC Commission on the Arts and Humanities, where she brought the projects of regional, national and even international artists to life through city-wide initiatives like the 5 x 5 project.  Given that her career first took off in Brentwood, Maryland, it is safe to say she has the DMV covered!  MacWilliams also maintains a busy private consultancy, working with a variety of groups such as the District's Mid City Artists in Logan Circle and the Georgetown BID.
MacWilliams' participation brings a unique perspective to EMULSION's jurying process. While our former jurors worked mainly within more traditional gallery spaces, MacWilliams routinely places work outdoors in a variety of public settings that range from city sidewalks to bus interiors.  As a curator, she must consider the varying contexts these works navigate as outdoor conditions change or how a passersby might interact with them to differing degrees.  For example, her recent multi-media curatorial project Georgetown Glow, now in its third year, creates fantastical, temporary light-scapes for visitors to experience across multiple neighborhood sites.  The curatorial and programmatic underpinnings that lead to the formulation of these types of events can vary slightly from those used to organize a gallery show and may give MacWilliams a fresh take on two-dimensional works.
As a longtime area resident, MacWilliams finds uniqueness in the way our federal and local identities coexist simultaneously.  From her perspective, our local arts community is tight knit and inclusive, inhabited by artists who are more interested in helping one another move forward in their practices rather than act hyper-competitively.  The fact that EMULSION attempts to emulate this inclusivity by bringing artists together from across the region is one of the reasons she decided to come on board.
In just a few short weeks, MacWilliams will segue from curator to juror as the applicant review process begins.  While many of her projects in Arlington County are mixed-media and sculptural in nature, she is quick to note she is interested in seeing as wide a range of works as possible.  MacWilliams also points out that as a curator, she is usually crafting a show around a specific thesis and intentionally looking for works that fit a preconceived plan or framework.  Though as a juror, she has no preconceived ideas and is willing to let serendipity reign.
That said, quality is important.  While she is hoping to include a wide range of media and artistic ideas in the final show, the overarching concern will be the caliber of the works.  To that end, MacWilliams plans on breaking down her jurying tasks into small groups of applicants viewed over a two week period so that each entry receives her full attention.  Her only nugget of advice for artists applying is to possibly consider submitting the newest work, or work that has not exhibited frequently in this area.  She really wants EMULSION 2017 to highlight the most contemporary ideas of artists across the region.  Emerging artists, take note:  MacWilliams is most looking forward to discovering artists she hasn't seen before, so do not be dissuaded if you have not widely exhibited.  Now is the perfect opportunity!
---
The deadline to apply for Emulsion is January 9, 2017. The exhibition will take place March 3-16, 2017 at the PEPCO Edison Gallery.  For more details, including a complete prospectus and application, please visit our dedicated EMULSION website here.