A stunning addition to the San Francisco skyline debuted in May when the San Francisco Museum of Modern Art threw open the doors of its massive expansion.  Three years in the making, the new building (designed by the Norway-based, international architecture firm Snøhetta) more than doubles the museums square footage and triples the overall space devoted to galleries, making it, as the  New York Times notes, one of the largest art museums in the country.  I had a chance to visit the new addition on a recent swing through the city.
If you had been to the museum before the expansion, prepare to be amazed.  Entering the building from its original third street entrance (a new, second entrance loomed over by Richard Serra's massive Sequence is around the corner), you will immediately notice the enclosed stairwell has been removed, allowing views all the way up to the fifth floor oculus.  A dramatic new stairwell guides visitors up to newly-relocated ticket counters, elevator banks and other amenities.  The second floor is also home to several galleries devoted to a rotating selection of earlier works from the museum's collection (and as an added bonus, these galleries are free to visit without a ticket).
The majority of the new building is devoted to gallery space, including the new Pritzker Center for Photography which, according to the museum's press office, is the largest gallery space in the United States devoted specifically to photography.  Also figuring prominently are four floors of galleries devoted to displaying some of the 1,100 works from the Doris and Donald Fisher collection.  The Fishers–founders of the clothing chain Gap–have amassed a collection featuring some of the biggest names in postwar and contemporary art.  Currently on display are 260 works from their collection covering movements from Abstraction to Pop, with an additional focus on German artists post-1960.  Finally, the top floor of the museum is dedicated to contemporary and media art, as well as views of the skyline.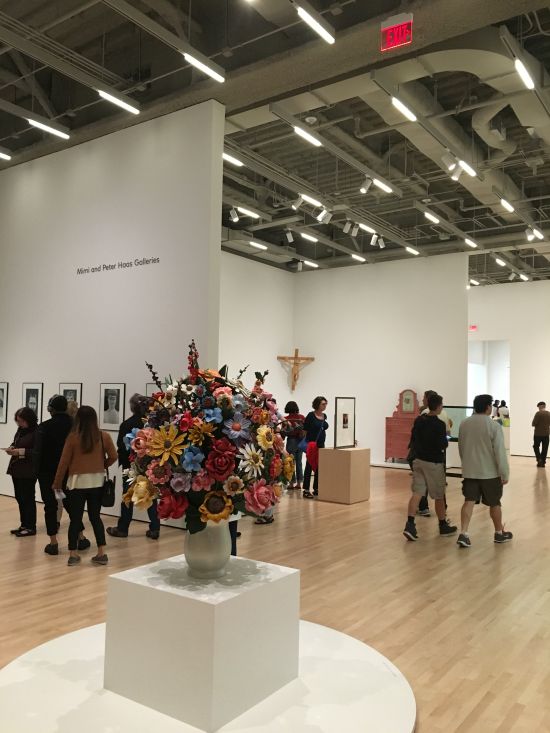 Outdoor space has also swelled in size, with six terraces spread across several different floors that give guests the chance to view both sculptures and neighboring skyscrapers, and on sunny days, even have a coffee alfresco.  The sculpture terrace on the third floor even includes a "living wall" featuring over 19,000 plants that serve as green backdrop to the sculpture around it.
If your travel plans this summer include a stop in the Bay Area, be sure to add the museum to your list.  My three hour visit barely scratched the surface, so be sure to give yourself plenty of time!
---
The San Francisco Museum of Modern Art is open daily except for Thanksgiving and Christmas Day.  For more information, visit the museum's website here.