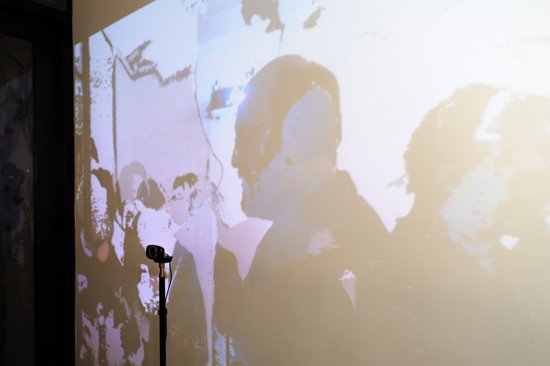 Steven H. Silberg—First Place
Catonsville, MD
My work develops from an interest in materiality as it relates to content. Inspired by the construction of the digital image and time-based media, my explorations have concentrated on the pixel, file data, metadata, the substrate, and the surface. Whether overt or subtle, changes to these elements offer new contexts for interpretation, thereby influencing meaning.
Today, we transmit, alter, and receive information with less effort than ever before. We create professional quality images, edit videos, and layout publications with ease—formerly only the realm of the professional. Technology democratizes the ability to create and communicate; yet this comes at the sacrifice of understanding the medium and tools we are using. As we become users of the technology, a disconnect grows between the process and the result.
As an image-maker and artist, I choose to take back the process. Rather than relying on traditional means of image making alone, I wish to engage the computer image at its level—the pixel, the data, and the display—making it as tangible as its manifestation. As viewers interact with my installations, watch my videos, and view my images, their awareness of the process of constructing an image grows.
At the root of my work is a sense of pedagogy and process. As a pedagogue, I want my audience to gain a deep understating of how things are constructed, where they come from, and how they develop.  My installations educate as tools allowing the viewer to become the variable within a rigidly organized system. My images illustrate the image-making experience and deliberately disclose the pixel and image parameters, making the viewer aware of the constructive/deconstructive structure inherent in imaging technologies. Resulting images are then easier to understand as the viewer discovers their structure, leading to a greater connection with and appreciation of the medium and the tools.
Judith Peck—Second Place

Vienna, VA
We live in a broken world, full of distances and rifts between and across cultures. I think life is about relating to others with empathy in spite of these breaks. I paint in oil on broken plaster shards in an attempt to hold this cracking world together.
We can be whole, despite being unable to cover all the real-life breaks. To convey this reality, I paint portraits that mask the actual depth of the plaster by covering the surfaces with illusionistic renderings of individuals.
For my subjects, I choose people whose rich inner life comes across on their faces, because it allows a viewer to delver into the sitter's psychology. If we can actually see each other, we can pursue life compassionately without getting stuck in its rifts.
Working from these principles, my paintings then become about how we heal ourselves in this broken world. The work becomes a guide to investigating our lives and, hopefully, the models' lingering and penetrating gaze will move us away from our complacency.
Beverly Ryan—Third Place

I have been making "things" all my life.  It is how I am in the world. As an adult I re-invented myself to put art making in the center of my life. It has become my main activity.  Today I am a fulltime artist and art teacher.  Painting is my medium but recently I have been incorporating some mixed media, such as, sewn canvas forms, fabric webs, and metal linear forms.
Making art is the way that I digest what goes on around me, connecting it to my inner life.  My ideas, experiences and feelings manifest themselves in my work in ways that surprise me. My work is about discovery. My curiosity about what will happen if I do ……. to………., also keeps me exploring new techniques.