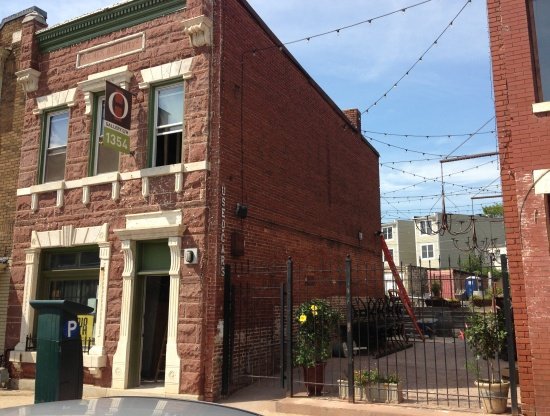 .
Opening Reception: Saturday November 9 from 7pm to 10pm
.
An emulsion can be defined as a "mixture of two or more liquids in which one is dispersed in the other as microscopic or ultramicroscopic droplets." (Thank you Merriam-Webster!) It is also the title of East City Art's first annual regional, juried show. While on the surface this bit of chemical jargon seems an odd title for ECA's entry into the world of exhibitions, to Phil Hutinet — East City Art's founder — the title is apropos, as it injects works from some of the region's best artists into the Atlas Arts District's Gallery O/H. Working with Gallery O/H owners Stephen Hessler and Mary Ellen Vehlow and noted gallerist Lauren Gentile, Hutinet aims to locate the region's artistic zeitgeist in what he calls the "new center for the visual arts in DC." I recently caught up with him to find out more about this new endeavor.
Being editor of East City Art doesn't spare Hutinet from answering some tough questions. Since the region is already home to a plethora of juried exhibitions that compete for artists' attention, I wondered why ECA is delving into this field and what will set this exhibition apart from other, more established exhibitions. East City Art is, at its heart, a media outlet notes Hutinet, but in some ways that gives the organization an advantage to promote artists' work. With thousands of monthly online readers, ECA is in a unique position to share the work of area artists with the public. Coupled with its media partnerships (and new quarterly print edition coming this fall), East City Art can promote local artists in ways that differ from a traditional brick-and-mortar gallery. Hutinet is quick to note that ECA is not branching out into the gallery business; this will be the only exhibition ECA produces and he tells me, "we intend to concentrate our time and resources to ensure it is a worthwhile endeavor for all who apply and participate."
EMULSION is currently open to all artists located in the Washington-Baltimore metropolitan area (as defined by the US Census Bureau). Obviously this geographic area spans well beyond eastern DC and the Gateway Arts District – our normal coverage area. I was curious as to the rationale of opening up entry to artists outside our coverage area; surely we have enough "local" artists to foster rich competition. Hutinet readily admits we have many great artists to chose from right here in our backyard (hopefully many of them will participate!), but EMULSION also seeks to, "expand [ECA's] reach… without abdicating our commitment to covering our chosen demographic area." The exhibition is not simply about showcasing great talent but positioning that talent on the eastern side of the city in the midst of the journal's core readership, highlighting the growing artistic clout of one of DC's newest arts enclaves.
Gallery O/H, with its storefront vantage on H Street, NE is a perfect location for this exhibition, and gallery owners Steve Hessler and Mary Ellen Vehlow were apparently quick to jump on board. Hessler and Vehlow revere art in all forms, and have amassed a substantial collection of "outsider" art in their own right. Their tireless work to transform the arts scene along the H Street corridor dovetails with ECA's mission to showcase art on the east side of the city. Regular readers will recognize them as a moving force behind the H Street Festival which brings tens of thousands of visitors to the area each September. Gallery O/H's ethos, a mix of eclecticism and wonderment, captures the spirit of what this exhibition is all about. Additionally, Vehlow's work as a guest curator at the American Visionary Art Museum in Baltimore ensures a professional experience for the artists invited to participate. As an added bonus, Hutinet points out, these two know how to throw a great party!  The gallery is currently going undergoing a top-to-bottom renovation, and EMULSION will be one of the first exhibitions in their updated space.
On a slightly more serious note, the participation of noted gallerist and curator Lauren Gentile brings both academic heft and a critical eye to the selection of exhibition entries. Gentile is the founder and director of Contemporary Wing, an exhibition space and program that recognizes the District as an emerging center of artistic creativity. While she cultivates the careers of artists on a national scale such as Shepard Fairey and the Guerilla Girls, she also has incredible insight into the local arts culture. For example, she recently produced the critically acclaimed Mumbo Sauce, a pop-up exhibition situated on H Street NE that examined DC's home-grown Go-Go music culture and ran as a companion to the Corcoran Gallery's exhibition Pump Me Up: DC Subculture of the 1980's. Gentile has been given carte blanche to select EMULSION exhibitors and will participate in a juror's talk to share her decision-making process.
Getting the commitment of such a highly respected curator is a boon for the exhibition and one of the reasons she agreed to participate is the fact that EMULSION is focused on the DC region.  "[East City Art and Gallery O/H] are committed to growing a neighborhood community — one that will nurture local artists," she tells me in an email exchange, adding, "that is important for DC art to thrive."  That said, she appreciates the fact that the call is open to artists as far north as Baltimore, noting that with institutions such as MICA (Maryland Institute College of Art) at our doorstep, there is a certain "richness" in the exchange across state lines.  She tells me she has no set checklist when it comes to reviewing entries.  "I let me instincts guide me," she states.  Still, artists need to be on top of their game: "I am drawn to artists who push their medium beyond traditional boundaries… I am not interested in derivative work."
While the application process for EMULSION 2013 is still open (applications must be postmarked by September 9, 2013), Hutinet is already looking forward to 2014 and beyond. If Hutinet has his way, look for EMULSION to grow into a platform highlighting the work of local artists on broad, perhaps national, scale. Until then, come see what all the fuss is about when EMULSION opens November 9, 2013!
EMULSION will run November 9, 2013 through January 17, 2014 at Gallery O/H, 1354 H Street, NE in the District. For further details, including detailed call-for-entry instructions, please visit ECA'S EMULSION page here.