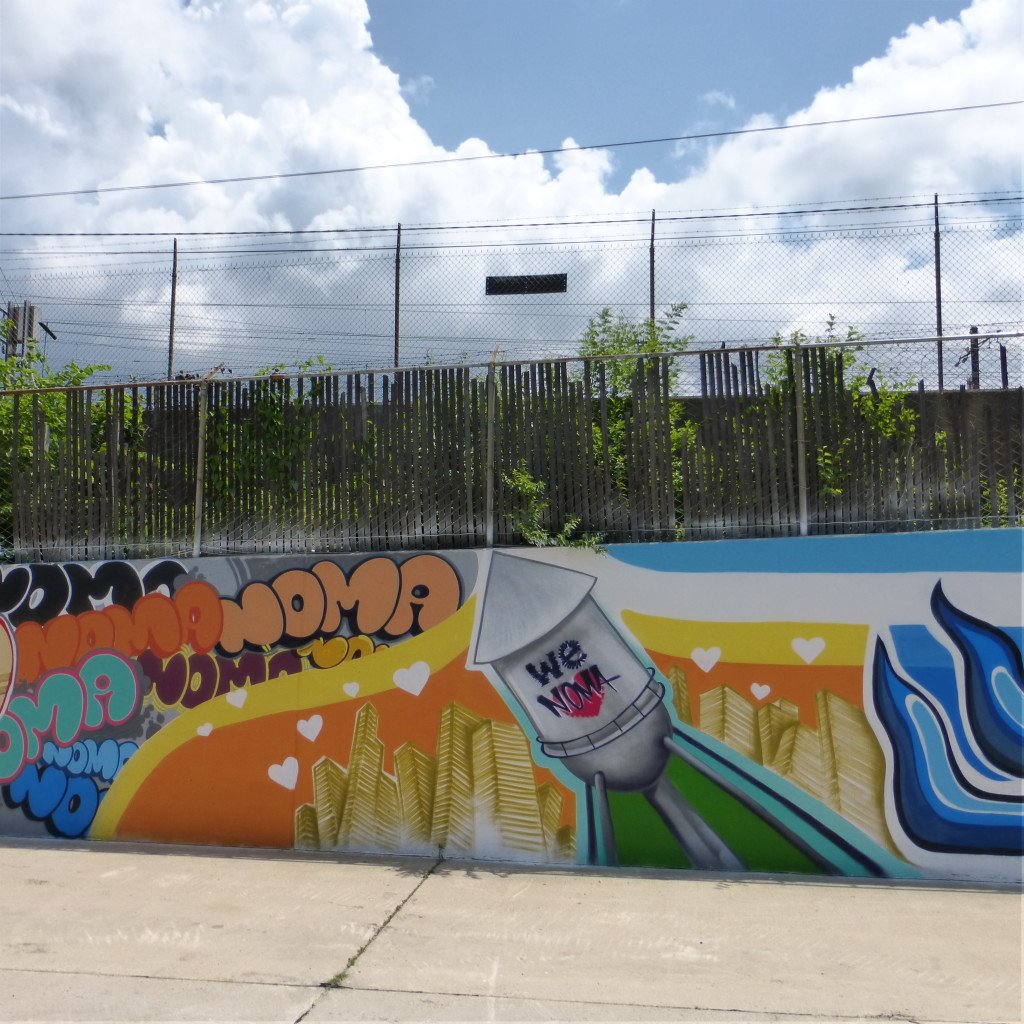 What happens when a Business Improvement District invites artists to play in an empty lot?  They come out in droves, and–using the parking lot and surrounding walls as their canvas–have a paint jam, a HUGE artists' block party – where they proceed to paint the block.
According to Mazi Mutafa, Executive Director of Words, Beats, and Life, and organizer of last Saturday's Paint Jam, Storey Park will be the largest mural in DC and the largest single piece of public art WBL has ever created.
The Storey Park site is located along 1rst Street, NE, between K and L Streets NE, bounded by the train tracks to the east.  The parcel is owned by First Potomac Realty Trust, and is slated to be developed, with a 712,000 square foot mixed-use project opening in 2017.
Words, Beats, and Life primed most of the asphalt parking lot and concrete retaining walls with white paint the last weekend in May.  This past weekend, organizers marked off parking lot spaces with tape, and assigned each artist a space to paint.  They marked wall space with dots of spray paint.
Words, Beats, and Life reached out to artists throughout the mid-Atlantic, inviting them to submit designs for  asphalt-painted murals.  Murals radiate out from a Calligraffiti Mandala of Haiku written by the WBL poetry class.  Paint Jam regulars were invited back to paint the retaining wall.
There was a sign in sheet to keep some semblance of order, and free paint and loaner brushes and spray tips for those who signed in.  Some artists brought paint and supplies, but supplemented with the free paint.
And then the painting began, continuing all afternoon, into the evening, and the following day.  Artists completed the wall murals, but are still working on the parking lot, which they expect to finish over the next two weeks.
The site will be open to the public Wednesday evenings during the summer for free film screeenings and for a July 4th bash, both sponsored by the NoMa Business Improvement District.  Additional events are planned, according to Rachel Davis of the NoMa BID.
Photos of the June 6, 2015 Paint Jam follow.
All photos are by Christina Scheltema for East City Art.