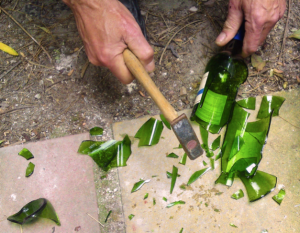 Prince George's County Artist Debra Ruzinsky is the only artist from the United States invited to the international  Glass Heap Challenge competition held this year at Sweden's Glass Factory Museum in Boda Glasbruk. In collaboration with the Glass Art Society, Linnaeus University, and event founder Matthew Durran, the goal is to challenge artists dealing with and creating new sustainable ways of working with glass as a resource as well as finding different ways to explore sustainable resources used in art.
Washington Glass School's Debra Ruzinsky is one of nine international artists who have been invited to participate in the challenge taking place October 7 to October 15, 2015.
Ruzinski is an instructor and artist at Mount Rainier's Washington Glass School.  Previously, she was the Visiting Assistant Professor at Rochester Institute of Technologies' Glass Program and Lecturer at Virginia Commonwealth University's Glass Program. Debra also works as a supervisor of the Maryland-National Capital Park and Planning Commission (M-NCPPC) Design and Fabrication Studio.
The idea of the Glass Heap Challenge is to challenge the creativity of artists, designers and glass protagonists to find and demonstrate unique, creative and inspiring works which show ways to utilize stockpiled waste glass. This not only brings a greater level of awareness to the potential of upcycling glass but also provokes discussion on how to make better use of waste material in general.
The Glass Heap Challenge was designed to be inclusive and embrace the element of uncertainty. No one knows ahead of time what sort of raw materials will be on hand, often what type of space will be available, what kind of equipment or technical assistance will be on site, and indeed, as some of the teams are made up of people who have never met each other, who they will be working with. This uncertainty inspires the participants to meet the Challenge with a much greater level of energy and excitement than a more structured approach would give. The resulting finished pieces create a legacy of art works, objects and products to inspire and add value to future markets.
Best of Luck to all the Glass Heap Participants!
Invited Artists to Glass Heap Challenge 2015 :
Agnes Deli & Endre (Bondi) Gaal—Scotland
Fredrik Hellström—Norway
Harry Morgan—UK
Megan O'Hara—UK
Minna Rombo Zetterlund—Sweden
Debra Ruzinsky—USA
Maria Sparre-Peterson—Denmark
Emma Woffenden—UK