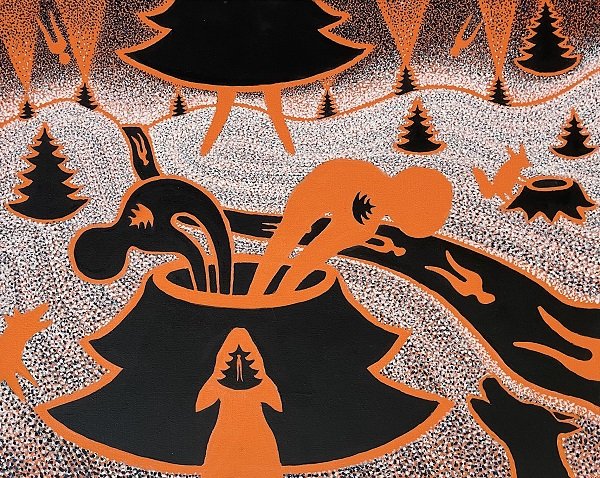 Wayne Paige, Keep Looking, Oil on canvas, 16" x 20", 2021
Artist Reception: September 10 from 4pm to 6pm
Wayne Paige What Was it Thinking
"Trying to absorb the repercussions of the pandemic, social upheaval, and the closing of my school became an unwelcome challenge to my sanity. Woe is Me? Not Quite. I decided to take a step back, dig a little deeper and to draw more upon personal experience. I mainly did this with nature, since being around people until recently did not seem to be a viable choice. Besides, just about every place where humans gathered was closed. More time then, as well as now, became available to observe and explore the fauna and wildlife close to where I live (Rock Creek Park). The observations were especially enlightening since I was able to observe them in their natural environment, removed from human constraints. All of this led me towards a new direction: Anthropomorphism.
By imagining and projecting the animal's point of view, I have created paintings of silhouette-like figures and animals inhabiting mythical landscapes of mountains, waterways, and woodlands. Within a sun-drenched pointillistic setting, the beings can be seen flying, floating, and fleeing from an undetermined outcome. Components of mystery, spirituality, and intrigue are added for emphasis, with all taking place in a post-bucolic environment with elements of conflict, dreams, and humor sprinkled throughout."
Wayne Paige has been an exhibiting artist since the early 1970s. He has been the subject of twenty-five solo exhibitions and has been included in numerous gallery and museum exhibitions at venues such as The Corcoran Art Gallery, The Anderson Gallery, and The Katzen Arts Center. Paige studied at The University of Illinois (BFA Painting), The George Washington University (MFA Painting), and The School of the Art Institute of Chicago (TICA). Currently, he teaches art at Laurel Ridge Community College in Warrenton and works and resides in Washington, DC.
Lois Kampinsky Dark Chocolate, Bitter History
Artist Reception: September 9 from 6pm to 8pm
Artist Talks: September 24 from 5pm to 6pm and 7pm to 10pm (Art All Night)
Years ago, Lois Kampinsky was part of a research and writing team that created "Chocolate: History, Culture, and Heritage" for Mars, Inc. and the University of California. She then used many of the facts to underlie her written and painted fictional account of the chocolate trade in 18 th century Spain and France—one that alludes to the real and very dark world that supported the refined atmosphere of drinking chocolate.
Gary Anthes Partita Rustica – Life and Death in a Virginia Barn
Artist Reception: September 10 from 3pm to 5pm
"The barn on my Virginia farm was built 200 years ago and has stood abandoned for 60 years. It once housed a cow, a horse, and a few chickens, but it's now home to spiders, mice, wasps, and the occasional snake. Despite these creatures and the perils of copious dust and rusty nails, it was a perfect retreat from a pandemic, and here I discovered the joy of creating still-life art. I came to think of my carefully constructed arrangements as musical compositions – as Bach partitas, perhaps – employing the elements of melody, harmony, rhythm, and texture to create small works for a chamber ensemble. Many of the partitas were constructed from aging and dead things that I found around the farm. For me, these relics of life are as beautiful and worthy as the lush, colorful flowers and fruits so often seen in still-life images. As my project progressed over 14 months, I came to see these pictures as not just a a collection of still lives, but as a portrait of my beloved and deteriorating old barn."
The artist will donate his proceeds to the Humane Farming Association.
Lynda Andrews-Barry An Enigmatic Nature
Artist Reception: September 10 from 4pm to 6pm
Sarah Matthews Reflections
"Reflections is a collection of relief prints and artist books created by Sarah Matthews from 2020-2022. She was deeply affected by events such as the Black Lives Matter movement, COVID 19 global pandemic, and the overturning of Roe V. Wade. Carving large woodblocks and making layered prints with linoleum blocks and Sintra plates have been a way to reflect on her thoughts and feelings about the injustices in the world. It is in the power of reflection and understanding our society can make positive changes for all."
Studio Gallery is open to the general public for walk-ins on Wednesdays, Thursdays, and Fridays from 1pm to 6pm, and on Saturdays from 11am to 6pm. Face masks are optional at this time.
Please contact director@studiogallerydc.com or call (202) 232-8734 for inquiries.
Studio Gallery is located at 2108 R St NW. Visit www.studiogallerydc.com for more information.