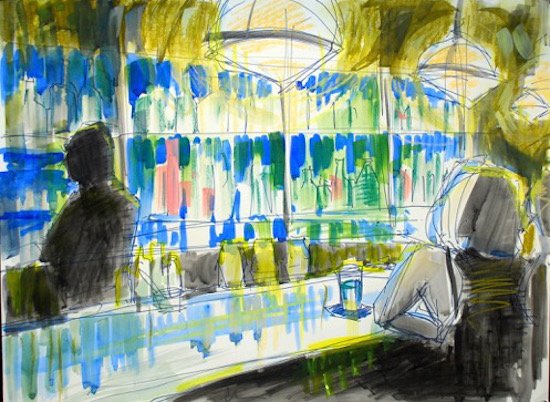 .
Closing Happy Hour: Tuesday, November 29 from 6pm to 8pm
.
To read more about the exhibition, click here.
"As the curator I love taking risks and producing groundbreaking projects that are recognized for being smart, bold, and innovative. This exhibit After Hours project does that and more by challenging our definition of using our space differently. Yes bringing new ideas, new artists, and new partners to the the Micro Gallery helps expand our work, mission and vision. I am passionate about cultural DC Metro/Arlington atmosphere and artists like Christina Girardi."- Barbara Januszkiewicz
About the exhibit:
Christina Girardi explores the visual and social subjects of the bar through drawings done on site and photographs taken from nights out, happy hours, or amidst the gathering of friends at local bars. Girardi focuses on pockets of intimacy within these sensory-filled interactions, so coolly created through the social habits of today's young urban population. Mimicking and recollecting setting, sounds, blocks of color, and interactions of the aesthetics, Girardi elevates and calls attention to the familiarity and perishability of memories created during these social rituals.
The show runs through December 3. The gallery is available for viewing 24/7, and is open by appointment. All work is for sale.
34zero9 Art Studios is located at 3409 Wilson Blvd., Arlington, VA. For more information about 34zero9 Art Studios and Micro Gallery please visit www.34zero9.wix.com/34zero9artstudios.