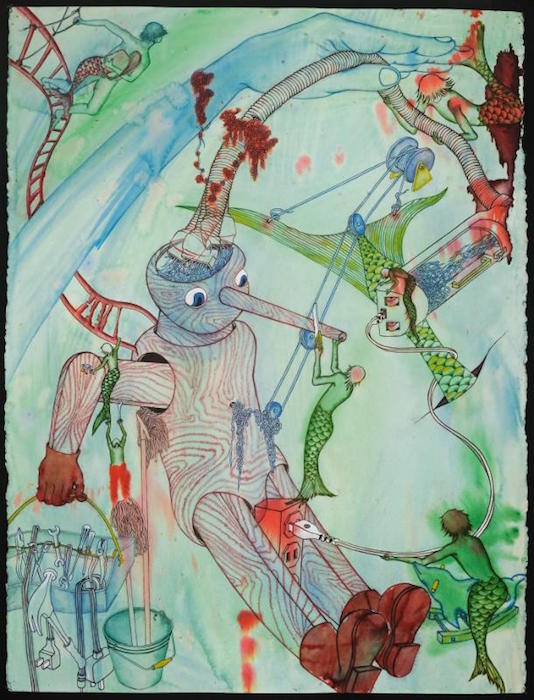 .
Opening Reception: Saturday, May 9 from 5pm to 8pm
.
Please Join the Gateway CDC's 39th Street Gallery for the Artist Reception of mixed media artist Kyujin Lee and celebrating at the after party for the Gateway Open Studio Tour.
Korean dishes by http://www.gourmetbykaren.com/ will be served, free and open to the public.
"In the spirit of Surrealist automatism, I begin by creating spontaneous marks on paper or canvas; I often just brush over, splatter, and/or spill water-based pigments on it. Deliberations follow such accidents as I wait to observe and refine images, with which I compose visual narratives.
The stories that result are deeply personal, yet meant to be universally relatable. Replaying well-known characters from children's stories such as Pinocchio and the Little Mermaid, especially those dreaming impossible dreams, my lines often dramatize the turbulences and complexities within emotional landscapes, that is, a world of hopes and despairs." – Kyujin Lee
Born in Seoul, South Korea, in 1972, Kyujin Lee received her MFA from the City College of the City University of New York in 1997 and her MA from the Teacher College, Columbia University in 2000. Since Fall 2001, she has been living, working, and teaching art in Washington, DC.
39th Street Gallery is located at 3901 Rhode Island Ave., Brentwood MD. For more information visit www.39thstreetgallery.org.
.
.
.
.