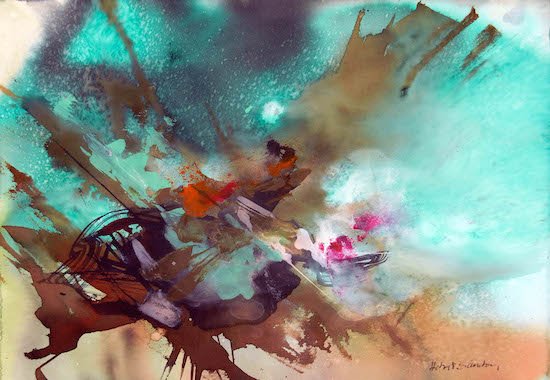 .
Opening: Friday, May 1 from 6:30pm to 8:30pm
.
Aaron Gallery will be hosting an exhibition of new works by Hebert Sánchez complemented by Nia Tavlarides Stratos on Friday, May 1st from 6:30- 8:30pm at its L Street location in downtown DC. Sánchez's newest series is titled Aquamarine in order to reflect his inspiration for the series. Additionally, Stratos will be using her unique and creative painting abilities to showcase pieces that fall under the Aquamarine theme. Both Sánchez and Stratos will be in attendance at the exhibition in May.
About Aaron Gallery
Since 1974, Aaron Gallery has been the go-to resource for Abstract Expressionist artwork in the Washington, DC metropolitan area. The gallery serves artists and collectors who appreciate a worldwide variety of color-rich artwork and friendly, one-on-one experiences that convey all the expertise the gallery has to offer. Led by sole director and owner Annette Aaron, Aaron Gallery provides curatorial services, aesthetic support, art consultation, appraisals, art leasing, and delivery to art collectors across the nation and internationally. For more information on Aaron Gallery, please visit www.aarongallerydc.com. Also follow Aaron Gallery on Facebook, Twitter, and Pinterest.
To RSVP or for more information, please contact Annette Aaron at info@aarongallerydc.com. Aaron Gallery is located at 2101 L Street NW, Suite 800.
.
.
.
.