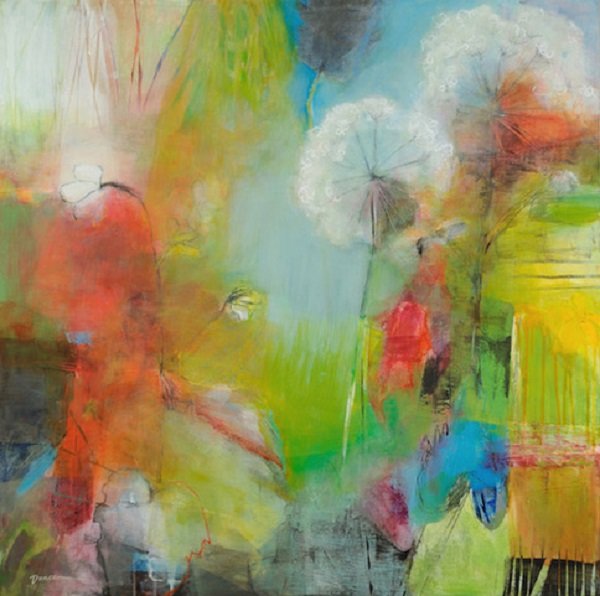 .
Opening Reception: Thursday, May 2 from 6pm to 8pm
.
The Abstract Artists' Collective is pleased to present a group painting exhibition at Serendipity Labs. Their "Inspired" show will run from April 1 – June 26, 2019, with a free opening reception Thursday, May 2 from 6:00-8:00 p.m. at 4500 East West Highway, Suite 125, Bethesda, Maryland (entrance on Pearl Street).
Eleven members of the Abstract Artists' Collective are exhibiting in the show: Ann Corbett, Camilla David, Jennifer Duncan, Patsy Fleming, Marthe McGrath, Michele Morgan, Nancy Ramsey, Hester Ohbi, Debra Perkins, Jay Peterzell, and Helen Power.  Each artist has a unique approach to conveying heartfelt emotion in a two dimensional format.  Many of the works included in this exhibition are influenced by diverse inspirations from nature.
The paintings collectively reveal the skillful use of colors, shapes, and textures to create transformative expressions that are original, fresh, and vibrant.  The work is dynamic and engaging, drawing viewers in to experience their own meaning from it.
Galleries in the Washington, D.C. metro area as well as other areas of the country represent many of the artists in the show, who have won various prestigious awards for their work.  Their paintings are owned by collectors in the United States and internationally.
The "Inspired" artists will be present at the opening reception on Thursday, May 2 from 6:00–8:00 p.m.  Visitors also are welcome to see the show Monday – Friday between 9:30 a.m.-5:00 p.m.
Serendipity Labs is located at 4500 East West Highway, Suite 125, Bethesda, MD.