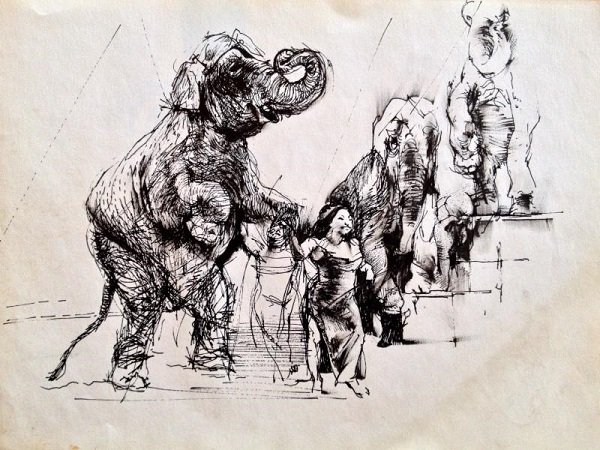 .
Opening Reception: Saturday, March 9 from 5pm to 7pm
.
Coffee & Conversation with Lenore Miller: Saturday, April 13 at 11am
With great pleasure Addison/Ripley Fine Art presents a curated exhibition of Master Drawings by long time Washington virtuoso artist, teacher and raconteur William Woodward.
"Sketching is almost everything. It is the painter's identity, his style, his conviction, and then color is just a gift to the drawing."   Fernando Botero
This exhibit will include a bountiful selection of drawings, culled from a lifetime of mark making, These drawings, in ink and wash, are broad in their reach of style and subject. Whimsy, close observation and grand, even theatrical renderings abound. Quiet land and sea scapes, explosive polo matches, quaint architecture and classical and expressionistic figures are among the subjects of these works. Drawing, as practiced by Willam Woodward, is as inescapably honest and as fundamentally revealing of the artist's skill and judgement as it is crucial to its inherent readily discernible quality. Woodward excels here, producing drawing both humble and sumptuous. Whether the subject is stand of trees or the center ring of a circus, Woodward's touch is precise, certain and infused with the confident air that only a lifetime of making art can bring.
As the artist puts it, "Some of my drawings are studies for paintings, while others were done for the sheer pleasure of drawing for its own sake. I use all three classical methods of the great masters: Contour, Gesture, and Chiaroscuro (or light and shade drawings.) And I work without preference in all media: pen and ink, pencil, charcoal, and brush." Without a doubt, on view here at Addison/Ripley is a sampling of the "sheer pleasure" the artist takes in his work.
From winning the invitational award for design of the U.S. silver dollar in 1989 to a First Prize at the 49th Annual Exhibition of Contemporary American Art at the Four Arts Museum in Palm beach, Florida in 1995, to lecturing at the National Gallery of Art, teaching at distinguished schools and universities, and receiving commissions for large murals in such public venues as Sarasota, Florida, Charlottesville, Virginia and Leesburg, Virginia, Woodward has been acclaimed as a teacher, an academic, a public speaker and a dedicated, world renowned artist. His most recent museum exhibition, "The Seven Deadly Sins: A Comedy", at the Katzen Museum at American University in Washington, DC was an allegorical and aesthetic tour de force.
Gallery Hours:
Tuesday through Saturday: 11am to 5:30pm
and by appointment.
The gallery is located at 1670 Wisconsin Avenue NW. For further information, visit addisonripleyfineart.com.