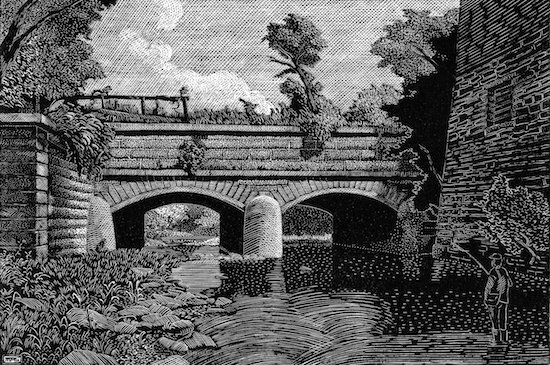 .
Opening Reception: Thursday, September 14 from 6:30pm to 8pm
.
M. Alexander Gray's Aqueduct: Stone Ruins in Maryland & Virginia
Exhibit dates: September 7–October 1, 2017
Printmaker M. Alexander (Alex) Gray illuminates forgotten local history through the images in his exhibit, Aqueduct: Stone Ruins in Maryland & Virginia, on view September 7­­–October 1, 2017 at The Art League gallery. Gray's exhibit is as meditative and serene as the structures he depicts– aqueducts, stone passageways leftover from canals built in Maryland and Virginia in the 1830s. Gray, a lifelong Virginian, wants to bring these lesser-known, historic sites back into the public eye.
Gray takes pride in the meticulous detail of his engravings, which are painstakingly carved into copper, wood, and resin. He creates intaglio and relief prints, working little by little to achieve his vision. Just like the stonemasons who originally built the canals, Gray slowly carves his vision into existence. This lengthy process of printmaking can take up to two years, allowing Gray to create his images down to the most minuscule of details.
For Gray, composition is paramount. He begins by studying his personal photographs of the canals, carefully drafting compositions that also incorporate the canal's passing visitors; a deer, a goose, and a lone fisherman can be spotted with a careful eye. These tiny, warm-blooded additions offer the viewer delightful discoveries within his engravings.
Throughout his exhibit, Gray confronts the erosion of these sites. "The ruins make for a more interesting composition, but it's a shame that some of them haven't been better cared for," Gray remarked, noting that some of the aqueducts, now useless, have been purposely demolished. Gray is intrigued by the contrast between their relative isolation today and their history as bustling hubs of commerce and transportation. Gray's depiction of the aqueducts are reflective, calm; gone are the shipping boats, the travelers, the workmen. What remains, nearly two hundred years later, are the blissfully serene, still creeks, with their crumbling aqueducts standing sentinel in Virginia's backyards.
For the most part, these structures are hidden or inaccessible. The aqueducts are tucked away, concealed among craggy, tree lined creeks. "Finding the aqueducts feels like a treasure hunt," Gray recalls, describing the many afternoons he has spent exploring the canals.
Gray began his studies at VCU and graduated from the Corcoran College of Art & Design in 2007. In 2013, he began to work on his art full time and in 2014 he was accepted as a member of Printmakers Inc. at the Torpedo Factory Art Center. He spends many hours exploring various sites across Maryland and Virginia, taking photos that he later uses as the basis for his prints.
Mark
September 5 – October 1, 2017
Juror: Charles Jean-Pierre
About the Juror, Charles Jean-Pierre
Charles Philippe Jean-Pierre's artistic expression was birthed on Chicago's south side. As an undergraduate, Jean-Pierre split his time between painting and studying African art, culture, and history. He solidified his introspective style as a graduate student at Howard University.
Jean-Pierre is a U.S. State Department Art in Embassies Artist. His work is in the permanent collection of the U.S. Embassy in Cotonou, Benin West Africa. He was a 2015 White House invitee for the role of art education in promoting national youth justice. His work has been highlighted by numerous media outlets including; The Washington Post, Ebony Magazine, Black Enterprise, NHK Japan, The Village Voice, BET, NBC, and FOX.
Jean-Pierre has guest lectured at Stanford University regarding a positive vision of Haiti through the Mamelodi Project. He was named top 5 arts educators by the District of Columbia and served as a creative communication instructor for Alvin Ailey Camp Chicago. Jean-Pierre is former National Arts Director for the Young and Powerful group. He is an adjunct professor at American University in Fine Arts and serves on the board of the Diaspora of African Woman Network (DAWN). Jean Pierre holds a Masters of Arts from Howard University and has created public art murals in Panama, New York, Chicago, Washington, Istanbul, Montreal, Port-au-Prince, London, and Paris.
Gallery Hours:
Daily, 10:00 am–6:00 pm
Open Thursdays until 9:00 pm
Sundays, 12:00 noon–6:00 pm
The exhibition is located at 105 North Union St., Studio 21, Alexandria, VA. For more information visit www.theartleague.org or call 703-683-1780