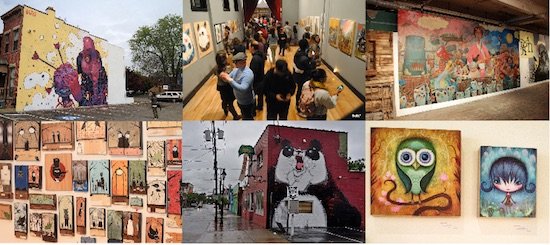 .
Opening Reception: Saturday, September 12 from 8pm to midnight
.
Art Whino announces the 2015 G40 Art Summit, an annual group art exhibition and showcase that brings together world-renowned Lowbrow and street culture artists for one month in Washington, DC, presented for the sixth time. More than 150 artists will create, install, or mount more than 500 works of art on view for a limited time.
Following on a precedent set with the first showcase in 2010, the 2015 G40 Art Summit will take over a building, this time at 700 H Street NE, a 20,000 square foot site in the heart of the H Street district. Whino on H will also host entertainment programming with presentation of music and performance art to enhance the visual art experience.
Guided by an 'Installation' theme and challenge, more than 60 select artists will create individual environments comprised of large-scale art pieces as backgrounds to which they will superimpose their canvases, works on paper, or other media. The 2015 G40 Art Summit will also include a large group show including works from over 70 different artists from around the world, providing audiences and viewers a broad cross section of the wide variety of work that falls into the Lowbrow genre. A full list of participating visual artists may be found here. (www.artwhino.com/g40/)
To compliment the more than 500 pieces of art exhibited inside, noted Polish artist and muralist Pener (Bartek Pener Świątecki) will paint a large scale mural on the exterior of the building that has been designed to wrap the façade and the former storefront at the corner of 7 and H Streets, NE. The public is welcome to come and watch him paint, starting on Saturday, September 5.
Programs
Continuing with the G40 tradition of month-long programming in conjunction with the exhibition, the following events and activities are planned, free and open to the public.
Mural painting by artist Pener: Mon, Sept 7 – Thurs, Sept 11, various times (noon)
G40 Opening Reception: Sat, Sept 12, 8pm – midnight
H Street Festival: Sat, Sept 19, noon-midnight
Art All Night: Blanche Nuit DC: Sat, Sept 26, 7pm – 3am
Whino on H is located at 700 H St. NE. For more information on the G40 Art Summit, or any related events, visit ArtWhino.com, or follow: @ArtWhino / #G40ArtSummit / #WhinoOnH / @TheDCarts / @ArtAllNight
.
.
.
.