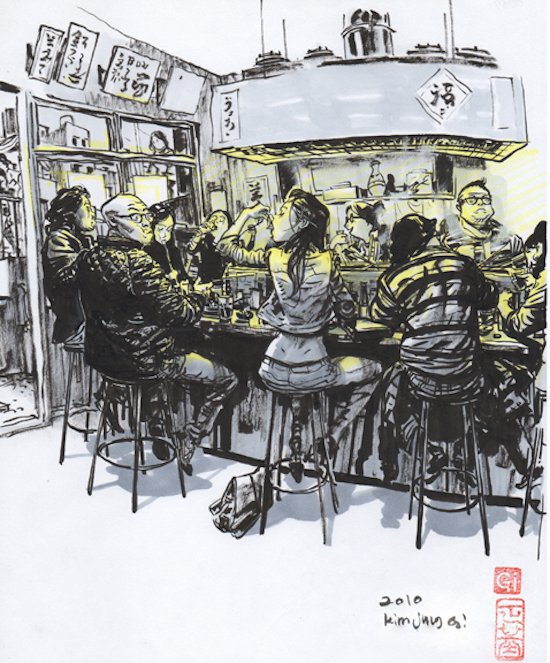 .
Opening Reception: Saturday, October 3 from 8pm to 12pm
.
RSVP required for opening reception: https://goo.gl/P1M64N
Art Whino announces the opening of the new Art Whino Gallery at SW, with Vivid Visions: The Art of Kim Jung Gi, the first United States solo exhibition of the Korean illustrator, cartoonist, and animator. Art Whino Gallery is the premier presenter of this major artist's work in the United States. The new gallery will open within the Blind Whino Arts Club and event space at 700 Delaware Ave. SW, Washington, DC.
Kim Jung Gi (KJG) is an established artist from South Korea, whose stunning work has attracted the international attention of millions of fans over recent years. He has the keen ability to visualize his drawings before making any marks, relying on mental images only, using no sketches, nor references to photographs when drawing. Gi illustrates what he sees, working from an absolute photographic memory, creating astounding perspective in his large-scale images, often with a "fish-eye" view. Using ballpoint or black felt pens as his tools of choice, he challenges himself to 'speed sketch' images and scenes as quickly as possible, making for mesmerizing time-lapse videos of his drawing process.
"Kim Jung Gi is simply fascinating to watch, and he's working in a way that no other contemporary illustration-based artist is doing these days," describes Shane Pomajambo, Art Whino gallery founder and curator. "When I had the opportunity to showcase his work in DC, I knew I wanted to make it significant. I'm excited to open a new space in Southwest with such amazing work."
Gi's central themes include a mix of reality and fantasy. He depicts soldiers, battles, warriors, samurais, hackers and snipers. He references video game culture, spy games, historical and contemporary events, battles, war, insurrection, political unrest and the shock of the future. Women play an important recurring role in his work, and are often depicted as fighters, militants, protesters and leaders that are strong and powerful, beautiful, sometimes sexy and always evocative. Often this is in contrast to the testosterone-heavy narratives or scenes he portrays in both urban and rural settings.
"I observe things all the time. I don't take references while I'm drawing, but I'm always collecting visual resources. I observe them carefully on daily basis, almost habitually. I study images of all sorts and genres," Gi describes."
The artist will create a hand drawn / illustrated wall mural on site, measuring approximately 36″h x 120″w, comprised of three different panels inspired by Star Wars. Art Whino will produce limited edition prints of each of the panels and will make them available for purchase soon after the exhibition opening.
During the reception Gi will sign and personalize copies of his different sketchbooks, containing hundreds of pages of drawings. Additional signed copies of his books will be available through the run of the exhibition. Previously purchased books may be signed for $50 during the opening reception only.
About the Artist
Kim Jung Gi (40) is from Goyang-Si in the province of Kyongki-Do, South Korea. With a passion for art and drawing from an early age, Gi entered Dong-Eui University in Busan when he was 19, and majored in Art & Design, with an emphasis on technical ability. Gi then served his civic duty in the Korean army Special Forces for more than two years. During his service, he memorized an amazing number of vehicles, weapons and other military objects to include in his work.
Funny Funny, KJG's first publication, appeared in the 'manwha' (comic book) Young Jump. Then came several short stories and a series of different exhibitions, prior to adding teaching manwha at universities and private schools to his repertoire.
In 2007, KJG gathered nearly 3,000 pages of his sketches and published them in three different Sketchbooks. He also published Spy Games in 2014, in collaboration with French writer Jean-David Morvan (Glénat Editions). In June 2015, a new museum in Penang, Malay, had an exhibition of his work, including his attempt at the Guinness Book of World Records for the "Longest drawing by an individual in Fisheye Art" hand drawn illustration.
When Gi is not working in advertising or managing AniChanga, his drawing school in Seoul, he's traveling the world to meet his fans, often appearing at Comic-Con events and pop-up demonstrations of his work, seeking more inspiration and ideas along the way. For more information, visit www.kimjunggi.net.
Art Whino is located at 700 Delaware Ave. SW. For more information visit www.artwhino.com.
.
.
.
.