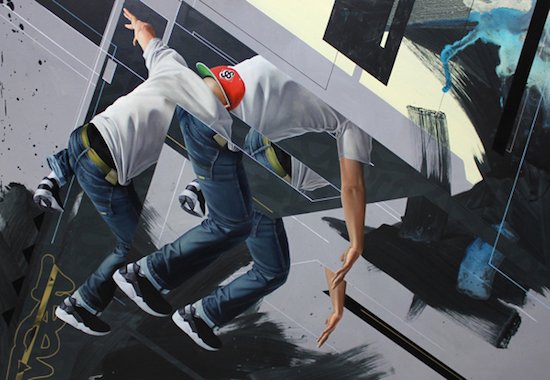 .
Opening Reception: Saturday March from 7pm to 10pm
.
The exhibition runs March 7 – July 26, 2015.
Two man show featuring James Walker and James Bullough focusing on bodies in motion through abstracted studies of Urban Culture
Art Whino curates a special two man exhibit featuring James Walker and James Bullough focusing on body in motion through abstract/geometrical studies of Skateboarders and Breakdancers.  Art Whino will be bringing its arsenal of artists to the new Mosaic  in Merrifield, VA as part of Mosaic mission of combining a curated mix of unique retail, restaurant & entertainment experience this exhibit is to introduce patrons to a another dimension of art culture.  The exhibit will be presented in two separate experiences.  The first will be a large scale installation by James Walker.  The second exhibit space will feature a giant 30 foot mural by James Bullough of one of his Breakdancers in motion with a new body of artwork by both artist.
Complimentary Food and Cocktails sampling by local restaurants and stores with advance RSVP. RSVP here.
About Mosaic
Mosaic is a signature retail community proudly developed by EDENS, one of the nation's premier retail real estate development firms. EDENS develops, owns, and operates community-oriented shopping places that enrich the communities they serve. Mosaic is elevating the community experience to a new standard by creating a vibrant, sophisticated environment that connects families and friends together. The unique experience is created through a hand-selected mix of retailers & restaurants, intelligent urban-design and passion for enabling authentic community engagement resulting in Washington DC's most innovative retail & entertainment community. Multiple well-lit garages all include Smart Signs placed at entrances to let you know in real-time how many spaces are left on each level of the garage.
About James Bullough
As a child growing up in the suburbs of Washington DC, James was enamored with the edgy, "in your face" graffiti art that he saw through the windows of the DC subway. As he began feeling the need to make art of his own, it was no surprise that this was the type of imagery that came naturally to him. His obsessive graffiti sketches and graphic paintings eventually gave way to a new interest in realism and oil painting. He began studying the techniques of the Dutch Masters and painting highly rendered oil paintings of contemporary imagery. Since moving from the US in 2010 to Berlin Germany, Bullough finds himself reaching more and more for the spray can rather than the paintbrush. His seamless transition from photorealistic oil paintings to photorealistic spray-paint murals has gained a lot of attention. From 2011-2013 he worked under the name of JBAK with fellow American born/Berlin based artists Addison Karl. Together the duo gained a lot of attention for their various projects and large-scale murals throughout Germany and America.
About James Walker
James Walker's work comes from a desire to be enveloped as completely as possible in the present moment and every second of every day, he says "Any reoccurring themes are simply a byproduct of this artistic process….." With a background in photojournalism he takes a documentary approach to most of his work stating that he always feels his most successful pieces are ones that develop as a natural extension of existing. Walker never made a conscious decision to become an artist, it's something he's always done for as long as he can remember. He grew up along the east coast, and a little bit in England. He's spent a lot of time moving around, and always enjoys traveling. In the late 80's Walker discovered punk rock music and skateboarding and since then the DIY aesthetic of these two art forms has continued to influence his creative process. Walker currently resides in Northern Virginia with two border collies who occupy any time he has that isn't spent making art.
About DJ AYESCOLD
DJ AYESCOLD comes from nowhere and everywhere. Her selections reflect this transience: her aim is to take you elsewhere, be it another decade or another continent. She spins the music she wants to hear, and aims to curate an aesthetic and sensory experience while doing it. AYESCOLD's sounds focus on emerging artists on the brink of something massive. These include experimental and future beats, Jersey/Chicago/Baltimore club tunes and soulful sounds from across the globe. Expect diversity, especially in tempo.
Mosaic is located at 2910 District Avenue, Fairfax, VA.
.
.
.
.