| EVENTS – ART FAIRS |
.
.
The next Marcātus is Sunday June 5th from 11am to 6pm
Marcātus, a creative art market at the Yards Park organized by Art Whino, offers live music, food and many art and fashion vendor stalls.   Hunt for creative treasures or simply to relax on the Great Lawn taking in the picturesque views of the Anacostia River.
LOCATION:
The Yards Park
10 Water St SE Washington, DC – DO NOT USE YOUR GPS
This park is so new it will take you to the wrong place if you use your GPS or Google Maps. The Yards is one block south of M Street SE between New Jersey Avenue and Fourth Street, SE and it is three blocks from the Navy Yard Metro (New Jersey Ave Exit).
This event is free and open to the public.
.
.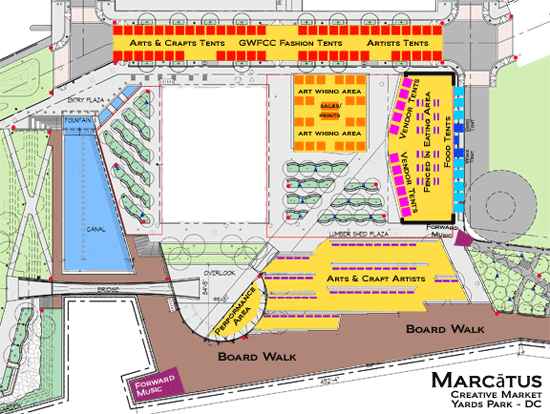 .
The musical line up for June 5 includes:
Two Areas of Sound by EightyEight DC and Lil Soso continues with:
DJ Junior (Philly)
Sol Power Allstars
Sam 'The Man' Burns
Lovegrove – CloudWatch (All Vinyl) Set
John Bowen of Video Killers
vANNIEty Kills
Amitai
Art Whino has also added a line of FREE Live Musical Performances by:
One Love Massive!
Empresarios sound system dj set with Javier Miranda, Sammy k & Sonny Cheeba
Bass architects
Dj Tim Jackson
Dj Double 07
Fatback dc djs
Moonbounce djs
Also added Gorillafist Area featuring Urban Gear, Live Painting and Performances, and Dj's set's by:
Sinister Sound Set (MK SKillz & DJ Jim Bonds)
Sinister sound crew, Gorilla Fist Clothiers
Flex Mathews
Kruzan
The Unknown
Summer Schedule:
First Sunday of every month (Except July which will be Second Sunday).
April 3rd, May 1st, June 5th, July 10th, Aug 7th
Hours every Sunday: 11am-6pm.
ARTISTS TENTS
50+ 10'x10′ Artist Tents.
Each artist will have the opportunity to display a large array of artwork
FASHION TENTS
24 – 10'x10′ Fashion Tents
The Greater Washington Fashion Chamber of Commerce will have a wide collection of their Couture Artists showcasing the latest in fashion.
VENDOR TENTS
10 – 10'x10′ Sponsor Tents
Browse through various companies and their goods and services.
FOOD VENDORS
8 – 10'x10′ Food Tents
Delights from local food vendors- discover a new favorite DC Eatery.
ARTS & CRAFTS VENDORS
60 – 2'x8′ Arts and Crafts Tables
Explore through seas and seas of unique and amazing goods, ranging from robots hand-built from clock parts to jewelry made from found objects.
MUSIC
At Marcātus music will be an integral part of each Sunday.  With the success of the forward festival last month Eighty eight and LilSoSo continue to curate 2 sound systems of music featuring local and national DJ's and Live electronic talent.  Also added will be live musical performances by local musicians performing everything from Jazz to Rock.
………………………….
PARTICIPATION
Artists, Cooks, Musicians and Craftspeople who would like to participate should use the following Art Whino emails for more information:
Email artiststents@artwhino.com for information on reserving an artist tent.
Email artsandcraftstents@artwhino.com for information on reserving a arts & craft table.
Email shane@artwhino.com for information on reserving a produce, sponsor or food tent.
………………………….
.
.
.