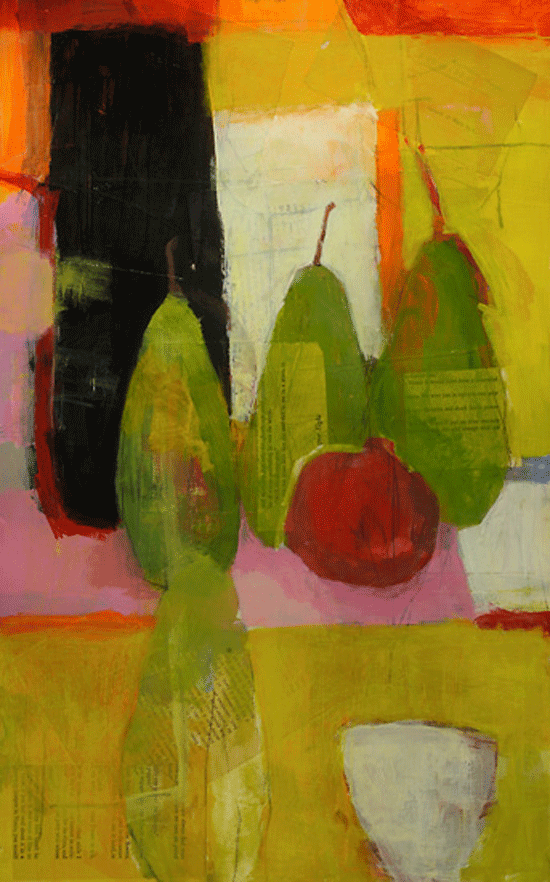 | OPENINGS |
.
.
Opening Reception: Friday November 11 from 7pm to 9pm
.
Local artist Laurie Breen's work features acrylic and mixed media paintings and large charcoal drawings. "This work sneaks up on you," says gallery director Barbara Johnson, "at first glance it appears to be lighthearted. But there's so much more to it. Breen's use of layers of writing, pattern, and imagery brings to mind memories, dreams and metaphors."
Breen says, "Each piece takes me on a personal journey of discovery.  I start with a general concept but work directly with the piece to facilitate the release of its own truth. I draw and paint, making marks, putting down new layers over old, leaving pieces of the original layers showing through so that the multiple approaches are visible in the final piece. Much like in our own lives we are the accumulation of the steps we take both right and wrong, it is the journey and the process which creates meaning."
.
.
Breen's abstraction of familiar images such as bowls and bottles are accompanied by words and patterns that cause the viewer to wonder about the relationships created in each of the works. Is the artist talking about home…fruit and bowls in the kitchen? About studio life with the images of bottles (something every art student has painted)? Or are these images metaphors for the humans who interact with these objects?
While there is no human presence in Breen's paintings, there is something about each of the objects in Breen's work that seems to allude to one. Conversely, in Breen's elegant large-scale charcoal figure drawings, one is reminded of fruit and vessels. There's something tricky going on here…and you're glad of it as you are ensnared by the vibrant and joyful palette in the paintings and the voluptuous forms and vigorous lines of the drawings.
Breen has exhibited in several galleries in the Washington, DC area and her work is in private and public collections including the DC Commission of the Arts & Humanities.  Breen works from her studio at the Gateway Arts Center at Brentwood and has recently been awarded a grant from the Arts & Humanities Council of Montgomery County for the second year in a row. Breen says "I am a painter.  I love to paint, and my paintings reflect this joy."
The exhibition runs October 28 through December 10.
Art Works Gallery is located at 3711 Rhode Island Ave Mt. Rainier, MD in the Gateway Arts District.  Contact them by phone at 301.454.0808 or email the gallery at info@artworksnow.org.  Visit the gallery online at www.artworksnow.org
.
.
.
.
.
.
.