| ARTVENTURES |
.
.
CHAMPS & HSMS Present ARTventures on H Art Walk & Dine Around Scheduled on June 30 sponsored by East City Art; Features 18-stop Art Walk and 20 Participating Restaurants
June 28, 2011—On June 30, CHAMPS – Capitol Hill's Chamber of Commerce and H Street Main Street present ARTventures on H sponsored by East City Art. From 5:30-8pm, 18 different galleries and venues in the H Street, NE Corridor area will open their doors for a special Art Walk with 20 restaurants and bars participating in an associated discounted Dine Around. Participants will be given an ARTventures "passport," to be punched at each stop on the art walk. For every punch received, attendees receive an extra 2% discount that evening from 7-9:30pm at any of 20 participating restaurants, cafes, and bars on H Street, NE. Passports will be available at each of the art walk stops; attendees choose their own starting points. Full details on each Art Walk stop, along with the list of participating restaurants and bars, are just below.
---
THE ART WALK: 5:30-8PM
---
.
Mannequin is comprised of new work that explores the dichotomy between the natural and the artificial. The symbolic imagery used in his paintings and sculptures refer to what Caviedes calls "fakeness"— often humorous commentary on societal fascination and obsession with virtual, artificial life that mimics natural human forms. In this exhibition you will find imagery referring to cameras, TV screens, tripods, mannequin limbs even paparazzi. "I like using metaphor in my art" Caviedes explains, "Mannequin symbolizes artificial life…I think we lose a lot of sense of the real and natural life living in present times."
Pablo Caviedes (b. 1971 Cotacachi, Ecuador) studied at the Colegio de Artes Plasticas Daniel Reyes in San Antonio De Ibarra, Ecuador where he won numerous prizes in local and national competitions.  In 1994, Caviedes won the Paris Prize sponsored by the Alliance Française allowing him to study art at the prestigious Ecole National Supérieur des Beaux Arts in Paris, France.  Only four years later, in 1998, Caviedes was one of two artists under age 40 chosen by an International Jury for the grand exhibition Latin America and the Caribbean: a new Generation of Artists (Identités: Artistes d'Amérique latine et des Caraïbes 1999). The international jury was chaired by such distinguished members as Jean-Jacques Aillagon, President of the Pompidou Center, Alfred Pacquement, Director of the Ecole National Supérieur des Beaux Arts and artist Antonio Seguí y Marwan Hoss, General Commissioner of Fine Arts of the International Development Bank which sponsored the biennial event. Now an internationally acclaimed artist who has shown his work in France, Spain and Ecuador, Caviedes currently resides in New York City where he shows frequently.
---
From Watkins' website: Photography didn't really start to make sense to me until I started incorporating people into my work. Photojournalism thrust me into this new concept quickly and forced me to learn to work with living, breathing, moving people, not just immobile objects. The depth of my work and meaning of it skyrocketed. When I made the jump from photojournalism to wedding photography, my mind was blown by the near constant emotion surrounding me. So while a rusted faucet may be beautiful, it pales in comparison to the look on a mother's face when her daughter walks down the isle, when the best man's hysterical speech has the groom crying and gasping for air, or a quiet moment between two newlyweds.
---
Adobe Design Center: 654 H Street, NE: Images of Dignity by Al Burts
Images of Dignity is a series of pen and ink, oil on linen and acrylic works by Al Burts, focusing on figurative work. Burts is a graduate of the Duke Ellington School of the Arts in Georgetown and received his BFA from Virginia Commonwealth University.  He currently resides in Woodbridge, VA
---
Jorge Velazquez: 1015 H Street, NE – 2nd Floor: Angels and Demons
Born in Mexico, Jorge Velazquez is a self-taught artist whose inspiration is inner peace and pushing his own boundaries.  He was always told that he could do whatever he set his mind to. My Vision of Art features a selection of past and present works by Velazquez. Click here to read more about this exhibit.
---
Little Miss Whiskey's: 1104 H Street, NE: The Venerable Garage Sale
Little Miss Whiskey's rolls out an assortment of coolness for ARTventures On H. The Garage Sale features special treasures include items from the bar, clothes, furniture, bar stools, lights, brass artifacts and more. And to top it off, Crunk Cakes will be on hand with BOOZY cupcakes for your ARTventures enjoyment.
---
Queen Vic: 1206 H Street, NE: Art Enables: Outsider Art Inside the Beltway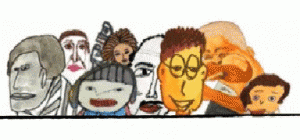 Art Enables is a studio and gallery for emerging artists with developmental and/or mental disabilities. Their chance to make art comes through Art Enables. Their reasons for doing it are their own: to have something to do, to make money, to feel important, to tell the world who they are, to become famous. All those reasons and more. Queen Vic will host a special exhibit of work from Art Enables.
---
Red Palace: 1212 H Street, NE: Oddities
Red Palace opens up the Palace's Museum for ARTventures on H, giving you a glimpse into the world of sideshow life. Featuring the largest collection of the strange, the weird, the odd, the bizarre and the unusual, the Museum houses over half a thousand exotic artifacts from all over the globe.
---
A native Washingtonian, Larry Bryant is a DC-based photographer who focuses on the humanity in art by capturing the art in humanity. From complex to creative, passionate and passive, the human spirit is featured throughout Byrant's work and illustrates a story and purpose far deeper than the surface can display.
---
Atlas Performing Arts Center: 1333 H Street, NE: Musician turned photographer Ron St. Clair
Ron St. Clair is a photojournalist who grew up in the Chelsea and Hell's Kitchen's neighborhoods of New York City in the 1940's. Family, community and people have always played an important role in his life. A daily event for Ron was walking – he would walk from Chelsea (26th & 9th Ave.) to Battery Park observing and studying the people in each section of the neighborhoods. He also felt as though he was conducting an opera and looking to cast the main characters for an ensemble of unbelievable great players! At the age of 17, Ron was given his first camera and he started to record the great people and events he was seeing on a daily basis. This included photographing the many musicians he would see who lived in his Hell's Kitchen neighborhood of 52nd and 9th St. and who frequented the jazz clubs in that part of town. The camera became a means of communication and greeting to acknowledge the presence of these great musicians as they came to record and play each night. These musicians included Charlie Parker, Miles Davis, Duke Ellington, Dexter Gordon, Lena Horne, Ella Fitzgerald, Nat King Cole, Dinah Washington, Billie Holliday, Max Roach, Sarah Vaughn, John Coltrane, Carmen McRae, Charlie Mingus, Arnette Coleman, Art Blakely, Ahmad Jamal, Tony Williams, Philly Joe Jones, Roy Haynes, Thelonius Monk, Tito Puente, Clark Terry, Wes Montgomery, Celia Cruz, Lee Morgan, and Freddie Hubbard.
---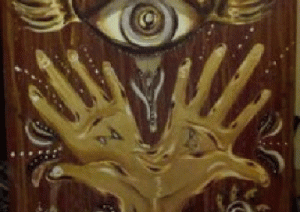 The Canvas Majicircus is a canvas & masks art display by Nycholis Maziejka. It involves a definite assortment of colors to perhaps define the search for the fifth color (referencing the 4 & the 5 color theorem). The clown art piece is constituted by a characteristic of a spontaneous gesture in an empty space, as if the color glows suddenly to become matter-rich color derived from mixtures of reality in a comical form. The matter then takes an authentic environment essentially serving a practical dual purpose: to decorate with the sensitivity of balancing aesthetics and the expressiveness.
---
H Street Playhouse: 1365 H Street, NE: Photography by Colin Hovde
Colin Hovde is a Theater Director in the DC area, and a production photographer for a number of DC theaters including; Flashpoint, Source Theater Festival, Metro Stage, Washington Stage Guild, Solas Nua, Rorschach Theatre Company, Woolly Mammoth Theatre Company, Theater Alliance, Journeyman Theater, Washington Savoyards, Doorway Art's Ensemble, Forum Theater Company, Catalyst Theater, and The InSeries. His work has been printed in American Theater, Washington Women, Washington Post, Washington Times, Metro Weekly, The Express, and the Washington City Paper.  Visit his site at www.cstanphoto.com. Colin Hovde is a Photographer that began taking photos with his uncles old SLR that had been around the world twice.  Colin has been trained as a director and is very interesting in relationships, and images.  He has taken pictures all across the world from Oman to Macau.  This is a meditation on the end of the day.
---
Gallery OonH: 1354 H Street, NE: Red, White and Blue
Gallery OonH will host an exhibit with the theme "Red, White and Blue," and will be hosting a steel drum band in their courtyard!  For more information about the exhibit, click here.
---
Shenanigans is the third featured show for Lindsey Applebee who says "Painting and design are my tools for expressing myself, [they provide] freedom from everyday life, and a chance to get away." The medium of photography is what introduced Lindsey to pursue a career in graphic design and it gave her the appreciation and attention to detail that has become so apparent in her recent works. Applebee enjoys exploring many different mediums and applications, using materials such as acrylic paints, metals, tapes, fabrics, and granulated paints to create textures and depth. She applies her materials with an assortment of brushes, spatulas and sponges to create different textures and depths. "My work is constantly changing from size to color, scale, and theme. The processes also vary at times, beginning with the background alone and other times working in layers", says Applebee. Applebee says the work in "Shenanigans" was designed to remove observers from the routines of day-to-day living and replace it with jokes, fun and horseplay.
---
Open Studio DC: 1348 Florida Avenue, NE: Artwork by 15 Different Artists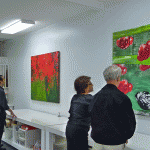 Deborah Coburn dacoburn.com; Jane Fink; Carolyn Hartmann flickr.com/photos/carolyn_hartmanns_prints; Elizabeth Grusin-Howe studiogallerydc.com/artists/bitsy/works.shtml; Maribel Gray; Preeti Gujral; preetigujral.com; Pepa Leon pepaleon.com; Megan Maher flickr.com/photos/meganmaherart; Frank Pappas frankpappas.com; Dave Peterson branddave.com/freehand/home.html; Prudence Sheppard; Tang; Clare Winslow flickr.com/photos/11610814@N02; Lisa Wood; amd Sybille Zeldin
---
G Fine Art Gallery: 1350 Florida Avenue, NE: Barbara Probst | Barbara Probst
Barbara Probst's third solo exhibition at G Fine Art is comprised of three works that range from the expansive to the simple and obscure. Probst's work focuses on the ambiguities of the photograph and plays on the characteristic framework used to interpret them. She develops a rich narrative out of single moment by staging scenes and capturing them from multiple angles. She removes the photographer's gaze by using radio-controlled shutters for multiple cameras. The collected images present a multi-faceted reality, where we have access to the many possibilities of looking and being looked at. Some works are subtle and show slight shifts in perspective that are disarmingly similar but clearly different. Others provide a myriad of angles, exposing everything from the lips of the subject to the camera taking the photograph. The viewer engages with the work as an investigator, piecing together the scene, the subject, and the perspective in an active experience.
---
Conner Contemporary Art: 1358 Florida Avenue, NE: Concurrent solo exhibitions by Jeremy Kost, Joe Ovelman and Geoffrey Aldridge; two special *gogo art project installations by Jeremy Flick and Patrick McDonough.
JEREMY KOST presents a new series of Polaroid and cibachrome photographs in "Between the Lines," his second solo show with the gallery. In his latest work, Kost reveals intimate glimpses of constructed identities and sexual personae in urban club scenes. During the opening reception, Kost will launch and sign It's Always Darkest Before Dawn, a new catalogue of photographs with essays by Liv Tyler, Eric C. Shiner and Ladyfag.
.
JOE OVELMAN explores sexuality and the subversion of social norms with a series of new sculptures in his second solo exhibition with the gallery, Coming Home. Works made of wood and mixed media resemble apparatuses used in past decades to provide anonymity during sexual encounters. Removing these forms from their original contexts and adjusting the relation of their features to human anatomy, he emphasizes the universality of these objects.
.
GEOFFREY ALDRIDGE makes his solo debut with *gogo art projects in All That Glitters. In his videos Disco and Bath, Aldridge employs an emblem of gay culture, the disco ball. The light-reflecting sphere functions as a symbol of the divine and alludes to religious spectacle. Dominating and seemingly all-seeing, like an extension of the artist's camera, the mirrored orb figures omnipotence while its multi-faceted surface queries the extent to which we each may reflect our creator.
.
.
JEREMY FLICK's A Unified Theory of Everything is a *gogo art projects special installation featuring a large site-specific wall painting in the gallery's courtyard. Flick's imagery is both referential and optical, as it replicates all-over patterns found on the inside of tinted security envelopes, and also recalls the target motif in twentieth-century abstraction and Pop Art.
PATRICK MCDONOUGH moves art out of the gallery and into the community with the *gogo art projects special installation Awning Studies: Florida Ave NE. Augmenting the exteriors of the four gallery spaces on our block with sculptures inspired by colorful domestic awnings, McDonough designates "free time space" while paying tribute to a popular architectural fixture.
---
Industry Gallery: 1358 Florida Avenue, NE – Suite 200: Flexible Love
Flexible Love is a series of expandable furniture crafted from post-consumer products and kraft paper.  Much like an accordion, these pieces fold up to less than foot in length, and can accommodate between 8-20 people when fully extended.  The honeycomb pattern, used in all the models, makes the furniture both sturdy and easily expanded and contracted into a range of shapes.
---
Jimmy Valentine's: 1103 Bladensburg Road, NE:  Live Painting by Graffiti Artist Berzerker AND JV's Gets Yarn Bombed
ABOUT BERZERKER: From Graffiti World: Street Art From Five Continents: "Canadian artist Berzerker, an abstract participant of the monikers culture, has become recognizable by his surreal spray-painted pictures on trains and walls. He has also mounted exhibitions featuring rusty everyday objects, which he decorates with images from magazines. "I'm proud to be an artist growing up in this era," he says. "I've a lot of respect and nostalgia for what was before me and I honor that through my art. I hope to hand down some of my creativity to the next generation through my pictures."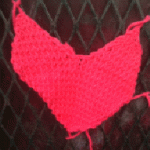 YARN BOMBING. From wikipedia: Yarn bombing, yarnbombing, yarnstorming, guerrilla knitting, or graffiti knitting is a type of graffiti or street art that employs colorful displays of knitted or crocheted cloth rather than paint or chalk. The rest is, well, as surprise!
---
Rae was born in Jakarta, Indonesia and has lived in many different parts of the world.  The ever changing lifestyles, combined with experience with different cultures, and seeing a variety of art styles in person is what has influenced her art work.  She has spent the earlier parts of her life growing up in Indonesia, Tokyo, Belgrade, Athens, and Prague, and currently is living in the Washington DC area for the past 13 years. Major influences on her artwork include the impressionist, the expressionist, classic woodblock print to the modern pop culture of Japan such as manga comics.  Her life as a child included many serene moments but also challenges as political turmoil took hold in Belgrade and in her own home country.In her current series of paintings her whimsical nature show through the abstraction of geometric and organic lines placed in juxtaposed positions and her playfulness is conveyed through the color palette.
From a young age Ritu Maghera knew, regardless of the medium, she would always be an artist.  She was just 13 when she discovered her passion for art and painted her first piece of artwork, was commissioned for a private series at 16, had her first show at 17 and co-founded the "Inspired State of Mind" art show at 18.Ritu considers painting to be a form of meditation because it allows her to achieve her most organic state of mind.  Having moved away from realism over the years, her work has become less planned and more instinctive.  Incorporating her signature intricate henna technique in unexpected environments is a subdued  representation and collaboration of her Indian and American influences.Over the years Ritu has expanded her love of creativity to graphic/web design, fashion design, and still maintains an active and ever changing art portfolio.  See this portfolio at https://www.ritumaghera.com
Mason Jones offers dj and artistic services, specializing in dubstep and graffiti. "I serve intergalactic sound wave communication and demonstrate audio manipulation mastery," says Jones. "I am an interstellar stylist of illustration and I perform demented alphabetical exploitation.
.
.
---
THE DINE AROUND: 7-9:30PM
---
.
Ethiopic: 401 H Street, NE
The Atlas Room: 1015 H Street, NE
Liberty Tree: 1016 H Street, NE
Taylor Gourmet: 1116 H Street, NE
Twelve Restaurant & Lounge: 1123 H Street, NE
Queen Vic: 1206 H Street, NE
Souk: 1208 H Street, NE
Red Palace: 1212 H Street NE
Sticky Rice: 1224 H Street, NE
The Pug: 1234 H Street, NE
Toki Underground: 1234 H Street – 2nd Floor
Fruit Bat: 1236 H Street, NE
Dr. Granville Moore's: 1238 H Street, NE
Smith Commons: 1245 H Street, NE
H Street Country Club: 1335 H Street, NE
Dangerous Delicious Pies : 1339 H Street, NE
Star and Shamrock : 1341 H Street, NE
Biergarten Haus: 1355 H Street, NE
The Argonaut: 1433 H Street, NE
Capital City Diner: 1050 Bladensburg Road, NE
For up-to-date information about ARTventures on H (including participants, maps, and dining discounts), visit www.capitolhill.org.
On Facebook: www.facebook.com/ARTventuresOnH
On Twitter: www.twitter.com/ARTventuresOnH
CHAMPS on Twitter: www.twitter.com/capitolhilldc
ARTventures on H is free and open to the public.
CHAMPS (Capitol Hill's Chamber of Commerce) promotes, educates and advocates for Capitol Hill businesses and connects Hill businesses with the greater community. Learn more about CHAMPS at www.capitolhill.org or follow on Twitter at www.twitter.com/capitolhilldc. H Street Main Street was created in 2002 as a part of the DC Main Streets program, to support the establishment and implementation of lasting, comprehensive revitalization in one of DC's most historic neighborhoods – the H Street, NE corridor – by investing in and expanding existing businesses while also attracting new businesses. Learn more at www.hstreet.org
.
.
.
.
.