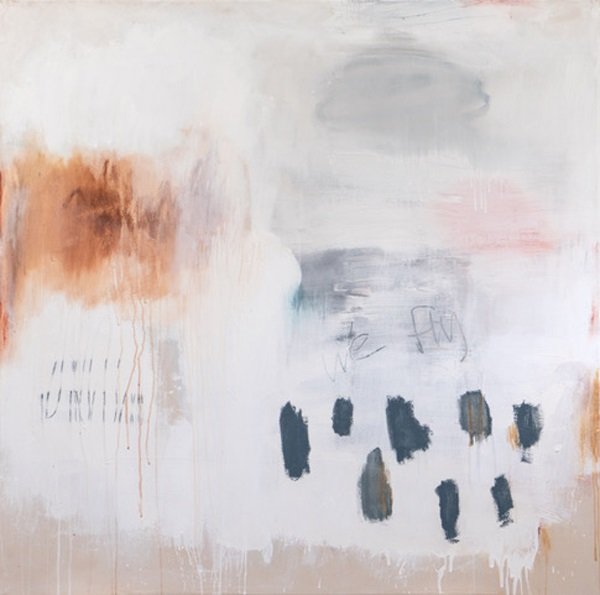 Currently on view through February 9, 2020.
Artist Talk: Saturday, February 8 at 2pm
Chris Brandell
"Inspiration for my practice comes from studying the rhythmic rise and fall of human relationships. Realizing that everything shifts under our feet just as we gain balance, we must come to terms with the truth of impermanence as we seek equilibrium. My paintings reflect the often chaotic emotions we experience in these moments. Through the asymmetric balance of abstract elements; words hidden and revealed; and the oil, acrylic, gesso and graphite I use to make marks, I hope to create a lasting and stable foundation on which to rest. If I can compel a moment of observation and surrender, then my work is complete."
Azadeh Sahraeian
"My artistic practice is more focused on the formation process rather than the form itself; hence, my drawings represent the process of genesis and growth; the lines grow from points that have been set on motion, as the plant grows from its seed. Each drawing begins with a single element, a "center," and continues with duplication process in which strong centers evolve in levels of scale, pronounced boundaries and alternative repetition…"
About the Northern Virginia Fine Arts Association:
The Athenaeum Gallery is open Thursday to Sunday 12pm to 4 pm
The Athenaeum Gallery is the headquarters of the Northern Virginia Fine Arts Association (NVFAA).  Founded in 1964, the NVFAA is dedicated to the pursuit of excellence in all forms of art, and to establishing programs that will enrich the cultural life of Northern Virginia and the surrounding metropolitan area. The Athenaeum Gallery exhibits work created solely by artists living or working the region and strives to present visitors with a wide variety of excellent work and unique experiences.
Athenaeum Gallery is located at 201 Prince St., Alexandria, VA. For more information, call 703.548.0035 or visit nvfaa.org