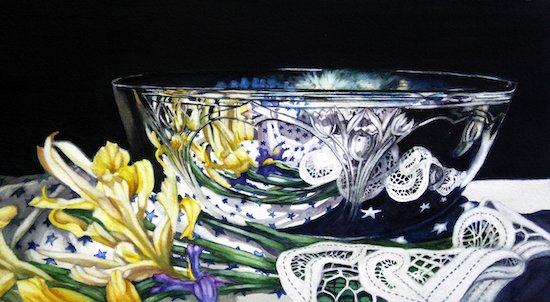 .
Reception: Sunday, June 25 from 2pm to 4pm
.
2017 Mid-Atlantic Regional Watercolor Exhibition
Featuring paintings by 95 artists, the 2017 Mid-Atlantic Regional Watercolor Exhibition is the most competitive juried watercolor exhibit in the region. The annual competition and exhibit is sponsored by the Baltimore Watercolor Society (BWS) and is limited to original paintings created using water-based media on paper created by artists from within a 200 mile radius, which includes Maryland, Pennsylvania, New Jersey, New York, Delaware, Virginia, West Virginia, and Washington, DC. The juror of selection and awards this year was renowned watercolor artist Frank Eber, who selected the winners of the Gold Medal ($1,200 prize), Silver Medal ($900 prize), and Bronze Medal ($600 prize) and 19 other designated awards worth more than $8,000 in cash and sponsored prizes. BlackRock Center for the Arts is pleased the present 2016 Mid-Atlantic Regional Watercolor Exhibition in The Kay Gallery from Saturday, June 17 through Saturday, July 15, 2017.
The artists featured in the "2017 Mid-Atlantic Regional Watercolor Exhibition" include:
51 MARYLAND ARTISTS: With 19 artists hailing from Mongomery County, including Janet Belich (Germantown, MD), Jingjing Chen (Bethesda, MD), Deb Cohan (Gaithersburg, MD), Debra Halprin (Rockville, MD), Stephen T. Hanks (Silver Spring, MD), Mimi Hegler (Ashton, MD), Susan Herron (Olney, MD), Christine A. Heyse (Silver Spring, MD), Cathy Hirsh (Silver Spring, MD), Judy Jones-Wisniewski (Wheaton, MD), Angela Lacy (Potomac, MD), Cecile Kirkpatrick (Brinklow, MD), Marta Legeckis (Bethesda, MD), Michiyo Mizuuchi (Rockville, MD), Susan Moses (North Potomac, MD), Susan Avis Murphy (Sandy Spring, MD), JoAnne Ramsey (Bethesda, MD), Linda Slattery Sherman (Montgomery Village, MD), Debby Wolfe (Brookeville, MD). Plus an additional 32 artists from other counties in the state include Matthew Bird (Sykesville, MD), Elizabeth Burin (Baltimore, MD), Robert J. Coe (Fallston, MD), Carolyn Councell (Pasadena, MD), Sally Davies (Greenbelt, MD), Tanya Davis (Hugesville, MD), David Drown (Ellicott City, MD), Gloria Tseng Fischer (Takoma Park, MD), Jerry L. Gadd (Westminster, MD), Diane Gibson (Parkton, MD), Bonita Glaser (Columbia, MD), Shirley Apple Jenkins (Sparks, MD), Ardythe Jolliff (Edgewater, MD), Brenda Will Kidera (Woodbine, MD), Michael Kotarba (Baltimore, MD), Marilyn LeMay Patterson (Reisterstown, MD), J.M. Littleton (Lutherville, MD), Stacy Lund Levy (Owings Mills, MD), Stephanie M. Lyon (Columbia, MD), Carolyn E. Murphy (Cockeysville, MD), Nancy Mysak (Allen, MD), Charles Reiher (Lanham, MD), April Rimpo (Dayton, MD), Kay Sandler (Columbia, MD), Diane Shipley (Beltsville, MD), Paul Tooley (Braddock Heights, MD), Jeffrey Turner (Columbia, MD), Peter B. Ulrich (Oxon Hill, MD), Annette Uroskie (Annapolis, MD), Louanne Van Fossen (Jarrettsville, MD), Lois Ward-Wolford (Towson, MD), and Donna Winterling (Chesapeake City, MD).
16 VIRGINIA ARTISTS: Judy Antico (Falls Church, VA), Brenda Barthell (Arlington, VA), Gwendolyn C. Bragg (Alexandria, VA), Eleanor Cox (Midlothian, VA), David Eakin (Forest, VA), Mary Eggers (Springfield, VA), ZL Feng (Radford, VA), Jean K. Gill (Oak Hill, VA), Margitta Hanff (Alexandria, VA), Linda Holz (Arlington, VA), Alice Kale (Alexandria, VA), Kate Niner (Alexandria, VA), Elaine Nunnally (Leesburg, VA), Patricia Porter (Fairfax, VA), Jill Poyerd (Leesburg, VA), and Susan M. Stuller (Midlothian, VA).
3 WASHINGTON, DC ARTISTS: Susan Lenczowski (Washington, DC), Barry Lindley (Washington, DC), and Ken Ritter (Washington, DC).
25 ARTISTS FROM DELAWARE, PENNSYLVANIA, NEW JERSEY, NEW YORK, WEST VIRGINIA: Deena S. Ball (Havertown, PA), Yachiyo Beck (Mechanicsburg, PA), Denny Bond (East Petersburg, PA), Myhanh E.T. Bosse (Warrington, PA), Sheila Cappelletti (Synnyside, NY), F. Dennis Clarke (Martinsburg, WV), Cheryl Coniglio (Jamison, PA), Giny Crawford (Philadelphia, PA), Cheryl Elmo (Morgantown, PA), Peggi Habets (Pittsburgh, PA), Patricia L. Helmick (Fairmont, NY), Laura Hwang (Egg Harbor City, NJ), Nancy Kautz (Harpers Ferry, WV), Jennifer Koury (East Aurora, NY), Peg Panasiti (Latrobe, PA), Ann Pember (Keeseville, NY), Dorrie Rifkin (Englewood, NJ), Marilyn Rose (West Caldwell, NJ), E. Jane Stoddard (East Amherst, NY), Eileen Sudzina (McKeesport, PA), Jeannine M. Swartz (Mechanicsburg, PA), Lena K. Thynell (Port Matilda, PA), Pam Wenger (Dillsburg, PA), Joan S. Wolf (Mechanicsburg, PA), and Gail B. Zinar (Lewes, DE).
Wildlife and landscape scenes dominate paintings in solo exhibition by watercolor artist David R. Daniels
In large format works that push the boundaries of traditional watercolor, David R. Daniels interprets the world around him by painting transparent layers of pigment on paper to allow our eyes to visually mix the vibrant and rich colors of nature. The freshness and spontaneity of his work belies the weeks or months the artist spends researching his subjects, making sketches, taking photographs, developing compositions, doing value studies, and preparing for the painting process. Fascinated with subjects from nature, Daniels is influenced by his scientific training as a botanist and biologist and carefully studies and closely examines the details of the birds, fish insects, plants, trees, and bodies of water that fill his paintings. Mounting the completed works onto aluminum panels for support, he varnishes the surface in order to both protect the surface and to eliminate the need to present his work under the glare of glass.
Daniels, who grew up in rural Michigan and is a long-time resident of Montgomery County Maryland, is an award winning artists whose work has been exhibited both regionally and nationally. His paintings are included in many private and public collections around the world, including the National Institutes of Health. He is a highly respected educator who has taught workshops around the world in addition to teaching painting and design courses at Montgomery College in Rockville, MD. Daniels is currently a watercolor instructor for the Smithsonian Associates in Washington, DC and is the Visual Arts Director of the Amalfi Coast Music and Arts Festival in Italy. Daniels earned his BA and MA from Central Michigan University, Mt. Pleasant, MI. To learn more, visit: www.mrwatercolor.com
Gallery Hours:
Monday – Saturday: 10am to 5pm
BlackRock Center for the Arts is located at 12901 Town Commons Drive, Germantown, MD.