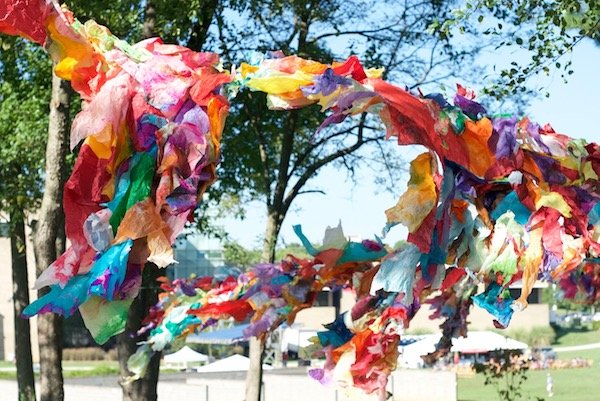 .
FESTIVAL BACKGROUND
Washington's inaugural arts and dialogue festival – will take place in every quadrant of the city, bringing people together around the themes of life, liberty and the pursuit of happiness. By the People is intended to promote empathy and spark civil discourse, building bridges across the cultural divide – exactly what we need at this moment in time. Halcyon is organizing the festival in association with the Smithsonian, numerous cultural organizations, government agencies and businesses. By The People will connect the District's rapidly growing art scene to the city's long history of civic dialogue and debate. Through robust arts programming and dialogue, By The People puts human connection front and center, reminding us that more unites us than divides us. The free four-day extravaganza features a full-on arts takeover of Washington with interactive art installations, ballet premieres, indie-rock, punk, jazz, gospel, opera and Go-go performances and an augmented reality art hunt. A courtesy shuttle service will circulate between hub locations from 10 a.m. to 6 p.m. every day of the festival.
ART FESTIVAL OFFICIAL VENUES
Smithsonian Arts and Industries Building (900 Jefferson Drive SW)
The historic building, which serves as festival headquarters and central hub, is being fully activated with interactive art installations and programming. Note: the building will be open until midnight on June 23 as part of the Smithsonian's Solstice Saturday.
Jenny Sabin's "LUX," a knitted canopy of light represents the festival theme of LIFE. The delightful, multisensory environment inspires collective play and interaction as the structure and materials transform throughout the day and night. June 21, 22 and 24 from 10 a.m. to 6 p.m. and June 23 from 10 a.m. to midnight.
Dan Steinhilber's "Untitled Interface Site (The Mutual Enjoyment of Justice By the People)" is a colorful forest of interconnected inflated bubbles made of plastic stretch wrap. Visitors are encouraged to have a conversation about the work's theme of LIBERTY inside the installation, outside of the installation, or halfway in, halfway out. June 21, 22 and 24 from 10 a.m. to 6 p.m. and June 23 from 10 a.m. to midnight.
Maya Freelon's "Reciprocity Respite & Repass" is a breathtaking and playful immersive sculpture of colored tissue paper representing the festival theme of HAPPINESS. In the spirit of traditional quilting bees, the public is invited to art-making workshops where you can add to the colorful sculptures. June 21, 22 and 24 from 10 a.m. to 6 p.m. and June 23 from 10 a.m. to midnight.
Linda Hesh's "Put the 'I' into Civic" sculpture invites visitors to stand in the space of the missing "I" to complete the artwork. The interactive work is meant to spark conversations about what it means to be civic-minded. The prefect Instagram moment. June 21, 22 and 24 from 10 a.m. to 6 p.m. and June 23 from 10 a.m. to midnight.
Halcyon Arts Lab Fellow Georgia Saxelby encourages the public to participate in her interactive artwork, "To Future Women: A 20-Year Time Capsule of Letters to the Next Generation." Sitting at a desk, visitors are invited to write a letter to women 20 years in the future. The installation will include a display of the letters. June 21, 22 and 24 from 10 a.m. to 6 p.m. and June 23 from 10 a.m. to midnight.
"Monument to Picnics" in A&I's central rotunda is Rachel Schmidt's interactive installation made from recycled materials. It invites families, friends and strangers to share in unscripted conversations on festival themes and enjoy a picnic on the faux grass while watching video of sunsets projected on faux clouds. The artist created her work as a future monument, drawing attention to the environment as we fast approach a time when leisure activities in nature will be unattainable for many people. "Monument to Picnics" is intended to be experienced in the spirit of outdoor picnics and in the tradition of individuals sharing a communal meal. Bring a picnic or purchase one from the Smithsonian's food carts. June 21, 22 and 24 from 10 a.m. to 6 p.m. and June 23 from 10 a.m. to midnight.
Join Smithsonian Associates for "Picnic Talks," a series of short lightning talks by eclectic experts, thought-provoking artists and accomplished scientists on unexpected subjects related to life, liberty and the pursuit of happiness. June 21-24 from noon to 1 p.m.
In a world overrun by conversations about the things that divide us, we are all in search of a little connection. Join the Arts & Industries Building team for "Common Ground" to talk about things that unite us. You will be randomly paired with a fellow festival guest or a surprise VIP for a 10-minute unscripted conversation around a shared question. Whoever you meet, we're sure you'll find common ground. At the end of your conversation, add your mutual ideas to our collective mural. June 21, 22 and 24 from 2 to 3:30 p.m., June 23 from 2 to 3:30 and also from 6:30-8.
The Freer|Sackler will host "Meditate for Happiness," free drop-in meditation workshops. Take a moment out of your day, calm the breath, relax deeply, and awaken to effortless attention. Appropriate for all levels; no experience required. June 21-24 from 11 to 11:45 a.m.
The Smithsonian's very own comic artist, Evan Keeling, has developed zine-style mini-comics tackling difficult and complex subjects ranging from the Japanese American incarceration during World War 2 to the conservation efforts of Smithsonian scientists. Join Evan for "Be Your Own Superhero", to tell your own story about life, liberty, and the pursuit of happiness. Suitable for all ages. June 23 and 24 from 1 to 4 p.m.
During "Open Studio" hosted by the National Portrait Gallery, visitors can explore portraiture through reproductions of the recently unveiled portraits of former President Obama and Mrs. Obama, culminating in creating their own symbolic self-portrait. Gallery educator and artist Jill Galloway will engage participants in a discussion of the portraits through the lens of life, liberty and happiness, and guide art-making. Suitable for all ages. June 21 from 11 a.m. to 2 p.m.
In "Strike a Prose," an interactive creative writing workshop hosted by the National Portrait Gallery, published author and teaching artist Willona Sloan will guide visitors through a series of writing exercises based on the recently unveiled portraits of former President Obama and Mrs. Obama. Discussion and writing prompts will inspire participants to reflect on and write about their own identities and aspirations in the context of life, liberty and happiness. Suitable for all ages. June 22 from 11 a.m. to 2 p.m.
Washington National Cathedral (3101 Wisconsin Ave. NW)
"Renaissance artist" Nick Cave debuts a newly commissioned video installation on love, loss and faith. On June 22, 23 and 24 from 10 to 6 p.m. A preview of the installation with a performance by Jason Moran will take place June 21 (Tickets required for the June 21 event; see below).
In a one-night-only performance on June 21 at 8 p.m., renowned composer and jazz pianist Jason Moran will perform a response to Nick Cave's dramatic video installation. An experienced collaborator, Moran is known for pulling elements of post-bop and avant-garde jazz, blues, classical music, stride piano, and hip hop into his compositions. (Tickets, which are $35, are required.)
Pakistan native Imran Qureshi will create a powerful large-scale work on the sidewalk in front of the Cathedral, based on ornamental motifs used in Persian and Indian miniature painting. June 21 through June 24 from 10 a.m. to 6 p.m.
Art installations by Halcyon Arts Lab Fellow Stephen Hayes.
Art installation by Halcyon Arts Lab Fellow Chloe Bensahel of "Je Tisse Mon Histoire." Based on the double meaning of the French word for "story" and "history," "Je Tisse Mon Histoire" is the outcome of a weaving performance that points to the inheritance of trauma housed in the body. The artist unwinds the slang words for "Jew" and "Arab" embroidered on her back into a backsrap loom weaving attached to her waist, with her body acting as a processing tool where past disappears into present, violence dissolves into care. June 21-24 from 10 a.m. to 6 p.m.
Rebecca Clark's "Books of Hours" digital book will be on display. On June 21-24 from 10 a.m. to 6 p.m.
June 21 brings pop up performances to the Washington National Cathedral during the day.
The Parks at Walter Reed (1010 Butternut St. NW)
Yarn bomb curator Stacy Cantrell will work in collaboration with local knitters to decorate the trees of Walter Reed with colorful yarn. An art project that is of the people and by the people that pays tribute to the hard working nurses who served at the Walter Reed Army Medical Center over the years. On June 21-24 from 10 a.m. to 6 p.m.
Nekisha Durrett's "Heaven Lasts Forever" offers two sprawling installations as meditations on the ephemeral nature of time and the material world. The artist explores how we use language and spirituality to navigate the darkest of times. A homage to members of the Armed Forces who have been wounded or killed while in service, "Meditation 1" leads the viewer through the Walter Reed park space by way of purple pathways dotted with the text "Heaven Lasts Forever." "Meditation 2" quietly emerges from a shorn patch of green revealing the echoed text "Heaven Lasts Forever" dotted with purple flowers. This painstaking installation foregrounds resilience and regeneration while examining the ephemeral nature of time and the material world. June 21-24 from 10 a.m. to 6 p.m.
Marine veteran Jefferson Pinder will create a performance art piece in response to Walter Reed and its history. The performance takes place at 5 p.m. June 22 and includes a marching band procession. His work will continue on view June 23 and 24 from 10 a.m. to 6 p.m.
Michael Bowles will install "Resurrection, 1998," a large-scale photo installation that pays tribute to the hospital and its history. On view June 21-24.
In the days leading up to the festival, Heide Trapanier will enlist the help of veterans with disabilities to create "Reflection," a painted mural on the historic Walter Reed fountain. Celebrating the festival's theme of "life," this artwork operates as a metaphor; the color does not match the contours of the original purpose of the fountain, mirroring the once regal grounds that have been replaced with decay and abandonment. The reflection of color relates to reflection on the past, and one's relationship to memory and how something that is forgotten can be given new purpose. On display June 21-24.
June 22 brings pop up performances to The Parks at Walter Reed during the day.
THEARC West (1801 Mississippi Ave. SE)
Two artists who are graduates of THEARC I CAN program will present their work. Nathaniel Brodie, a 17-year-old senior at Thurgood Marshall High School whose specialty is designing graphics on different shoe styles for his peers, mentors and family, will create a new work, "Shoe Graffiti." June 21-24 from 10 a.m. to 6 p.m. Kerell Partee, 21, aka Cheetoh Dope, will present "XXX SOUFMADE: Urban Wear" highlighting Black culture through unique designs that capture the essence of the Southside community style. The featured event will include moving statues wearing the designs as well as live performances from Cheetoh Dope with a Rock the Runway. Peer collaborators will also be highlighted showcasing videography, photography, and music production. June 23 (time to be announced).
Nick Cave's "Drive-by" video installation will be featured. "Drive-by" was originally installed in a Chicago storefront where it wrapped the whole corner and played only after the sun went down. The installation has a double meaning: It literally refers to how one originally viewed the film – "driving by" and it refers to the senseless and anonymous shootings Chicago and many cities feel regularly and is, in turn connects to Cave's "Soundsuits." June 21-24 from 10 a.m. to 6 p.m.
The Phillips@THEARC space will feature installations by Halcyon Arts Lab Fellows Antonius Bui and Stephen Hayes. June 21-24 from 10 a.m. to 6 p.m.
Erin Curtis will display "Curtain/Wall," a two-sided painting that mixes textile traditions from around the world. The piece alludes to screen walls that separate women from men in many cultures and times, and from a desire to facilitate the audience seeing two things at once. June 21-24 from 10 a.m. to 6 p.m.
June 23 brings pop up performances to THEARC West during the day.
Union Market (1309 5th St. NE)
Rebecca Clark's drawings focus on the natural world, a commentary on current threats to the planet and the importance of the preservation of life – one of the festival themes. Clark's images will appear both indoors and outdoors at the venue. June 21-24 from 10 a.m. to 6 p.m.
Avish Khebrehzadeh, a native of Iran, has created a video installation, "Where Do We Go From Here?" Projected onto sea salt, this poetic artwork explores the absence of humans and asks the questions "Where are we going?" and "Where are we coming from?" June 21-24 from 10 a.m. to 6 p.m.
Liliane Tomasko's "Night Series" of painted bed sheets will transform the way we think about surface. June 21-24 from 10 a.m. to 6 p.m.
Holladay Brothers will create a new installation with projections and live and recorded music with original scores. June 21-24 from 10 a.m. to 6 p.m.
Installation by Halcyon Arts Lab Fellow Kristin Adair will be on view. Adair's "Cell 17" is an interactive multimedia installation that evokes the experience of a prison cell. A collaboration between the artist and D.C. men who received life sentences as juveniles and have been incarcerated for more than 20 years, the work features audio and video projection layering vignettes from the journeys of these "juvenile lifers." Because of the change in the law, the men are now eligible for potential resentencing and release back to their communities. June 21-24 from 10 a.m. to 6 p.m.
Installation by Halcyon Arts Lab Fellow Chloe Bensahel of "Veste Quae Ex Dobus Texta Est, Non Indueris," a woven piece made from menswear shirts, inspired by the origins of Holocaust prisoner uniforms. The title points to a verse in the Old Testament that forbids mixing materials, translated to "mixing colors" in the 10th century and assigned to undesirable members of society.
A stunning new production of Weill's "The Seven Deadly Sins," a ballet chanté (ballet with song), will be directed and choreographed by Halcyon Director of Performing Arts Septime Webre, who is Artistic Director of the Hong Kong Ballet. The performance features Wolf Trap Opera in partnership with Hong Kong Ballet, with Terra Firma Dance. Additionally, American legend Robert Rauschenberg's "Currents" and British artist Michael Craig Martin's "Seven Deadly Sins" will be incorporated into the production. Performances at Union Market's Dock 5 are June 23 at 8 p.m. and June 24 at 1 p.m. (Tickets, which are $45, are required.)
BalletX, Philadelphia's premier contemporary ballet, premieres new ballets by choreographers Darrell Grand Moultrie and Trey McIntyre. Grand Moultrie's "Vivir" celebrates the Latin, Afro-Caribbean music of his native Spanish Harlem. McIntyre's love of 1970's Motown, American Bandstand, and Soul Train springs to life in his new work "The Boogeyman," embodying the era's high-octane energy. Performances at Union Market's Dock 5 are on June 22 at 8 and June 23 at 2 p.m. (Tickets, which are $45, are required).
"Punk Latitudes" is a showcase of legendary bands and immersive programming from guest curator Sasha Lord, featuring musical performances from Sneaks, Taraka Larson (Prince Rama), The Messthetics, and Loud Boyz. Between sets, DJs Baby Alcatraz and Alec Mackaye will spin a mix of soul and several decades of punk. The performances will be framed by L.A.-based punk video pioneer Bradley Friedman, featuring past to present videos, a panel discussion with Friedman, D.C. punk community authors, musicians, curators, and journalists who have documented the underground music scene. "Punk Latitudes" is a reference to D.C. and L.A. being at similar geographic latitudes, DC at 38° and LA at 34°. Despite both cities having well-known dominant powerful industries, (entertainment and politics) this factor does not hinder the thriving underground culture. In the spirit of the By The People mission to create a space for discourse, "Punk Latitudes" will foster dialogue bridging the culture from the East and West Coasts, as well as from emergent to legendary artists. June 24 from 5:30 to 10:30 p.m. (Tickets, which are $35, are required.)
June 22, 23 and 24 bring pop up performances to Union Market during the day.
POP UP PERFORMANCES AT THE FIVE FESTIVAL VENUES
Bridgman|Packer Dance will perform the ingenious and magical Truck, a nontraditional dance in an unexpected setting: the inside of a 17-foot U-Haul truck. Truck features Art Bridgman and Myrna Packer who perform along with their own video images. The piece is evocative, humorous, sensuous and wacky.
Celebrate happiness with D.C's own Dupont Brass, an eight-piece brass ensemble made up of Howard University graduates, as they perform popular tunes that bring us all together in song and dance.
Lift your spirits when the Washington Performing Arts Men, Women, and Children of the Gospel Choir take to the stage to share their joyful voices.
Mind the Heart! Is a global street art project by Israeli artists Maya Gelfman and Roie Avidan that invites you to take part in its mission of mindfulness and become exhibiting artists while you're at it.
Batalá Washington, an Afro-Brazilian all female percussion band that plays Samba-Reggae rhythm from the north east state of Brazil Bahia.
An LED truck will travel around town displaying artwork from numberF and artist Nora Maccoby.
Don't miss pop up performances by BalletX, Wolf Trap Opera and Hong Kong Ballet – three of the festival's featured performers.
BY THE PEOPLE DIALOGUE SERIES
By The People Dialogues use a moderator-less "debate" format to examine two sides of a topic and demonstrate the necessity of civil discourse.
The series of conversations on LIFE, LIBERTY and HAPPINESS will take place at the U.S. Institute for Peace (2301 Constitution Ave. NW) on June 21. NASA Goddard Space Flight Center Research Scientist Dr. Avi Mandell will be in dialogue with Dr. Lucianne Walkowicz, the Baruch S. Blumberg Chair in Astrobiology at the Library of Congress and an astronomer at the Adler Planetarium in Chicago, about the implications of discovering life beyond earth. Peace activist and Palestinian Yousef Bashir and American-born Israeli and author Yossi Klein Halevi will discuss how to achieve lasting peace between the Palestinians and Israelis. Dr. Robert Waldinger, a Harvard Medical School psychiatrist, will curate a discussion on happiness. Free but registration is required.
AUGMENTED REALITY
In an augmented reality art hunt, powered by ARTECHOUSE and similar to Pokemon Go, the public will use their mobile devices to search for virtual artworks throughout the city that relate to the festival themes. Dozens of artists from around the world responded to Halcyon's call for participants.
SOLSTICE SATURDAY AT THE SMITHSONIAN
"Solstice Saturday" a Smithsonian celebration of the summer's longest day held in conjunction with the festival. Participating museums (Anacostia Community Museum, Freer and Sackler Galleries, Hirshhorn Museum and Sculpture Garden, National Museum of African American History and Culture, National Museum of African Art, National Museum of American History, National Museum of Natural History, National Museum of the American Indian, National Portrait Gallery, Smithsonian American Art Museum, National Zoological Park, Smithsonian Arts and Industries Building and the Smithsonian Castle) will feature free activities during extended evening hours on Saturday, June 23.
FESTIVAL SATELLITE LOCATIONS (as of May 29)
Anacostia Arts Center (1231 Good Hope Rd. SE)

Halcyon Arts Lab Fellow Antonius Bui, along with Beverly Price and Tattiana Aqeel, are organizers of the exhibition "Guard(en)," a group exhibition that highlights the wide array of talent from the QPOC (Queer People of Color) community in the DMV area. June 21-24.

Blind Whino SW Arts Club, (700 Delaware Ave. SW)

Art Exhibition: Tabi Bonney and Kelly Fogel, June 23-24 from noon to 6 p.m.

Embassy of France

Artist talk and pop up installation by Halcyon Arts Lab Fellow Chloe Bensahel of "#Softpower: the legacy of textile as artistic intervention." June 21. Time to come.

Gallery 102 (801 22nd Street, Smith Hall of Art)

Halcyon Arts Lab Fellow Exhibition: Mercedes, "Ring of Freedom." June 21-22 from 9 a.m. to 5 p.m. Performance on June 24, time TBD

Hamiltonian (1353 U St. NW)

Art exhibition: Magali Hébert-Huot, "Les Grandes Étendues," in collaboration with Tommy Bobo, June 21-23 from noon to 6 p.m.

IA&A at Hillyer (9 Hillyer Court, NW)

Exhibition of Arts Lab Fellow Georgia Saxelby, "To Future Women," June 21-22 from noon to 6 p.m. and June 23-24 from noon to 5 p.m.

Kreeger (2401 Foxhall Road NW)

Art Exhibition: "Second Nature: Portuguese Contemporary Art from the EDP Foundation Collection," June 21-23, from 10 a.m. to 4 p.m.

Miracle Theatre (535 8th St. SE)

Premiere of Kristin Adair's film, "Becoming Free" and panel discussion. June 21 at 6:30 p.m.

Shakti Arts (at Bossa Bistro and Lounge, 2463 18th St.)

Performance: "Unity in Diversity: The Culture Project," June 24 from 7 to 9 p.m.

Transformer (at Farragut Park, 912 17th St. NW)

Special Program: Crochet Jam, part of Golden Triangle BID's Farragut Fridays, June 22 from 11 a.m. to 3 p.m.

U Street Music Hall (1115 U St. NW)

Performance by Rare Essence. Tickets required.

The Kennedy Center (2700 F St. NW)

Washington' own Beauty Pill will perform songs from their critically acclaimed album, "Beauty Pill Describes Things As They Are" at Millennium Stage. June 24 at 6 p.m.
PARTNERS AND SPONSORS (as of May 31)
Partners include: 8 Arts & Culture, 11th Street Bridge Park; The Agora Culture; Anacostia Arts Center; ARTECHOUSE; Blind Whino; Bolamarge; BrandLinkDC; Brightest Young Things; Corcoran School of Art, George Washington University; CulturalDC; DC Department of Economic Planning and Development; DC Office of Cable Television, Film, Music and Entertainment; DC Office of the Deputy Mayor Planning and Economic Development; Destination DC; Earl W. and Amanda Stafford; EDENS; Events DC; Federal City Council; Government of the District of Columbia, Muriel Bowser Mayor; Hong Kong Ballet; Kaze Design; Kiddar Capital; Linder Global Events; Lyft; numberF; The Parks at Walter Reed; Pink Line Project; The Phillips Collection; Restaurant Association of Metropolitan Washington; Dr. Sachiko Kuno; Smithsonian Arts and Industries Building; Smithsonian Institution; Smithsonian Latino Center; STABLE; Swatchroom; THEARC; theatreWashington; U.S. Trust-Bank of America; Union Market; Washington National Cathedral; Washington Performing Arts; Wolf Trap Opera; Whole Foods; Wolf Trap Foundation for the Performing Arts; and YOA Youth Orchestra of the Americas.
ABOUT HALCYON
A nonprofit organization that believes in the power of creativity and compassion to empower humanity , Halcyon provides space, community and access to socially engaged artists and social entrepreneurs working to use their vision and talent to address the world's greatest challenges. Signature programs include Halcyon Incubator, Halcyon Arts Lab, Halcyon Dialogue and the By the People festival. In only three years, Halcyon's 63 social entrepreneurs have created 460 jobs, raised more than $37 million and impacted nearly half a million lives around the world. Founded by Dr. Sachiko Kuno and Kate Goodall, Halcyon is based out of the historic Halcyon estate and nearby Halcyon Arts Lab in Georgetown. halcyonhouse.org.
QUOTES ABOUT THE FESTIVAL
"Austin has South by Southwest and Aspen has its Ideas Festival. It's time for Washington, DC, to have its own destination festival – one that is open and accessible to all, that reinforces this country's founding principles and builds on its longstanding commitment to civil discourse. I can't think of a better way to bring people from different backgrounds together than through dialogue and art, or a better time to launch By the People than during the summer solstice." – Halcyon CEO Kate Goodall
"By the People arrives at the perfect moment. I believe robust engagement and debate drive the progress and dynamism that defines America. My hope is that By the People will not only inspire empathy and respect that are necessary to bridge divides in our nation, but will reverberate well beyond the nation's capital and long after the festival's conclusion." – Smithsonian Secretary David J. Skorton
"As we focus on marketing the District to attract more travelers, the By the People Festival will be an incredible addition that helps highlight D.C.'s rich cultural and artistic community. We're excited to have such an imaginative only-in-D.C. event for both visitors and locals to experience the arts in a new way, both on the National Mall and throughout our neighborhoods." – Elliott L. Ferguson, II, president and CEO, Destination DC