| OPENINGS  |
Opening reception Saturday, December 4 from 6-9 pm.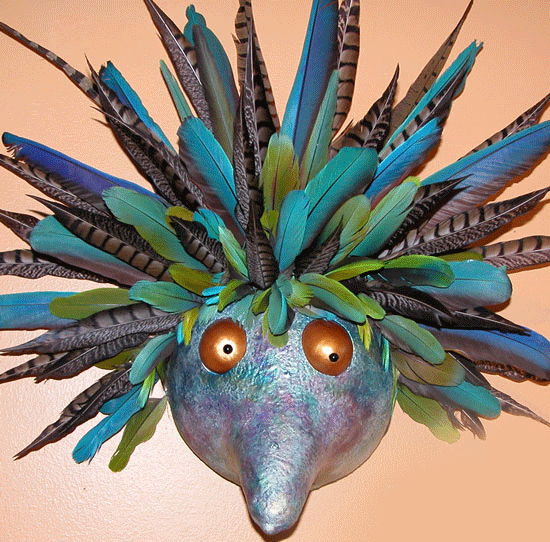 The exhibition will be on display from November 30, 2010 through January 1, 2011.
Szyndler became interested in gourd art after finding a book on gourds in a local bookstore. Mostly self-taught, Szyndler learned much of his craft from books but also travelled the country to take workshops.  Early on, he often went on scouting trips to find "diamonds in the rough" at a farmer's market near Annapolis, MD.
In Szyndler's words: "my many years of living and working in other countries sparked an enthusiasm for the use of masks in other cultures, especially those of Africa, India and the indigenous peoples of the Americas.  Gourds appealed to me because they are a gift from nature just waiting to be carved and chiseled into a beautiful mask.  It is interesting that from the inception of an idea to the creation of the final product is often very different from what I have visualized, often in my dreams."
Szyndler's skill and talent evolved rapidly and he was soon invited to show his work in solo shows. He often won first place and best in show when participating in national and international art competitions. He won first place so often that a second place ranking would become an actual irk to him, according to his friends.
But being a master of his craft was not enough for Szyndler. A veteran and innovator in the rehabilitation field for decades, he also took to inspiring local artists with disabilities to use gourds as a three-dimensional medium.
Wally passed away on July 10, 2010, which came as a surprise to his family, his friends and the Capitol Hill community.  This retrospective will offer the community at large an opportunity to celebrate his life and his passion.
All proceed from this show will go to to Art Enables, a studio and gallery for emerging artists with developmental and/or mental disabilities.
Additional information may be found at www.citygallerydc.com For further information or images, please contact the gallery at 202.468.5277 or info@citygallery.com City Gallery is located at 804 H ST NE second floor, Washington, DC 20002. Gallery hours are  Saturdays and Sundays 1-5pm.
.