.
..
.
.
.
.
Artist Reception: April 27 with performances 5-7 pm and reception 7-9 pm
.
Read the full press release here
Seniors at the Corcoran College of Art and Design in Washington, D.C. just finished their thesis projects for NEXT, an exhibition in the Corcoran Museum downtown that features work by all graduation candidates, including the 26 senior undergraduates completing their BFA degrees. And now, these BFA candidates are making one more project before graduating. Their new works make up Fast Forward, and are being shown at the Brentwood Arts Exchange and 39th Street Gallery in the Gateway Arts Center—just over the Northeast D.C. line in the Gateway Arts District (Mt. Rainier/Brentwood, Maryland).
Brentwood Arts Exchange and 39th Street Gallery are located in the Gateway Arts Center, 3901 Rhode Island Avenue, Brentwood, MD
Here is a sampling of recent student works:     
.
Katie Macyshyn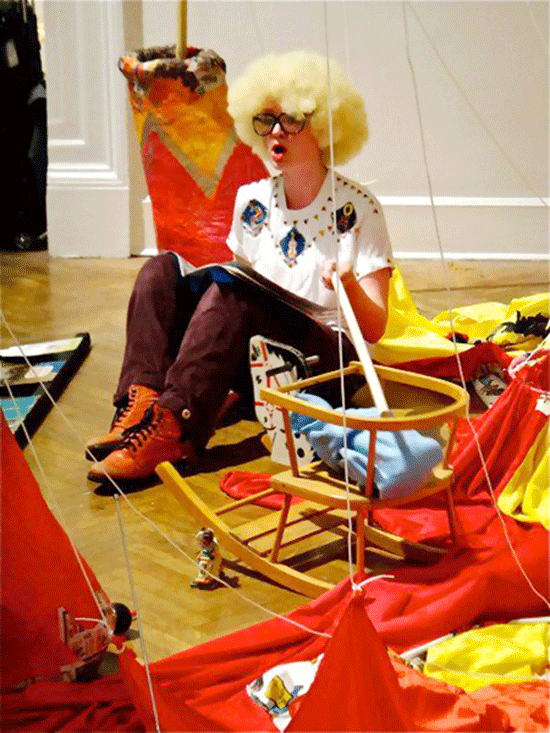 Katie Macyshyn's recent work analyzes the subjugated individual's relationship with society—the anomaly's need to be desired in the face of the actual laws of desire.
An anchor in the Corcoran's performance community for the duration of her tenure as an undergraduate student, Macyshyn connects to a subject by taking on roles. Moments of discovery unfold through theatrical means, drawing on tropes of the opera and the circus. Characters, and their worlds, are presented in a surreal way where their perceived flaws are not hidden, but exaggerated with a dingy fondness.
Macyshyn's work examines our individual connection to self and our perceptions of reality. In her explorations, truth may be unveiled as a fabrication of the mind.
Katie Macyshyn will perform at 6:30 in the 39th Street Gallery on Saturday, April 27
Robert Yi                                      
"The mask you wear reveals more than that which you hide." Murbah
몰봐(murbah): Korean slang meaning literally, "What are you looking at?"
Robert Yi's paintings attempt to decipher how visual suppression of truth can actually enhance the realities behind the façades we build. Stoicism may harden the face, but that mask is an ill-fitting lid over cries of desire to be heard or a yearning for empathy.
Yi's portraits of the nameless and the known are both window and looking glass on otherness and commonality. He asks, "How are we worlds apart, and how are we so alike?" He suggests that somewhere in human essence are the roots of connection, and through that, empathy. "I see you because I have felt your pain."
Throughout history, abusive governments have controlled people. The North Korean Kim family dynasty, a dictatorship currently ruled by Kim Jong Un, has enforced submission, suppressing even joy and sadness. Still, Yi suggests, when we observe from a place of commonality, we discover raw emotion behind the stern faces of North Koreans. A cry for humanity issues out from under these hardened masks.
Jordan Hamlett Sanders
In the Language of Construction, Jordan Hamlett Sanders' recent series of sculptures and paintings, originates from an interest in material as a signifier of our relationship with our natural world and our built environments. Organic and mineral components, such as wood, earth and stone, are mass-produced into units of construction, forming our homes and workplaces. By using these materials to construct artworks, Sanders asks us to consider their substance, and to reevaluate our relationship to them.
To build the interiors of his sculptural volumes, Sanders' gleans discarded materials of gutted residential homes from dumpsters around the District of Columbia. Heavily weathered by time and ripe with texture, their smells conjure memories of tree houses, barns, and the fading rural playground of his childhood backyard. The exteriors of his works are often made of drywall, indicative of interior wall construction in buildings across America. As reclaimed materials support the drywall shell—they reassert themselves as architectonic components once again. Orifices provide portals, shifting our sense of scale, allowing us to be consumed by interiority. These head-and-shoulders-sized openings beckon, offering an immersive sense experience at once tactile, olfactory, and visual.
Sub-texts of cheap refurbishment, gentrification, and waste underpin the more immediate architectural and residential references in these works, raising questions about our relationship with heaping temporary dumpsters that occupy our daily landscapes, and referring to nostalgia, reverence, and ambivalence.
Annie Rose Hanson­
Annie Rose Hanson is currently exploring relationships between food culture and society in a series of performances. Her inspiration comes from firsthand observations of relationships between commercial cooks and consumers. Comparing and contrasting the disparate worlds of restaurant and home, she examines the disconnect between the consumer and the commercial cook.
Hanson's performances use sharing, between family and friends or between strangers, as a point of entry. She incites a rethinking of our perception of food and its role in our most fleeting moments of relationship-building. The smallest interactions are amplified and the quotidian surges to a position of relevance.

Annie Rose Hanson will perform at 6:00 in the lobby outside the 39th Street Gallery on Saturday, April 27
Gabriel Mellan
Gabriel Mellon's experiential sculpture is both record of and homage to explorations of material behavior and the making process. How do repeating folds in paper catch the shifting light? How do fingerprints accumulate in particular spots on a metal surface to form a patina of use as visitors investigate sound possibilities inside a monolith? Curiosity is fuel for and fueled by discovery, experimentation, and play.
Fascinated by machines since childhood, Mellon builds instruments. He considers movement and function, tinkering with how they are powered. Tools and machines are co-collaborators and he attempts to honor the evidence of their involvement. The innate personalities of materials retain their unique voices in the chorus of his works as Gabriel Mellon takes the role of conductor.
Bryana Siobhan
In her April 18 (2013) piece for Laura Roulet's Aftermath Forum on performance art at Artisphere, D.C.-based artist Kathryn Cornelius talked about how we long to connect to the self. The intensity of this longing stems from a violent realization in our earliest confrontations with a mirror: that of "there I am," instead of "here I am." We grapple with that loss of connection ever after.
Psychology is a spring-board for Bryana Siobhan's current line of inquiry. Questions about psycho-social human interaction form idea threads that run through many of her performances. Her almost other-worldly beings are humanoid, but so internally focused that they seem removed from our realm. This might position them, although living and breathing, into objecthood. Or, perhaps better described: into atmosphere. Instead of feeling compassionate for their personal anxieties and plights, we are affected by the air they share with us—air that builds so thick with tension we cannot help but breathe that tension in. We live in shared anxiety.
Task-based activity continues and is seemingly endless. The fragile and ever-shifting nature of internal and external relationships is highlighted. A liminal space is captured and harnessed, and put on display for us to grapple with.
Daesik Kim
The self-portrait paintings of Daesik Kim place him in the thick of the quintessential tauntings of materialism—chock full of superficiality, artifice, and veneer.
Kim takes a critical look at his own consumption as he reflects on the allure and emptiness of the consumer culture around him. Whether he is depicted as a false king or a condescending asshole, Kim embeds himself in the timesuck of internet surf-shopping or an obsession with fake, knock-offs of name brand designer wear. The positioning & gesture of his figures reflect his experience of the ideals of the American mall and the Korean market.
Jeremiah Holland
Jeremiah Holland distills topography and architecture into objects, harvesting the terrains of sculpture and furniture design. Challenged by the concept of furniture, Holland attempts to represent it as something that opposes traditional functionality. He says, "A table and a sculpture occupy the same physical reality and it is only language and culture that treat them differently." The hybrid object can punctuate dualities in the human condition, simultaneously activating a space and addressing the numerous paradoxes between the actual and the implied.
Holland's work occupies the space between language, where things can straddle or resist categories. Arches serve as pedestals, bearing slabs that refer to the natural world while wearing color borrowed from synthetic, industrial products.
Though disinterested in obvious celebration of technical virtuosity, Jeremiah Holland is an impeccable builder. His love of simplicity goes deeper than that fine line between magic and calamity. He prefers to deal in enigma, building relationships with compromise and concession as he navigates material, leaving evidence of his intentions.
Rachel Hrbek
Rachel Hrbek's performances use repetition, empty consumption, meditation, seduction, and dissection as strategies for reaching a state of catharsis. She purges emotion in drawn out, anti-climactic moments during which the object of her gaze slowly shifts.
Focusing on the body's presence and using minimal props, Hrbek's performers occupy anonymous, neutral spaces made intimate by their physical interactions. But she drains all the desire out of seduction as she brings a mechanical disinterest to the sexually-driven undertones in her activity. In antithesis to our collective desire for comfort, connection, and meaning, she is utterly blank and detached should we catch her gaze. We are voyeur, and as is inherent in that role, also self-conscious. She takes advantage of this relationship, flipping it around on us—as we watch her, we become subject under her gaze. An emptiness unfolds as our realization grows; though we may catch her gaze, we are incapable of arousing her interest.
Indigo Wakatama
We live in a new world, as global citizens. Indigo Wakatama's images celebrate our relationships; we are different people sharing common habitat. We willfully re-create each other's traditions and we exchange customs. Wakatama asks how we redefine identity through artistic expression.
With roots on three continents, Indigo Wakatama is fascinated by the deliberate and accidental similarities between different nations.  In her current series of assemblage works, she embraces our current inter-cultural world. The Melting Pot knits a myriad of images together, depicting global human connection.
Armando Lopez-Bircann
Armando Lopez-Bircann uses ceremony and the concert as referents in performances that feature his wearable sculpture and concentrate on branding the artist as a presence/persona to be capitalized upon. His wearable sculptures package the body while pulling on nature's codes of flamboyancy. In some animals, such flamboyancy is a male trait whereas in some human cultures, it may be feminized.
Lopez-Bircann incorporates original music and video as he explores a hybrid identity in his performed personas. He responds to the storytelling used by commercial entertainment to build mythologies, and the ways the music and fashion industries' present lifestyles that mimic spiritual devotion. He is a multi-faceted mirror, reflecting incarnations of a personal and a collective consciousness.
Lopez-Bircann grew up in Dominican Republic and grasped a wider sense of identity and inter-culturalism through video games and the internet. Though he embraces electronic media (and uses it in his work), he also sings about loneliness, questioning the "connections" we make through social media. He strokes a surrogate tit in the built costume he dons. He strikes a pose, gets photographed, and tries to stuff the empty, self-perceived admiration of the camera into the hole of his loneliness.
Armando Lopez-Bircann will perform at 5:30 in the 39th Street Gallery on Saturday, April 27