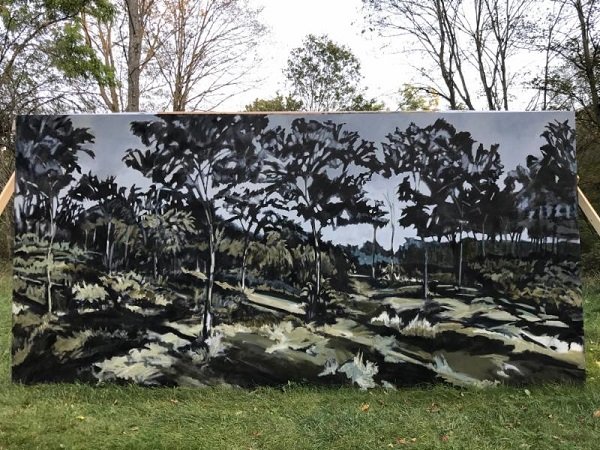 .
Opening Reception: Friday, March 15 from 6pm to 8pm
.
Cross MacKenzie gallery is pleased to present Midnight in the Clearing, an exhibition of new night paintings by Canadian artist, Patrick Bermingham.
Drawing from his historical roots in the "Group of Seven", the early 20th Century Canadian landscape movement, Bermingham shares their belief in direct contact with nature. He embraces the concept by taking his often oversized canvases into the clearing to paint at night, and has practiced this technique in various locations including Ontario's Dundas valley, the Georgian Bay archipelago, Morocco and rural Guatemala and Chile. These romantic nocturnes done "en plein air" are evocative and deeply emotional, and as your eyes adjust to the night, so the new lunar palette emerges to light the landscape.
Over the past two decades, much of Bermingham's work has focused on addressing the alternative visual and psychological perceptions that emerge after midnight when the daylight's blasting headlights of Roy G Biv's reflective sensations have dimmed, and the softer waves of moonlight appear. These paintings explore how our eyes, adjusting to the moonlight, flatten the range of registered colors revealing dramatic contrasts, graphic silhouettes and blackened shadows, and widen our emotional responses to include the unfamiliar, the mysterious and the serene.
Patrick Bermingham is a painter, sculptor, entrepreneur, and inventor whose works have won him international recognition over the course of his dynamic and singular career. A polymath designer and engineer who has been honored with "Canadian Entrepreneur of the Year" and featured on magazine covers, he has designed and built houses, sculptures, monuments, bridges and holds multiple engineering patents. His oversized paintings were recently featured in a exhibition at the Massachusetts Museum of Contemporary Art entitled "The Lure of the Dark", which explored "the ways in which the hours of darkness continue to provoke the contemporary imagination".
With his focus on public art commissions, his winning competitions include a grand monument for the International Operating Engineers Union Local 793, a memorial garden for IOEU and a bronze equestrian statue for Lee Academy. His collaborations with architects include a raised cross town walkway for New York City called the "Walkropolis" and an architecturally innovative hotel project in Hamilton. He has shown his sculpture and paintings widely and "Midnight in the Clearing" will be our second exhibition with the artist and our final for the Georgetown location of the gallery before our move to Hillsboro, VA.
In his early years, Bermingham studied under renowned artists such as Elizabeth Bradford Holbrook, Sir Anthony Caro, and Tim Scott, attended Queen's University and received a BFA in sculpture from St. Martin's School of Art, London where he lived in the now famous Metropolitan Wharf. Patrick Bermingham lives and works in Ancaster and Toronto, Canada.
Gallery Hours:
Wednesday – Saturday: 12pm tp 5pm
and by appointment
Cross MacKenzie Gallery is located at 1675 Wisconsin Ave.