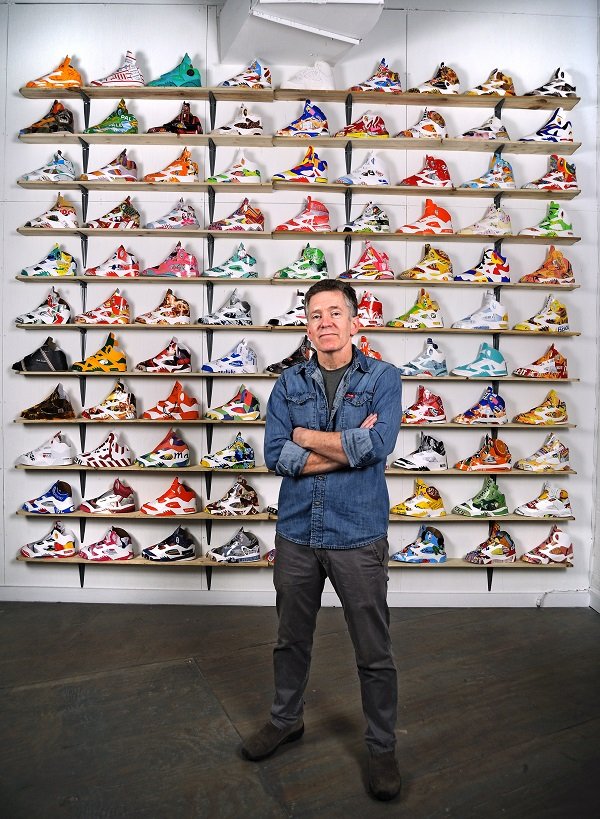 Opening: Thursday, April 22 from 4pm to 8pm
The infamous story of shipping containers filled with tens of thousands of Nike sneakers that spilled into the Pacific Ocean is the inspiration for "Overboard," a new exhibition of 150 sneakers by Washington DC-based artist Andy Yoder made from recycled packaging, posters, and bags. The free installation references what has become known as "The Great Shoe Spill of 1990" as well as contemporary sneaker culture. "Overboard" opens in time for Earth Day and will be on view – appropriately – in a repurposed 40-foot shipping container that has been transformed into a mobile art gallery. The gallery will be located at Sandlot Southeast (71 Potomac Avenue SE) near the Anacostia River. In honor of Earth Day weekend, the gallery will be open April 22, 23 and 24 from 4 to 8 p.m. and April 25 from 2 to 6 p.m. Otherwise hours are Friday and Saturday from 4 to 8 p.m. and Sunday from 2 to 6 p.m. through July 27.
"The Great Shoe Spill"
In 1990, five shipping containers washed off the freighter Hansa Carrier during a tropical storm, dumping 80,000 Nike sneakers into the ocean. As they washed ashore along the Oregon and Washington coasts, an extensive network of beachcombers collected, washed and resold the shoes. Oceanographer Curtis Ebbesmeyer, a leading authority on flotsam, began collecting data about the shoes, which ultimately led to an important study of the ocean's currents.
Soon after being invited to create a site-specific work in CulturalDC's shipping container mobile art gallery, Andy came across the story of the Hansa Carrier. Tens of thousands of beached sneakers? Too good to pass up. "This is a story of second chances," Andy said. "The sneakers go from hurting the ocean to helping it; a surplus shipping container gets a second life as an art gallery and castoff boxes, cartons and bags go from the recycling bin to life as high-end sneakers in an art gallery. The ripple event from the 1990 spill is still happening."  
One suggested angle: eight million metric tons of plastic waste enter the oceans every year. And that was before COVID, which has triggered an estimated global use of 129 billion face masks and 65 billion gloves every month, and our consumption of shipped and delivered boxes and single-use plastic became integral to daily life.
"Overboard"
The exhibition includes a wall of shoes resembling a store display and featuring 150 sneakers made out of materials Andy reclaimed from recycling bins. These include cereal boxes, Bruce Lee posters, Hermès shopping bags, a blue Tiffany's box, a reproduction of John James Audubon's famous flamingo and a print of Hokusai's "The Great Wave." Using Nike's Air Jordan 5 shoe as his model, Andy hot glues the shoes together using 25 individual components. Each shoe takes three to six hours to create and will be displayed against two 40-foot floor-to-ceiling digital murals of ocean waves. 
Andy Yoder
A graduate of the Cleveland Institute of Art who also attended the Skowhegan School of Painting and Sculpture in Maine, Andy moved to the Washington region nine years ago and works from his studio to Stable, the artist space in Northeast Washington. His focus is on using everyday objects and materials – from artificial flowers to crocheted yarn – in unexpected ways. For instance, his seven-foot long "Licorice Shoes" – made from actual black licorice – was inspired by childhood memories of the wingtip oxfords his father wore to the office and the crock of licorice his grandmother kept in her kitchen. 
Note: Cultural DC will ensure COVID precautions such as masks, limited occupancy, regular cleaning and increased airflow, and hand sanitizer at the entrance and exit.
The gallery will be located at Sandlot Southeast (71 Potomac Avenue SE) near the Anacostia River.