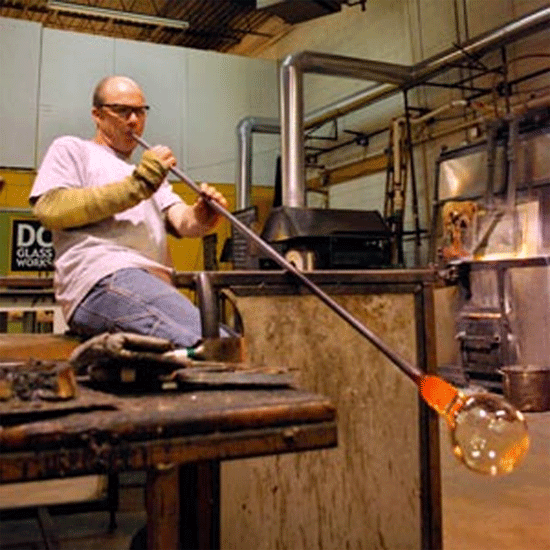 .
Event: October 27 from 3pm to 8pm
.
DC GlassWorks and Sculpture Studios (DCGW), a public access glassblowing and metal working studio in the Edmonston community of Hyattsville, MD, announces the expansion of its metal working facilities and private studio space. The expansion doubles the studio's facilities to 8000 square feet and paves the way for additional educational opportunities in both metal and glass.
"We're excited to make this new capacity available to the community," said DC GlassWorks Executive Director David D'Orio. "We're proud to have grown from a small garage in Capitol Hill to a multimedia facility some 12 years later and eager to welcome new and returning artists to the expanded studio."  The expanded facility creates a new dedicated space for metal working activities, classes and equipment rental including welding and casting. DCGW has also doubled its private artist studio space from seven to fourteen studios.
To commemorate the expansion, DCGW will host its anniversary Open House on October 27 from 3:00 to 8:00 pm at its facilities located 5346 46th Ave, Hyattsville, MD.
New for October, this Open House will include three guided tours of the public facilities and artist spaces. Music will be provided by Small Doses and refreshments will be available from a local food truck.
Studio artists, instructors and advanced students will offer free glassblowing demonstrations throughout the day. Visitors will also have the opportunity to work with DCGW instructors to make their own blown glass pumpkin for a fee.
Educational programs in the expanded space begin this fall.
DC GlassWorks and Sculpture Studios is a public access glassblowing and metal studio located near Washington, DC. The organization offers classes, rents studio space and equipment, and hosts corporate events. Learn more at www.dcglassworks.com
.
.
.
.