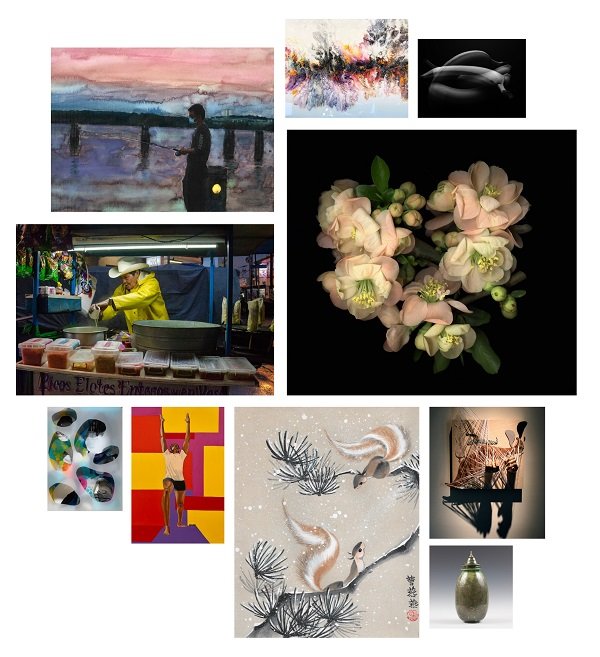 Art Fest: Sunday, November 14 from 11am to 6pm
Torpedo Factory Art Center is encouraging people to bring home original work from local artists this fall with two major offerings dedicated to making art buying simple and affordable. Target Gallery's next group exhibition, Fall Salon, on view November 10 – December 12, features 70 works by artists from the greater metropolitan region, all priced at $1,000 or less. Art Fest on Sunday, November 14, features special in-studio offers throughout the building exclusive to participants. Torpedo Factory Art Center is located at 105 N. Union Street in Old Town Alexandria.
This is the first year for Fall Salon and Art Fest, its complementary celebration. As the name implies, the work in Target Gallery will be hung salon-style, which allows frames to be stacked and grouped in such a way that more art will fit on the walls. The all-media show features a diverse range of aesthetic styles and price points to appeal to a wide audience.
"The idea for this new exhibition and program came in response to the real need to reinvigorate the local arts economy, give back to artists, and get people excited to buy art again," said Leslie Mounaime, curator of exhibitions for Torpedo Factory Art Center. "The goal for this endeavor was to create opportunity for more sales revenue to go directly to artists."
Fall Salon participants receive 70% of the proceeds from their sales, which is above industry standards. The remaining will benefit future exhibitions and programs at Torpedo Factory Art Center and Target Gallery.
The jury panel that selected the art for this exhibition was Clint Mansell, director of Principle Gallery; Sarah Tanguy, DC-based independent curator; Tomora Wright, fellowship director at Hamiltonian Artists. The three will participate in a free roundtable discussion about art collecting and sustaining the local arts economy on Sunday, November 10 at 4 p.m.
For those who can't visit Target Gallery in-person, the online catalogue will let people make purchases online. It goes live on Wednesday, November 10 via torpedofactory.org/target.
Art Fest—Sunday, November 14, 11 a.m. – 6 p.m.—brings this collector's spirit out of Target Gallery and throughout all three floors of the Art Center. Dozens of galleries and studios are extending exclusive discounts and offers to Art Fest buyers that aren't available at any other time of the year. Tickets start at $15 with access to the 3rd floor Art Lounge with expansive Potomac views, a live art project, and beverages to enjoy while you relax. Music will be spun all day by DJ One Luv.
Silver and Gold-level ticket holders are also invited to attend an after-hours talk with Kelly Towles, founder of D.C. Walls outdoor mural festival, who will be in conversation with artists Julia Chon and Sarah Jamison. These ticket levels also include discounts in Fall Salon, with 5% for Silver and 10% for Gold. Plus, the Art Fest raffle includes more opportunities to bring home original work, a $300+ value.
Raffle Prizes Generously Donated by:
About Torpedo Factory Art Center
Founded in 1974 in an old munitions plant, Torpedo Factory Art Center is home to the nation's largest number of publicly accessible working artist studios under one roof. The City of Alexandria manages Torpedo Factory Art Center through the Department of Recreation, Parks and Cultural Activities as part of the Office of the Arts' family of programs and facilities. Just south of Washington, D.C., the Torpedo Factory Art Center overlooks the Potomac River in the Old Town section of Alexandria, Va. Each year, more than a half million national and international visitors meet and interact with more than 160 resident artists in 82 studios and seven galleries. For more information, visit torpedofactory.org or follow the Art Center on Twitter, Facebook, Instagram and Pinterest via @torpedofactory.
Torpedo Factory Art Center is located at 105 N. Union Street in Old Town Alexandria.