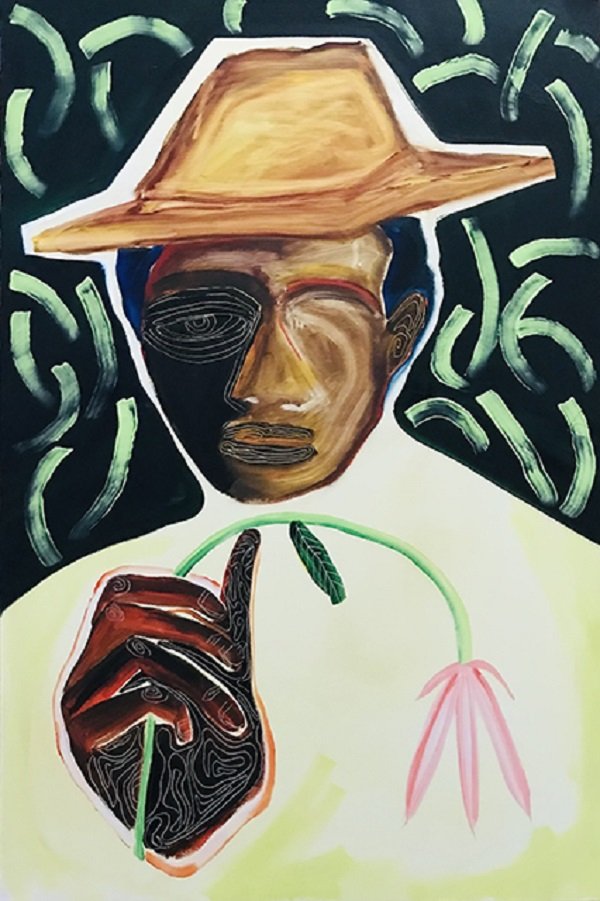 Opening Reception: Saturday, February 5 from 5pm to 7pm
This year's Foundry Gallery New Members Exhibit celebrates human experience through the prism of four unique artists. The approach of each artist is a distinct practice, both textured and sensual. However, the emotions conveyed are of a shared history tinted by love, hope, regret, and fear.
Denzel Parks' You Never Close Your Eyes Anymore offers a melancholic figure in a reposed dreamlike state encompassed by fluid brush strokes and energetic colors. The baroque interior in Zhaojuan Sun's Ivy is a setting for a lush dinner party or the swaying hangover brought on in its decadent aftermath. Intricate geometric patterns in John Koebert's Drawing for Hobson's Jet are infused with a sense of renaissance craftsmanship. What looks like a totemic sculpture is a call back to a personal story carried across years of artistic discovery. Brian Truesdale's Heathen evokes sub-conscious menace with a childhood nightmare void broken by the presence of a jagged obelisk.
The show consists of some fourteen works by the Foundry's new member artists.
Open:
Friday, Saturday, and Sunday: 1pm to 7pm
Foundry Gallery is located at 2018 – 8th Street NW.