| OPENINGS  |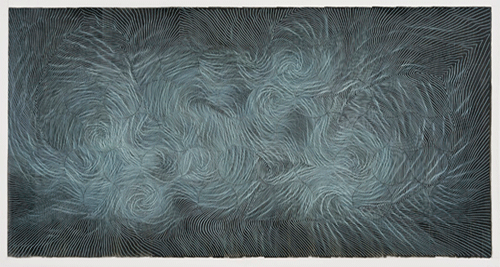 Opening reception: February 19 from 6:30pm to 8:30pm
G Fine Art presents Linn Meyers: The Adjacent Possible, February 19 – March 26, 2011, opening reception February 19, 6:30 – 8:30.
Meyers' drawings create a sense of unpredictable logic.  Her lines whirl around into seemingly complicated compositions, the marks slip and shiver, turning into intricate waves that subsequently settle into shimmering eddies.  At close proximity the marks vibrate against each other with a magnetic tension; with greater distance the drawings fold into a unified world, making references but never landing – hovering between place, time, object and experience.
Meyers' site-specific wall drawings soar up over tall walls, cling to corners, and fill rooms. They demand on the spot improvisation and a blast of focused, sustained energy.  And yet, despite this intense exertion, the works are generally temporary, lasting only a few weeks before being painted over.  These works explore and embrace our complicated relationship with time and ephemerality.
The broad variety in Meyers' new work on view at G Fine Art is a reflection of her numerous projects in recent years. In 2009 Meyers completed a Smithsonian Artist Research Fellowship on the subject of Time.  She has made site-specific works at The Phillips Collection in Washington DC (2010), Paris Concret in Paris France (2010), The University of Maryland, College Park, MD, (2009) and most recently at The Katzen Center at American University, (Jan 25-March 13, 2011.)  Her next large project is coming up this spring at The Hammer Museum in Los Angeles, CA.
Linn Meyers lives and works in Washington DC. Her work has been exhibited in museums and galleries in the US, Europe and Japan and is included in numerous public and private collections, including The Hirshhorn Museum and Sculpture Garden, The National Museum of Women in the Arts and The Smithsonian American Art Museum. She is the recipient of numerous grants, awards, fellowships and artist residencies.
Gallery Hours: Wednesday – Saturday, 12 – 6
G Fine Art is located at 1350 Florida Ave, NE Washington, DC 20002
www.gfineartdc.com