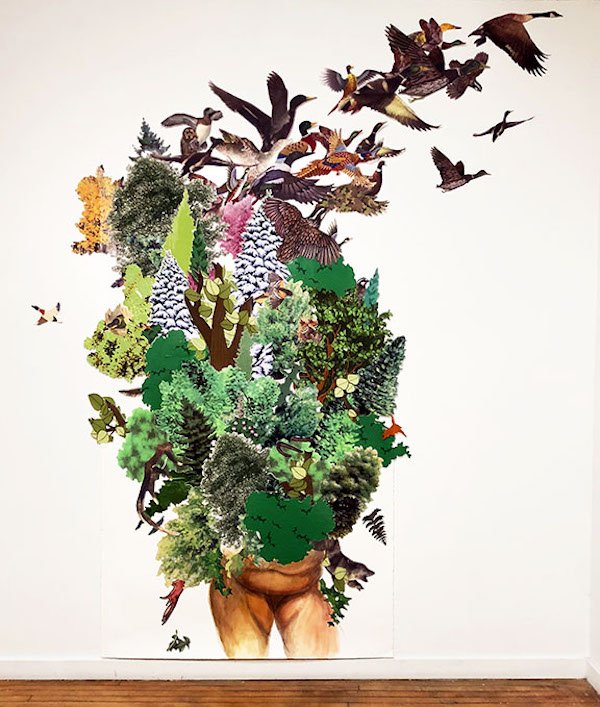 .
Opening Reception: Thursday, October 11 from 6pm to 8pm
.
G Fine Art is delighted to present The Migration, recent work by Zoë Charlton.
These stunning tableaux created in recent months during a residency at ArtPace in San Antonio evolved alongside an upended, to-scale replica of the homestead where Charlton's grandmother resided on Paul Russell Road in Tallahassee FL. This grandmother and this home is a magnetic power in The Migration.
The corpulent, black, female figure is at the core of these four representations. A landscape grows out of the women's bodies. Trees and nature give context to the body and its relationship to a particular kind of landscape. Charlton describes the growth as a dense lush landscape referencing her grandmother's homestead and the land she owned during a time when women, let alone Black women, did not own property. The homestead was a place that family lived, visited and held meetings for generations.
A plethora of imagery emerges from the figures in a rich diversity of materials and styles including stickers that are illustrative and scale shifting. This creates a varied and broad depiction of nature and the effect is photographic, painterly and at times surreal. The styles, orientation and scale of the imagery, add to the identity articulated, the culture of high and low, all contributing to the values expressed.
Zoë Charlton was born in Tallahassee, Florida, in 1973, and lives and works in Baltimore, Maryland. Charlton received her MFA degree from the University of Texas at Austin and her BFA from Florida State University in painting and drawing. She has participated in residencies at the Skowhegan School of Painting and at The Creative Alliance in Baltimore, MD. Her work has been included in national and international group exhibitions including the Contemporary Art Museum (Houston, TX), the Studio Museum of Harlem (NYC, NY), the Zacheta National Gallery of Art (Warsaw, Poland), Haas & Fischer Gallery (Zurich, Switzerland), Clementine Gallery (NYC, NY) and Wendy Cooper Gallery (Chicago, IL). Charlton's work has been reviewed in ARTnews and Art in America. Previous experiences range from being an animator for Flat Black Films in Austin, Texas to teaching positions at Missouri State University (MO) and Southwestern University (TX). She is an Associate Professor of Art at American University in Washington, DC.
Gallery Hours:
Thursday and Saturday: 12pm-6pm
or by appointment
G Fine Art is located at 4718 14th Street NW.