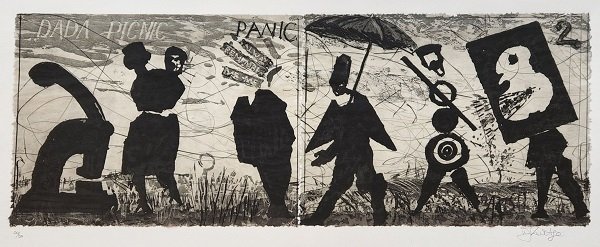 gallery neptune & brown is pleased to present William Kentridge: History, Politics, Memory & Identity: Editions from 1986 to 2021, our fifth solo exhibition with internationally renowned South African artist, ​William Kentridge.
Born in​ ​Johannesburg in 1955​​, to influential anti-apartheid lawyers, Kentridge studied politics and African Studies before attending the Johannesburg Art Foundation for fine art and drama. In 1981, he lived in Paris for one year while studying film, theater, and mime before returning to Johannesburg where he continues to live. Kentridge has been making editions for over forty years and his printmaking practice has ​drawn upon​ a wide range of techniques, including etching, ​aquatint, ​lithography, linocut, and drypoint. The gallery neptune & brown exhibition will ​showcase​ works in all these mediums​.
In addition to printmaking, Kentridge uses different media in his oeuvre including charcoal drawing, performance, film, painting, tapestry, and sculpture. The themes of Kentridge's work stem from South Africa's troubled history of Apartheid and continue with subjects drawn from history, politics, memory and identity. His art speaks of universal struggles such as, freedom and loss.
Most recently, William Kentridge was awarded the 2022 Queen Sonja Lifetime Achievement Award for printmaking. To date, Kentridge has participated in nearly 200 museum and gallery exhibitions worldwide. He has directed five operas and over fifty animated films. Kentridge will have a major exhibition at the Royal Academy in London this autumn. His work is in the permanent collections of the National Gallery of Art, the Hirshhorn Museum and Sculpture Garden, the Museum of Modern Art, the Metropolitan Museum of Art, as well as many other museums worldwide.
William Kentridge: History, Politics, Memory & Identity; Editions from 1986 to 2021, will be on view in the gallery September 10 through October 29, 2022.
Gallery Hours:
Wednesday – Saturday: 12 to 7 pm
Tuesday and Sunday by appointment
gallery neptune & brown is located at 1530 14th Street NW.